Hershey Shares Spike As Trader Chat Rooms Revive Speculation Buffett, Kraft Heinz Could Make Acquisition Bid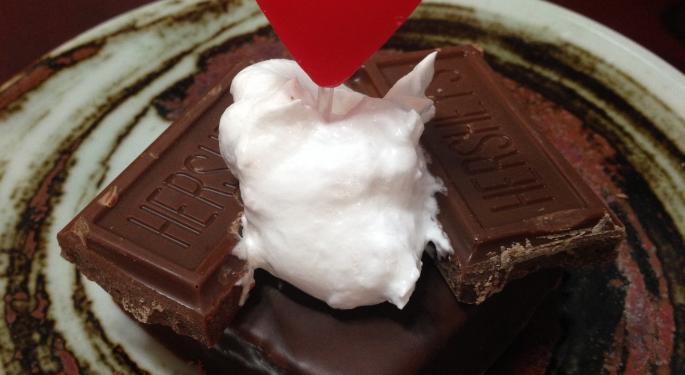 Shares of Hershey Co (NYSE: HSY) traded as low as $107.32 today before spiking to a high of $108.45 on volume.
A Possible Explanation
At approximately 11:10 a.m. EST, trader chat rooms began circulating unconfirmed rumors that Kraft Heinz Co (NASDAQ: KHC) had approached Hershey to discuss a potential acquisition. Kraft Heinz shares moved slightly higher momentarily as well.
Merger and acquisition rumors come a dime a dozen, and by and large most amount to nothing in the end.
A Hasty History Of Hershey
Hershey last fall rebuffed an approach from Mondelez International Inc (NASDAQ: MDLZ) to be acquired for $107 per share. The Hershey family trust, which controls the fate of Hershey, reportedly said the starting point for discussions would have to be $125, imputing a value of approximately $20 billion.
Given the family trust's deep concerns over the company's sterling reputation remaining intact and its perception as being notoriously reluctant to sell, Benzinga suggested at the time that Kraft Heinz Co (NASDAQ: KHC) — partially owned by Warren Buffett's Berkshire Hathaway Inc (NYSE: BRK-A) (NYSE: BRK-B), which has an outstanding reputation of its own — may be the one company able to sway the trust.
The Case For — And Against — Kraft As A Suitor
For Buffett, long-time investor in companies like The Coca-Cola Co (NYSE: KO) and Sea's Candies, Hershey certainly would fit his penchant for snack stocks. Hershey also seems like the type of company capable of meeting his standards for reputation, a competitive moat, and a firm, positive footing in the consumer's mind. Kraft Heinz recently alerted the Street to its desire to make a big acquisition in the consumer goods space with its failed bid for Unilever plc (ADR) (NYSE: UL). That deal was reportedly for $143 billion, meaning Hershey's desire for $125 a share wouldn't be a problem.
If anything, it may mean Hershey as a company is too small to arouse the interest of Buffett and his partner in Kraft Heinz, 3G Capital. Hershey also reportedly wants to wait until it has finished reconstituting its board before finalizing any type of deal. Finally, at $125 per share Buffett would be paying 37 times earnings. Compared to some of his other investments — e.g. Apple Inc (NASDAQ: AAPL) and the airlines — that seems a bit pricey.
Kraft Heinz, through a spokesperson, told Benzinga it had no comment on this story. Hershey told Benzinga it doesn't comment or speculate on M&A.
Shares of Hershey turned positive by midday, trading at $108.43.
Related Link: Food Data Is Troubling; Companies Explain Why
Related Link: Warren Buffett's Behind-The-Scenes Look At The Failed Kraft Heinz, Unilever Merger
Posted-In: 3G CapitalM&A News Rumors Movers & Shakers Movers Trading Ideas General Best of Benzinga
View Comments and Join the Discussion!