Why Warren Buffett And 3G Could Team Up To Create The Perfect Hershey Kiss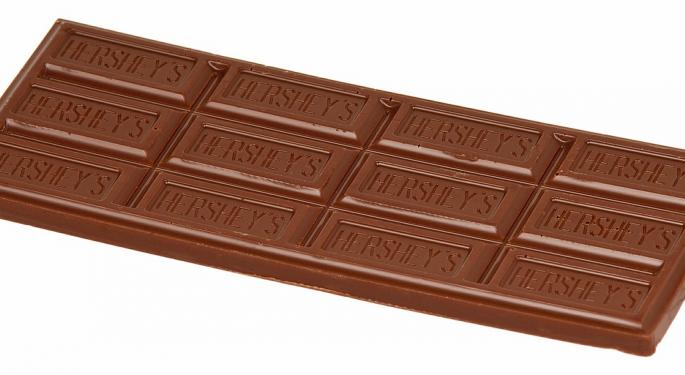 Just because Mondelez International Inc (NASDAQ: MDLZ)-Hershey Co (NYSE: HSY) M&A talks didn't come to fruition, it doesn't mean others aren't craving to acquire the iconic chocolate producer.
Earlier Tuesday, the Brazil Journal reported 3G Capital was looking to raise money, specifically in the $8-$10 billion range, for its next acquisition target. The Brazil Journal then brought up an old article discussing how it believes 3G's next target would be Mondelez. While this could be the case, here's some food for thought: Warren Buffett and 3G would be a perfect kiss for Hershey shareholders.
But Why?
Hershey is known for its complex company structure and impact on the city of Hershey, Pennsylvania. It seemed the main issue for The Hershey Trust, the ultimate decision maker for all things operational at Hershey, when pressed by Mondelez for a deal was related to the family funds reputation. A partnership of Buffett and 3G provides an air of respectability and acumen in the processed foods industry that could be enticing to The Hershey Trust.
Buffett has partnered with 3G in the past to create Kraft Heinz Co (NASDAQ: KHC), a stock that has risen 14 percent since the merger took place in July 2015. Buffett is also known for investing in notable American brands such as Coca-Cola, Dairy Queen and See's Candies, which factor into Buffett's allure for sweets.
A deal would also make sense for Hershey, whose shares have remained stagnant over the past three years. Hershey's stock has been range bound between $82 to $117, with the higher end of that range attributable to the rumored Mondelez buyout.
Still Speculative
Following Hershey's originally-rejected Mondelez bid of $107 per share on June 30, Mondelez reportedly raised its bid to $115 before determining no actionable path forward. As Dow Jones reported, Hershey was demanding $125 per share from Mondelez.
Whether or not this $23 per share premium would be attractive for 3G and Buffett is speculative. However, this kind of investment would fit the bill in terms of a simple business which Buffett understands, combined with the expertise of M&A 3G brings to the industry.
Posted-In: 3G Capital Brazil JournalM&A News Rumors Hedge Funds Opinion General Best of Benzinga
View Comments and Join the Discussion!