SpaceX Reopens Historic Launch Site, Advances American Position In International Space Marathon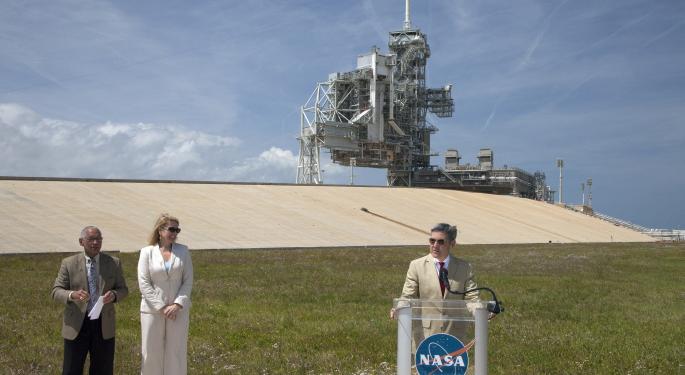 Kennedy Space Center's Launch Complex 39A — the origin of such historic flights as Apollos 8 and 11 — saw action for the first time since 2011 with the Sunday morning takeoff of SpaceX's Dragon and Falcon 9.
The site's 95th launch was initially scheduled for Saturday, but SpaceX postponed the mission to examine the rocket's second-stage engine nozzle. CEO Elon Musk tweeted that "the movement trace of an upper stage engine steering hydraulic piston was slightly odd" and worth investigating.
All systems go, except the movement trace of an upper stage engine steering hydraulic piston was slightly odd. Standing down to investigate.

— Elon Musk (@elonmusk) February 18, 2017
Following a 24-hour delay, Dragon was successfully deployed from Falcon 9 to deliver cargo and supplies to the International Space Station.
The launch christened the site for SpaceX's 20-year lease, which officially began in April 2014. The private company allegedly spent the last three years preparing the pad for flight.
With customers including National Aeronautics and Space Administration, the U.S. Air Force, Malaysia, Japan and a number of private surveyors, SpaceX had previously deployed its craft on 33 occasions from The Marshall Islands, California and Florida's Cape Canaveral Air Force Station.
American Space Exploration
Since its first launch in 2006, SpaceX has been at the vanguard of space exploration with the development of reusable rockets — the first of which launched in 2015 shortly after Jeff Bezos' Blue Origin debuted an initial model.
Related Link: Jeff Bezos Has A Bigger Rocket Than Elon Musk
Because of its innovations, the company has joined the esteemed cohort awarded NASA cargo contracts and is executing missions alongside businesses like Orbital ATK Inc (NYSE: OA) and Sierra Nevada Corporation.
Two publicly traded companies are currently constructing NASA's Space Launch System designed for deep space exploration, with Boeing Co (NYSE: BA) behind the rocket and Lockheed Martin Corporation (NYSE: LMT) designing capsule Orion. According to a Feb. 15 announcement, the two are poised to accelerate a human return to the moon. NASA intimated its intent to man the 2018 inaugural flight despite initial plans to install a crew no sooner than 2021.
Other private American companies are working on similarly ambitious ventures.
Orbital ATK intends to place a crew in lunar orbit by 2021, Blue Origin aims to send tourists on brief space rides, and SpaceX strives to land a manned flight on Mars as early as 2022.
International Competition
The proliferation of private space enterprises has been accompanied by the emergence and expansion of state sponsors. SpaceX has run a number of missions for foreign governments, and many corporate bidders are eyeing the relatively inexpensive contracts of non-American agencies.
India has proven particularly enticing for its economical runs. In 2014, the state's $74 million mission to Mars cost one-ninth of the American effort ($671 million).
India's cost-efficient model ultimately positioned it to make history Feb. 15 by launching a record 104 satellites from a single rocket — nearly three times the previous record amount held by the Russian government. Ninety-six (96) of the crafts belonged to the United States and 88 were products of a private San Francisco company called Planet Labs. The New York Times Co (NYSE: NYT) reported Planet Labs' "Doves" comprised the largest constellation of satellites ever launched.
The inexpensive enterprise of India and other foreign competitors might continue to entice American talent presently unemployed by the U.S. government, which puts pressure on the Trump Administration to alter its space strategy.
Otherwise, while domestic space companies are poised to outpace international peers, the United States will cede ground in the market to explore the final frontier.
Image Credit: "At Kennedy Space Center's Launch Pad 39A, center director Bob Cabanara announces that NASA has just signed a lease agreement with Space Exploration Technologies" By Dan Casper - http://mediaarchive.ksc.nasa.gov/detail.cfm?mediaid=68554, Public Domain, via Wikimedia Commons
Posted-In: Blue OriginNews Travel Events Global Tech Media General Best of Benzinga
View Comments and Join the Discussion!