Take A Look At The First Reusable Rocket, Courtesy Of Jeff Bezos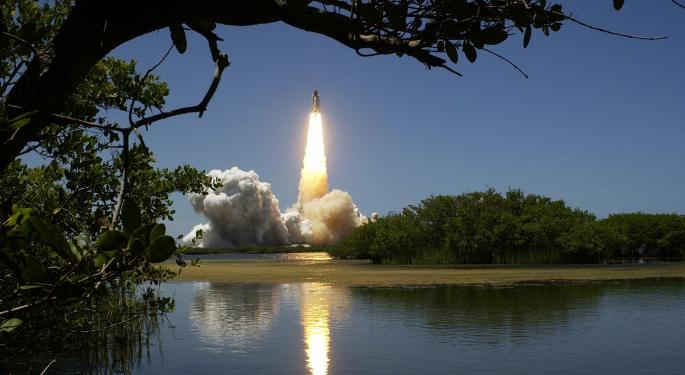 Jeff Bezos, founder of Amazon.com, Inc. (NASDAQ: AMZN), is also the founder of Blue Origin – a private company that develops vehicles and technologies to enable commercial human space transportation.
Blue Origin announced on Tuesday that its New Shepard space vehicle successfully lifted off into space.
While Blue Origin's spacecraft certainly isn't the first vehicle to fly into space, it is notable because the spacecraft is reusable.
Jeff Bezos has a pet project on the side when he isn't leading Amazon: space travel and exploration.
Bezos is the founder of Blue Origin, a private company that develops vehicles and technologies to enable human space transportation. The company's mission statement is to provide humans with greater access to space travel so mankind can continue exploring the solar system.
Related Link: Millennials Find Elon Musk More Admirable Than Gandhi, Steve Jobs And Barack Obama
Breakthrough
On Tuesday, Blue Origin announced its New Shepard space vehicle returned safely after flying 329,839 feet (100.5 kilometers) and achieved a speed of Mach 3.72. What's notable about the spacecraft is that it is completely reusable and can be used "again and again."
Bezos took to Twitter for his first ever Tweet:
The rarest of beasts - a used rocket. Controlled landing not easy, but done right, can look easy. Check out video: https://t.co/9OypFoxZk3

— Jeff Bezos (@JeffBezos) November 24, 2015
Success After Success
On April 29, Blue Origin flew the first development test flight of the New Shepard space vehicle. The launch was a complete success, although the company didn't get to recover the propulsion module due to a loss of pressure in the hydraulic system on descent. It has since been re-assembled and improved.
"Full reuse is a game changer, and we can't wait to fuel up and fly again," Jeff Bezos said in the company's report on Tuesday.
Image Credit: Public Domain
Posted-In: Blue Origin Jeff Bezos New ShepardNews Topics Travel Events General Best of Benzinga
View Comments and Join the Discussion!