Hillary Clinton Gearing Up For The Race: The Sanders Deal And The VP Shortlist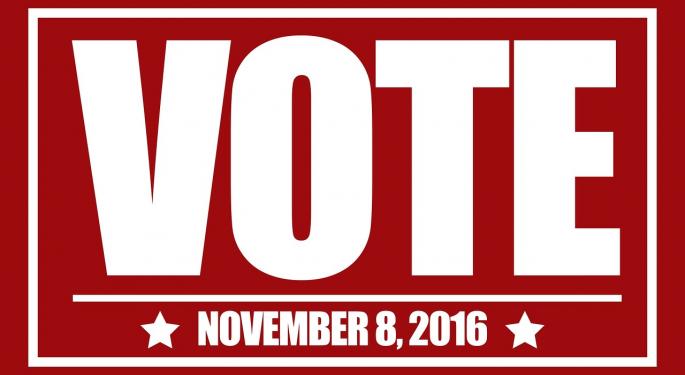 Hillary Clinton is getting ready for a heated presidential race. Below is a look at two pieces of news that demonstrate while Clinton may be working her popular appeal, she's still a serious contender and this second presidential election run is more serious than her first.
The VP Shortlist
On Tuesday, Hillary was on NBC (Comcast Corporation (NASDAQ: CMCSA) (NASDAQ: CMCSK))'s "The Ellen Show," discussing several issues with host Ellen DeGeneres. At one point, the two commanding women played "Who Would You Rather," a game where Clinton had to choose between pairs of vice president options the host presented.
Related Link: Donald Trump And Hillary Clinton Exquisitely Satirized In New Cartoon Book For Adults
So, let's take a look at the Democratic front-runner's picks.
Between current VP Joe Biden and billionaire Mark Cuban, she selected the former.
However, between Biden and actor Tony Goldwyn, star of ABC (Walt Disney Co (NYSE: DIS))'s "Scandal," she opted for the latter.
Clinton also said she preferred Goldwyn over Sen. Bernie Sanders, Mark Cuban and Jeff Probst, the host of CBS Corporation (NYSE: CBS)'s "Survivor."
But suddenly, Goldwyn ran out of luck — when Clinton was faced with a choice between him and another supporter, George Clooney. "Tony could be the first term and George could be the second," she added.
The presumptive presidential candidate also preferred Clooney over Facebook Inc (NASDAQ: FB) founder Mark Zuckerberg, but not over Leonardo DiCaprio.
The Sanders Deal
All jokes aside, Clinton seems quite committed to ousting Bernie Sanders and his supporters. The two candidates and officials from the Democratic Party recently inked an agreement allowing Sanders to pick five of the 15 members in the committee that will write Clinton's platform. As per the number of popular votes each candidate received, Clinton got to select six more members, while Debbie Wasserman Schultz, chair of the DNC, will get to name the remaining four.
"Sanders has hinted that having a say about what goes into the party platform would be the kind of concession that would convince him to drop his feud with the DNC, and Wasserman Schultz in particular," a Fiscal Times article reported.
Disclosure: Javier Hasse holds no positions in any of the securities mentioned above.
View Comments and Join the Discussion!
Posted-In: Bernie Sanders Beyonce Ellen DeGeneres George Clooney Hillary ClintonPolitics Economics General Best of Benzinga