8 Companies That Are Fighting Indiana's 'Religious Freedom' Law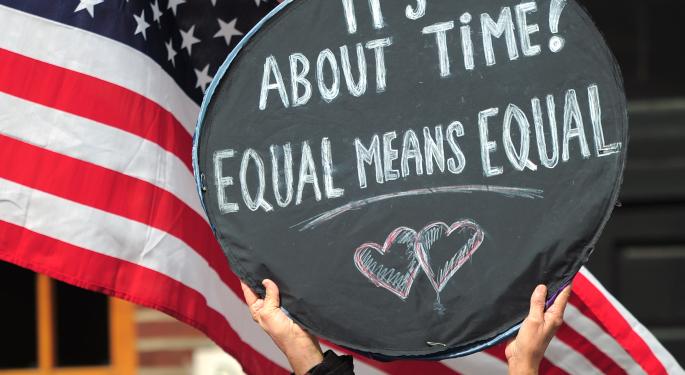 Indiana Governor Mike Pence has received a massive backlash from the state's late "religious freedom" law, which allows companies to make business decisions based on their religious convictions.
As it's written, the law would allow firms to discriminate against the gay and lesbian community by refusing to hire people based on their sexual orientation.
There has been an outcry against the law from activists and celebrities throughout the nation, but it has been some of the biggest names in business that have lead the charge in denouncing the legislation.
Tech Finds Its Voice
Tech companies have historically kept quiet when it comes to social issues; the net neutrality battle was really the first time that Silicon Valley leaders got together and lobbied for a cause.
However, Indiana's legislation has prompted Apple Inc. (NASDAQ: AAPL)'s openly gay CEO Tim Cook to speak out against Pence's decision to support the bill.
Yelp Inc (NYSE: YELP) CEO Jeremy Stoppelman similarly voiced his concern with the law saying that his company would consider withdrawing its presence in Indiana or any other state with similar laws.
Salesforce.com, inc. (NYSE: CRM) made perhaps the largest statement, immediately canceling all of the company's Indiana-based events when the law was signed last week.
Retailers
Retail Giants Wal-Mart Stores, Inc. (NYSE: WMT) and Nike Inc (NYSE: NKE) condemned "religious freedom" laws in both Indiana and Arkansas, saying they are bad for business and directly conflict with their companies' core values.
CEOs from clothing retailers Gap and Levi's issued a joint statement denouncing the legislation and asking other companies to join the fight against intolerance.
Related Link: What The Net Neutrality Battle Looks Like In Europe
Pharmaceuticals
Eli Lilly and Co (NYSE: LLY), a major employer in Indiana with 11,700 workers based within the state, also spoke out against the legislation, saying that the law's discriminatory nature would stand in the way of the company's hiring capabilities.
And The List Goes On
Several other companies are joining the fight; Starbucks Corporation (NASDAQ: SBUX), Twitter Inc (NYSE: TWTR) and Angie's List Inc (NASDAQ: ANGI) have all publicly stated their objections to Indiana's latest legislation.
Despite the uproar, Pence has stood behind the law, saying that its basic premise is worthwhile. This week he admitted that it may need to be clarified in order to prevent businesses from refusing service to anyone, but said he was still "pleased" to have signed it.
View Comments and Join the Discussion!
Posted-In: Indiana Mike Pence Tim CookNews Politics Top Stories Markets General Best of Benzinga