Why Are Baby Boomers Increasingly Attracted To Reverse Mortgages?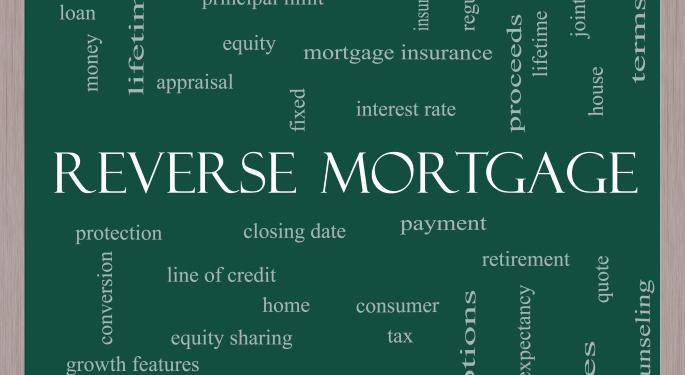 U.S. baby boomers have found themselves in a bit of a squeeze.
Not enough savings to fund retirement, but a desire to slow down and either work less -- or not at all.
The answer, for an increasing number of boomers, is a vehicle known as a reverse mortgage. This trend is predicated on the fact that many baby boomers, even though their retirement savings are inadequate, have a substantial asset in their home.
A reverse mortgage, despite the name, is really a loan. Homeowners, age 62 or older, borrow against the equity in their home and do not have to make any payments until they sell the home or die.
For many, a reverse mortgage has become the solution they needed. Reuters reports that, according to Inside Mortgage Finance, consumers took out $15.3 billion in reverse mortgage loans in 2013. This represented a 20 percent boost from the year before.
With 77 million baby boomers retiring, bankers believe further growth in this type of loan could be expected in coming years. Home loans in general have been in decline, so both bankers and brokers will continue to pay attention to demand for this borrowing vehicle.
There is a downside for lenders. Unpredictable home values and delinquencies on the part of homeowners mean uncertainty and risk for banks like Wells Fargo (NYSE: WFC) and Bank of America (NYSE: BAC), both of whom stopped issuing reverse mortgage loans in 2011.
Others, like Ocwen Financial (NYSE: OCN,) see the estimated $1.9 trillion potential size of the reverse mortgage market as something too big to pass up.
Related: Is a Reverse Mortgage Right for You?
In addition, Reuters reported, the U.S. Federal Housing Administration determined reverse mortgages were risky, and part of the reason the agency required a $1.7 billion taxpayer bailout last year.
"The FHA is at risk from these loans," says James Bothwell, former chief operating office of the Federal Home Loan Bank system, "and the taxpayers are at risk too."
Because of this, the agency attempted to make the loans safer by instituting changes in its reverse mortgage program over this past year. These changes included limiting the amount a homeowner can borrow as a lump sum to 60 percent of equity, up to a maximum of $625,500. Prior to that, the limit was 100 percent.
In addition, the FHA created new rules requiring lenders to make sure borrowers can pay taxes, insurance and upkeep on their home.
Even with the new rules, for consumers, the loans can be attractive. A homeowner, age 62 or older can get a lump sum of money, a line of credit or monthly income, based on the home's equity with no requirement to pay the money back for years.
The loan accumulates interest -- currently around five percent. Unfortunately, if by the time the surviving homeowner or family sells the home and the value of the house does not cover the debt, the FHA is left with the loss.
Of course, for homeowners with little or no equity, a reverse mortgage is not an option. For those with significant equity, it might represent a way to find some financial breathing room.
At the time of this writing, Jim Probasco had no position in any mentioned securities.
Posted-In: baby boomers Bank of AmericaNews Psychology Events Media Personal Finance General Best of Benzinga
View Comments and Join the Discussion!