Barron's Recap: The New Microsoft (And How It Could Rise 30% In 18 Months)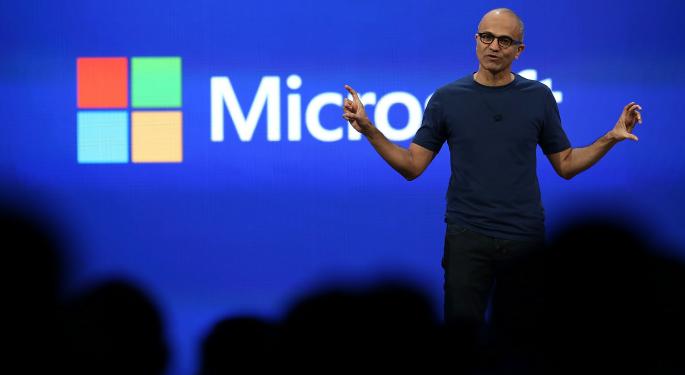 The cover story in this weekend's Barron's offers a look at the outcome of cultural changes in Satya Nadella's Microsoft.
This issue also includes a list of over-sold junk bonds with big payouts, as well as a recession forecast for 2016.
The prospects for BlackRock, Patterson-UTI Energy, Monsanto, Snap-on and more are covered in feature stories as well.
Cover Story
"Microsoft: Faster, Stronger, Better" by Alexander Eule.
CEO Satya Nadella has shifted the focus of Microsoft Corporation (NASDAQ: MSFT) to the cloud, points out this week's cover story in Barron's. This fundamental change to the company's culture has allowed it to re-energize Windows and Office, to turn out innovative mobile devices for the first time and to pose a serious challenge to Amazon.com, Inc. (NASDAQ: AMZN) in the cloud.
See why Barron's thinks shares of Microsoft could rise another 30 percent in the next 18 months... plus there is that 2.7 percent yield.
See also: How Are Corn And Soybean Prices Doing? Here's A Way To Play These Commodities With Low Collateral
Feature Stories
In "A Bullish Forecast for Asset Managers' Shares," Andrew Bary makes a case for BlackRock, Inc. (NYSE: BLK), T. Rowe Price Group Inc (NASDAQ: TROW) and other money managers to rebound in the coming year. Is it time to reconsider these stocks?
"Patterson-UTI Energy Has 35% Upside" by David Englander discusses how this oil driller is trading at a discount to book value and generates lots of cash. So shares of Patterson-UTI Energy, Inc. (NASDAQ: PTEN) could soar when the energy market recovers.
Jack Hough's "Monsanto's Shares: Engineered for Growth" takes a look at how Monsanto Company (NYSE: MON) is positioned to cash in on the need to feed the world's rising population, thanks to its heft and seed-engineering know-how.
With cars growing ever more complex, tools and diagnostic systems from Snap-on Incorporated (NYSE: SNA) are in greater demand than ever, says "Snap-on: Ratcheting Up the Gains" by Sandra Ward. See why the stock's long winning streak shows no signs of ending.
In Crystal Kim's "Fidelity Blue-Chip Growth Fund's Savvy Bets Pay Off," portfolio manager Sonu Kalra is profiled. See how Kalra looks for blue-chip qualities in growth stocks such as Avago Technologies Ltd (NASDAQ: AVGO) and Under Armour Inc (NYSE: UA).
"Oversold Junk-Bond Funds Pay 10% or More" by Randall W. Forsyth suggests the rout in risky debt offers an opportunity to pounce on deeply discounted closed-end funds sporting yields of 10 percent or more. See which seven funds Barron's thinks are worth a look now.
David Levy, chairman of the Jerome Levy Forecasting Center, is interviewed in Lawrence C. Strauss's "Global Recession of 2016." See why Levy worries that the U.S. economy lacks enough strength to fend off weakening fundamentals, particularly in emerging markets.
Steve Garmhausen's "Buying at the Right Price" offers best advice from Debra Wetherby, one of Barron's top 100 women advisors. With a focus on fundamentals, Wetherby now likes private equity and master limited partnerships for her conservative clients.
"Reaping a Whirlwind of Monetary Policy" is an editorial commentary by Thomas G. Donlan in which he discusses how, even with the Federal Reserve's almost unlimited power, Chair Janet Yellen will find it difficult to undo her predecessors' mistakes.
In Barron's Asia: "Has 2015 Been the Year of Peak China?" by William Pesek points out that even though China may not suffer a hard landing soon, Beijing's complacency may be setting the stage for a spectacular reckoning.
See also: Martin Shkreli-KaloBios Saga An Example Of How Penny Stocks Can Be Misunderstood, Tim Sykes Says
Columns
Columns in this weekend's Barron's discuss:
Who gets clobbered by the Fed rate hike
2015 as a year of contradictions
What went right and what went wrong in tech in 2015
The safest concentrated funds
How Barron's ETF picks played out
Whether S&P 500 payout increases will falter in 2016
How to survive an IRS audit
At the time of this writing, the author had no position in the mentioned equities.
Keep up with all the latest breaking news and trading ideas by following Benzinga on Twitter.
Posted-In: Amazon avago technologies Barron's Blackrock Janet Yellen Microsoft MonsantoMedia Best of Benzinga
View Comments and Join the Discussion!