Bitcoin 101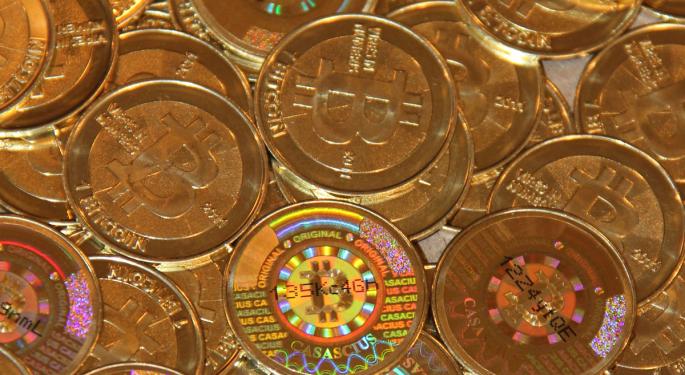 The digital currency, or cryptocurrency, has begun to etch its place within the financial world. Yet, understanding what bitcoin is and how it functions is far less universal than the awareness of its existence.
Below are a few of the most common questions the public raises regarding bitcoin.
What Is Bitcoin?
Unlike traditional currency that is printed, bitcoin is not controlled by – nor its strength derived from – a specific nation.
As described by bitcoin.com, "Bitcoin's mathematical design is open and transparent. Anyone in the world can study, investigate and become part of it. As a result, bitcoin is a global borderless currency."
Related Link: Bitcoin Security Conference Planned For May 2015
How Is Bitcoin's Worth/Cost Determined?
As with other commodities (think gold in particular), the price of bitcoin is determined by supply and demand. This supply/demand seesaw is in turn established by exchange bids and asks. In other words, the exchange platform serves as a complex marketplace where goods (bitcoin) change hands by people offering to sell at a particular price (ask) or people offering to buy at a particular price (bid).
To exemplify the price fluctuation, consider that the value of one bitcoin in September 2013 was priced at $120 USD. Three months later, once the concept became more public, a single coin was valued at more than $1,000.
Why Is Paying With Bitcoin Attractive?
Bitcoin eliminates the middleman. With no nationality attached to the currency, no centralized banking involvement, bitcoin is truly a P2P (person-to-person, or point-to-point) transaction.
This lowers or even eliminates transaction fees.
Furthermore, because of bitcoin's efficiency, fees attached to selling the cryptocurrency are lowered, which in turn can decrease the price on the buying end of the transaction.
Related Link: Bitcoin Becomes An Everyday Currency
The appeal of bitcoin is multifold and includes the security unique to digital currencies, the P2P transaction process and the limited quantity of bitcoins in existence. Because the currency is mathematically derived, the number of bitcoins is static – the currency is by nature not inflationary.
How Does It Work?
Bitcoins are stored in "wallets," essentially virtual, private keys that protect the cryptocurrency. Paying with bitcoin involves accessing the wallet by imputing the privatized key.
Similar to Apple Pay, bitcoin wallets use NFC technology, where electromagnetic radio fields are employed to transmit information wirelessly.
Unlike Apple Pay, bitcoin's payment system has the added benefit of additional security, efficiency and privacy that is unique to the cryptocurrency.
Bitcoin wallets can exist on a computer (desktop wallet) or on the Internet. Keeping wallets on the Internet allows fund owners access to their bitcoins on a multitude of platforms through a variety of apps. On the other hand, limiting wallets to a desktop implements an additional security screen and grants the owner complete control.
While the future of the cryptocurrency remains unknown, the growing popularity requires broader awareness and understanding. Bitcoin may not replace credit cards or paper money, but as more companies offer bitcoin payment options, this innovative, borderless currency becomes more relevant to the average consumer.
Image Credit: Public Domain
Posted-In: Apple Pay BitcoinCryptocurrency Forex Markets Personal Finance Best of Benzinga
View Comments and Join the Discussion!