Why Hemp Could Be The Future Of Plastics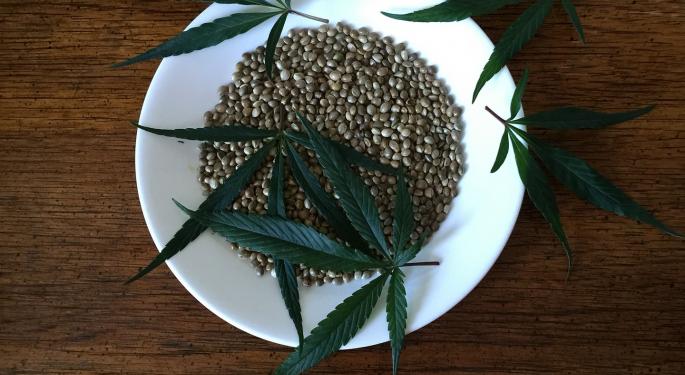 Leslie Bocskor, investment banker and president of cannabis advisory firm Electrum Partners, is one of the most passionate people in the cannabis industry Benzinga has come across. In a recent chat, Benzinga asked him to discuss a topic he was passionate about, an issue he found particularly interesting.
The Rise Of A Hemp-Ire
Bocskor recently became fascinated with hemp. Not cannabis, but good old-fashioned hemp, the kind that was used to make fabrics in the nineteenth century.
"I have been talking to some scientists and there is a conversation about hemp for plastic," he began, pointing out that Henry Ford — Ford Motor Company (NYSE: F) — had built one of his first cars using hemp plastic. In fact, that car even ran on hemp fuel.
"This could potentially create the largest carbon-negative industry in the world," he continued.
But, what does carbon negative even mean?
Nowadays, most plastics are hydrocarbon-based, which means they use fossil petrochemicals pulled out of the Earth to be made. Leaving any discussions about climate change, global warming and carbon emissions aside, it does not take much scientific knowledge to understand why the process of making plastics out of petrochemicals implies pollution.
Hemp plastic, on the other hand, is extremely useful or convenient for several reasons, Bocskor went on.
1. "I'm told it doesn't have any of the 'ene's.' Toluene, benzene, things like that, which are the most toxic byproducts of plastics that are produced from hydrocarbons."
2. "I'm told that hemp can be engineered for biodegrade that will reduce it into much less harmful compounds than the ones that can be done with hydrocarbon-based plastics."
3. "We can have fields, acres and acres, hectares of hemp farms that are pulling carbon dioxide out of the atmosphere – as plants do. Then, that carbon from the carbon dioxide in the atmosphere gets used to make the plastics, and the plastics, when they are going into a landfill and they are no longer usable, will biodegrade bringing carbon back into the soil [anecdotal data and initial research have suggested]. So, it's essentially carbon negative, pulling carbon out of the atmosphere and putting it back into the soil."
Better Understanding Hemp
It's important to understand the difference between hemp and marijuana. Although they both belong to the same genus and species, they characteristics differ widely. The main difference: hemp does not have enough THC to have significant psychoactive properties; this basically means it cannot be used to get high.
"Hemp is far less controversial than marijuana. So, it's hard to understand why it isn't supported by the U.S. government, to help remediate the soil and add to the crop rotation, and even help the farmers in states like West Virginia, Alabama, Mississippi, Kentucky, South Carolina, North Carolina, Tennessee or Virginia, who have been seeing reducing crops for tobacco — which so much of their economies have been based on," Bocskor pointed out. "This is a crop that is not only able to replace tobacco, but it even grows more easily, remediates the soil and has so many other potential areas that we can go with it besides hemp plastic, and hemp paper.
"In fact, this is a crop that would not even need subsidies, unlike so many other crops that we grow," he supplemented. "So, this is an opportunity to not only bring economic benefit back to those regions I mentioned before but to do it in a way that has so many more positives."
Betting On The Future
Companies in the industrial hemp industry include:
However, the valuations of these companies are pretty low. We wondered why.
"You have to say converging market forces," the expert explicated. "On the one hand, hemp is potentially disruptive to the paper industry, to the textile industry, and to the plastics industry. And, disruption is not something that anybody in any industry that has an established, long-running, well-entrenched business likes."
As Albert O. Hirschman points out in his book "The Rhetoric of Reaction," defenders of the status quo conceive change as risky, and thus use this argument to fight it.
"The disruption potential of hemp combined with the fact that it's not as glamorous, interesting or immediately profitable as marijuana makes it difficult for the industry," Bocskor continued, calling for increased research to back the growth of the environmentally-friendly industry.
"I happen to think that the global hemp market could easily be bigger than the cannabis market in 10 years," the specialist concluded. "When you start to look at the paper market, the textile market for cotton, the plastics market on a global scale, you realize that these are industries that dwarf what could be the cannabis market on a global basis."
More From Benzinga:
How To Pick The Right Marijuana Stocks
Montel Williams Talks About His Cannabis Company And Its Emphasis On Patients
View Comments and Join the Discussion!
Posted-In: Cannabis Emerging Markets Politics Topics Exclusives Markets Interview General Best of Benzinga