Benzinga Market Primer: Monday, September 9: Futures Up As Japan Starts The Week Off With A Bang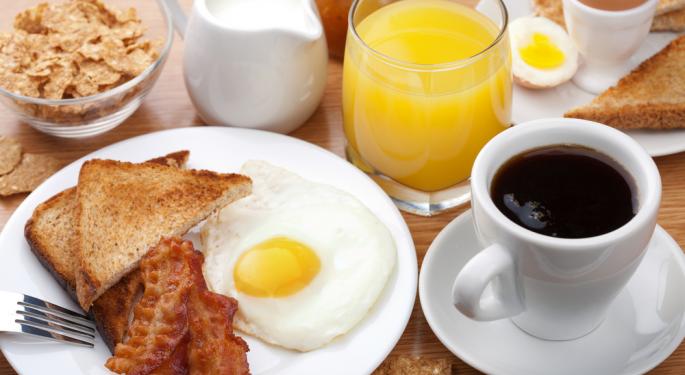 Just days after the announcement that Tokyo would host the 2020 Olympic games, the nation's revised second quarter GDP came in higher than expected and added to Japan's momentum. Revised Japanese GDP showed an annualized growth of 3.8 percent, rather than the preliminary estimate of 2.6 percent.
The figures demonstrated the strength of the nation's recovery and add to evidence that the Japanese economy can withstand next year's planned sales tax increase.
In other news around the markets:
US President Barack Obama is set to continue trying to garner support in Washington for his plan to launch targeted military attacks in Syria. Congress is expected to vote on the matter this week, while the House won't vote until the following week. So far, Obama has faced opposition from several members of Congress who believe his proposal is too broad.
Tony Abbott has been elected Australia's new Prime Minister on promises of tax cuts designed to help boost the sagging economy. Abbott is the first conservative leader the nation has had in six years, but he may face opposition as he tries to deliver on his campaign promises; his party lacks a majority within the current Senate, which finishes its term in July 2014. As votes for the newly elected senate are tallied, it seems smaller fringe parties may tip the balance of power out of Abbott's favor.
Italy's Senate Committee will determine whether or not Silvio Berlusconi will be forced to resign from holding government office, or if he will be allowed to finish his term. Berlusconi was found guilty of tax evasion, and as part of his sentence, he is banned from holding public office. However, Berlusconi has threatened to take down the government if he is not allowed to finish his current term.
A trading error that disrupted China's mainland stock exchange on August 16 is going to cost China Everbright Securities Co. $85.5 million. Additionally, the company will be required to pay $86 million in fines for insider trading violations following the glitch.
Shortly following the RBI's new Governor Raghuram Rajan's announcement of his plans to help curb the rupee's decline, the bank began to ease investment rules in an effort to increase cash inflows. On Friday, the bank announced that controlling shareholders who want to buy additional shares of the same company will be allowed to do so directly through brokers. Under the old rule, shares had to be purchased off-market which made the process complicated and time consuming.
Asian markets were up across the board on Monday. The Japanese NIKKEI was helped by better than expected GDP and the announcement that Tokyo would host the 2020 Olympics and gained 2.48 percent. The Shanghai composite was up 3.39 percent and the Shenzhen composite rose 1.33 percent. The South Korean KOSPI was up nearly a percentage point and the Hang Seng index gained 0.44 percent.
European Markets
European Markets began the week on their back foot with losses across the board. The STOXX 600 lost 0.14 percent and the UK's FTSE was down 0.10 percent. France's CAC 40 was down 0.36 percent and the Spanish IBEX lost 0.91 percent.
Energy futures lost ground on Monday, WTI futures were down 0.52 percent and Brent futures lost 0.38 percent. Gold was up 0.05 percent but silver lost 0.49 percent. Industrial metals gained across the board, Copper was up 0.29 percent and aluminum was up 1.45 percent.
The yen hovered below the 100 yen to a dollar mark at 99.56 and the euro to dollar ratio was little changed. The pound gained 0.15 percent against the greenback and the rupee continued its comeback gaining 1.17 percent against the dollar.
Earnings Reported Yesterday
Notable companies that reported earnings on Friday included:
UTi Worldwide Inc. (NASDAQ: UTIW) reported second quarter EPS of $0.05 on revenue of $1.13 billion, below expectations of EPS of $0.14 on revenue of $1.15 billion.
Stocks moving in the pre-market included:
Notable companies expected to report earnings on Monday include:
Triangle Petroleum Corporation (NYSE: TPLM) is expected to announce EPS of $0.14, compared to last year's loss of $0.02 per share.
Economics
On Monday's economic calendar, we saw the release of Japanese revised GDP and Japanese household confidence. Still to come is US consumer credit, eurozone investor confidence and Switzerland's unemployment rate and retail sales data.
Good luck with your trades!
Check out Benzinga's complete outlook for the week of September 9 here.
For a recap of Friday's market action, click here.
Tune into Benzinga's pre-market info show with Dennis Dick and Joel Elconin here.
Posted-In: Earnings News Eurozone Futures Commodities Global Econ #s Economics Best of Benzinga
View Comments and Join the Discussion!