Did You Know There's Another Retirement Savings Plan?
According to a press release from the U.S Treasury Department from November 4, 2015, a 401(k) alternative has been launched nationally, "With millions of Americans lacking adequate retirement savings, the U.S. Department of the Treasury today announced the national launch of myRA, a simple, safe and affordable new savings option for those who don't have access to a retirement savings plan at work."
As promised in President Obama's 2014 State of the Union address, the new retirement savings plan is specifically designed for those Americans who have either elected to not enroll in employer-provided 401(k)s or who do not have access to that type of fund.
Dubbed "myRA," this plan's advantages are in its simplicity. According to U.S. Treasury spokesman, Daniel Watson, "MyRA is a starter retirement savings account, with no minimums, fees or risky investments, and savers can choose to transfer or roll over their account balance into a private-sector Roth IRA at any time."
The Retirement Savings Crisis
With government-assisted retirement aid's longevity being called into question with increasing frequency, many pre-retirees are scrounging every ounce of savings they can find prior to their looming Retirement Date.
Thirty-one percent of non-retired Americans marked that they have no retirement savings or pensions, according to a 2015 Federal Reserve Report. "Additionally, a 2014 report by the National Institute on Retirement found that the average near-retirement household had only $12,000 in retirement savings," according to the press release.
"Among workers who do not participate in a 401(k) or other defined contribution plan, 42 percent say it's because their employer does not offer one. Furthermore, among part-time workers, a 2015 BLS Economic Release found that 62 percent don't have access to a retirement plan at work."
Couple this with American sentiment on financial stability, and the retirement savings' topic becomes more "crisis" than "issue."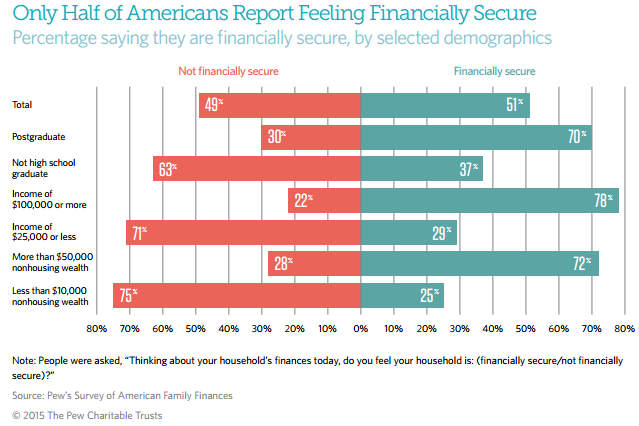 Source: Pew Charitable Trusts
Specifically, the Pew Charitable Trusts found that Americans' financial stability concerns are significantly higher regarding general lack of savings and retirement.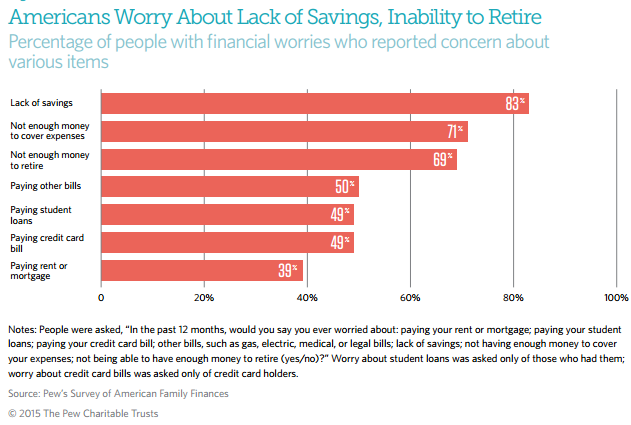 Source: Pew Charitable Trusts
The Gap myRA Hopes To Fill
Individuals earning $130,999.99 or below
Joint Filers earning $192,999.99 or below
Caps
$5,500 per year
An additional $1,000 per year for holders over the age of 50
$15,000 total (at which point the account can be rolled over into an IRA)
30-year lifespan
Fees
Withdrawals
Money can be withdrawn at any time, tax free and without penalty*

(*"Roth IRA requirements apply to the tax free withdrawal of any earnings," according to the press release)
Investment
Government Securities Investment Fund, which has returned an average of 3.19 percent annually over the last decade (higher than the typical savings account, but still not a "high-yield")
Taxation
Interest is not taxed as long as it remains in the account
Interest is never taxes if the account is left until the holder reaches 59.5 years old
Words Of Hesitation
However, a word of caution: The initial reception of myRA prior to its national launch was lackluster. CFP, accredited investment fiduciary, Kelly Campbell, explained his concerns, "I have mixed feelings about this new offering, and some of the specifics surrounding it. Although it's good to get people accustomed to saving for retirement sooner rather than later, I'm not sure this is the right tool for the job."
"At worst, I would call it an inexpensive government saving account," he further explicated, "I would argue that the delayed gratification of diligent savings won't be enough to keep people invested in the program. I would say that flexibility, allowing both ease of access to the account in an emergency scenario can be balanced with provisions that discourage frivolity […] Is this something that could radically change the way people approach retirement? No. But I think we can all recognize that many people, despite their best intentions, are not financially prepared to retire."
Words Of Confidence
U.S. Treasury Secretary Jacob J. Lew commented in the press release, and has since reaffirmed his position in an interview with Christine Romans, the benefits of this "starter" retirement plan.
"myRA has no fees, no risk of losing money and no minimum balance or contribution requirements. To make saving easier than ever, you can now put savings into myRA from your bank account."
Lew continued, "myRA alone will not solve the nation's retirement savings gap, but it will be an important stepping stone for encouraging and creating a nation of savers."
Words Of Optimism
Since the national launch, publicity surrounding myRA has been more optimistic.
Michelle Singletary, columnist for the Washington Post, commented in a recent article regarding the low threshold of $15,000, "Let's stop at the $15,000 figure. Such a low ceiling gives pause to many people. Just like you wouldn't expect a teenager to still be riding a bike with training wheels, the point isn't that $15,000 is going to be anywhere near enough for retirement. The goal is to cycle folks from a myRA to other retirement accounts with more investment options to further increase their savings."
Singletary explained the changing opinion toward myRA since its initial whispers in 2014, "When the president announced the plan, I was concerned – and still am – that inertia will set in and people will think investing small amounts will be enough […] The concerns are legitimate, but we should get behind the effort."
Singletary ultimately concluded, "I'm in the camp that says myRA is better than the alternative, which is leaving millions of people without a way to start saving for retirement. I'm encouraging folks to sign up."
If you or your loved ones are inching closer to retirement, it is essential to keep up with your retirement savings options. Be aware of what savings vehicles are available and those for which you qualify. Financial literacy begins with you; ignorance is no excuse for unpreparedness.
Editor's Note: An earlier version of this article included a link to a source from prior to the national launch. We apologize for this oversight and have since amended the article to reflect the most recent information regarding myRA. Thanks goes out to U.S. Treasury Spokesman Daniel Watson for the prompt rectification of these concerns.
Posted-In: 401(k) Barack Obama Budgeting Daniel Watson Gen XPolitics Personal Finance General
View Comments and Join the Discussion!