The Link Between Home And Health: Why UnitedHealth Is Investing Millions In Affordable Housing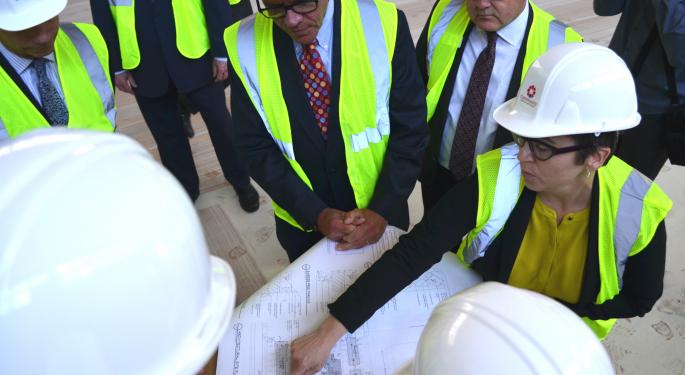 A mixed-income housing development that broke ground Tuesday in suburban Detroit isn't financed by a big bank, but rather a health insurer.
UnitedHealth Group Inc (NYSE: UNH) is investing $14.6 million in Jefferson Oaks, a 60-home, $17.6-million redevelopment of a former middle school in Oak Park, Michigan by the nonprofit Community Housing Network.
The health insurance company is providing equity funding in a partnership with Cinnaire, a Lansing-based community development financial institution.
The reason behind an insurer backing real estate developments is simple, according to UnitedHealth: the availability of affordable housing correlates with good health.
"Some of it's intuitive, but the data really supports [the fact that] people who are connected with affordable housing have healthier lives than people who don't," Dennis Mouras, the CEO of the UnitedHealthcare Community Plan of Michigan, told Benzinga.
Residents without affordable housing are less likely to take needed medication and seek preventative care, Mouras said.
"People who don't have a safe, comfortable home have other issues to worry about."
United announced a second investment in affordable housing Tuesday: a $3.7-million commitment to Woodland Place Apartments, a 24-unit development in Hart, on the west side of Michigan's Lower Peninsula.
Nationwide, UnitedHealthcare has committed $350 million to 56 housing developments in 14 states since 2011.
Jefferson Oaks, which is scheduled to open in spring 2018, had received more than 1,600 inquiries from prospective residents as of Monday, said Community Housing Network President Marc Craig.
Related Link: Senate Health Care Bill Cuts Benefits To The Poorest, Taxes On The Wealthy
Legislative Uncertainty Surrounds Health Care
United's Community Plan of Michigan serves 265,000 Medicaid recipients in the state, Mouras said.
After the Affordable Care Act was signed into law by former President Barack Obama, Medicaid coverage was expanded in Michigan beginning in 2014 in the form of the Healthy Michigan Plan. Residents between the ages of 19 and 64 who are at up to 133 percent of the federal poverty line are eligible.
UnitedHealth is closely monitoring potential changes to the Affordable Care Act, Mouras said.
A health care bill introduced by Republicans in the U.S. Senate would result in 22 million Americans losing health insurance, according to the Congressional Budget Office. A vote on the bill was postponed by Senate Majority Leader Mitch McConnell on Tuesday.
UnitedHealthcare has found the Medicaid expansion in Michigan is 20 percent more efficient than insurance through the exchanges created under the Affordable Care Act, Mouras said.
"The bottom line and the strategy for UnitedHealthcare is to preserve adequate funding to Medicaid to ensure the most vulnerable get access to quality health care," he said. "We want to see the Medicaid expansion and Healthy Michigan continue."
Creative Financing
UnitedHealthcare's investment in the Community Housing Network development in Oak Park purchases the low income housing tax credits awarded to the project, Mark McDaniel, the president and CEO of Cinnaire, told Benzinga.
The health insurer can then write off the investment on its federal tax liability, McDaniel said.
Cinnaire — which has a $3.5-billion portfolio spanning nine states — is the intermediary and fiduciary for the deal.
The nonprofit is making a $2.3-million loan to the Jefferson Oaks project in addition to UnitedHealthcare's investment.
"We're playing more and more of a role of providing ourselves — or coordinating — all the different capital in the capital stack to get a development done," McDaniel said.
Benzinga recently reported on the work of community development financial institutions similar to Cinnaire in Detroit.
Main image: Kirsten Elliot, the vice president of development at Community Housing Network, shows a blueprint to partners in the Jefferson Oaks project in Oak Park, Michigan on Tuesday. Photo by Dustin Blitchok
View Comments and Join the Discussion!
Posted-In: Cinnaire Community Housing NetworkHealth Care Top Stories Exclusives Interview General Real Estate Best of Benzinga