From WW To Dunkin': A Look At Some Of The Biggest Corporate Name Changes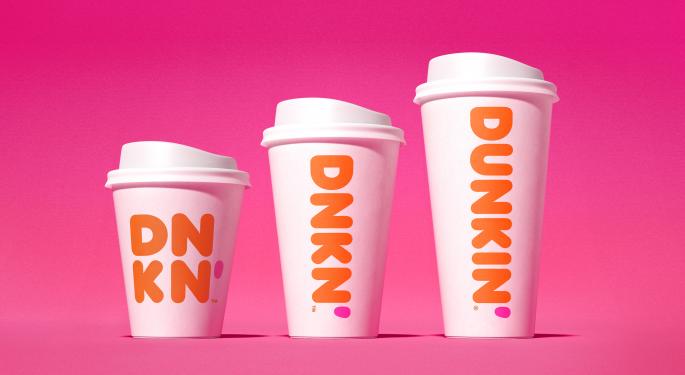 Just this week, two prominent companies changed their identities. The former Weight Watchers International, Inc. (NYSE: WTW) switched its name to WW. Then Dunkin Brands Corp. (NASDAQ: DNKN) dropped the donuts from its name and will now go by "Dunkin'" alone.
Both of these alterations come shortly after the perhaps ill-fated marketing campaign for burgers at Dine Brands Global, Inc. (NYSE: DIN)'s IHOP.
Whether it's part of marketing campaign, new corporate direction or targets a revised demographic, several famous businesses have undergone changes before becoming the brands we know today.
Backrub/Google
Quite a bit has changed since Larry Page and Sergey Brin founded the revolutionary search engine in 1997. The original name was coined in light of the program's capabilities. The name came from the site's process of analyzing back links in order to understand a website, according to Business Insider.
Alphabet Inc. (NASDAQ: GOOGL) (NASDAQ: GOOG)'s Google was renamed in 1997, as the founders wanted to find a name that exemplified just how much data was retrieved using their software. The inspiration comes from the word "googolplex."
Alphabet has a market cap of $828.77 billion.
Blue Ribbon Sports/Nike
Founded in 1964 by Bill Bowerman and Phil Knight, Blue Ribbon Sports started by selling Japanese running shoes before creating a unique line of footwear in 1971 that featured a swoosh on the side. The company's name was changed to Nike Inc. (NYSE: NKE) soon after.
In ancient greek mythology, Nike was the goddess of victory. This name was chosen deliberately for the product line and the company's vision of equipping victorious athletes.
Nike has a $133.87-billion market cap and recently rolled out a new "Just Do It" campaign.
Sound of Music/Best Buy
Originally named Sound of Music, Inc., Richard M Schulze established a home and car stereo store in 1966, reaching sales of $173,000, according to the company website. Then in the early 1980's, a tornado destroyed the company's headquarters and forced employees to sell damaged goods for the "best buy."
Schulze later expanded the product lines to include appliances and VCRs; targeted an older and more affluent customer base; and changed the company name to Best Buy.
Best Buy Co Inc. (NYSE: BBY) has a market capitalization of $21.73 billion and has been listed on the Fortune 500 for 24 years.
Coach/Tapestry
Luxury brand Coach was founded in 1941 as a family workshop in Manhattan. Since then, Coach has endured several management changes; the purchase of shoemaker Stuart Weitzman and handbag designer Kate Spade; and a celebrity partnership with Selena Gomez.
In 2017, CEO Victor Luis announced the renaming of the company to Tapestry Inc. (NYSE: TPR). This name change reflects the company's expanding portfolio and touches on the fashion concept of weaving brands together.
Following the change last October, shares have surged more than 20 percent. Tapestry has a $14.31-billion market cap.
Smith & Wesson/American Outdoor Brands
Founded in 1852, firearm, ammunition and restraints manufacturer Smith & Wesson came into popularity during the American Civil War and is known for introducing revolvers that were used by American law enforcement.
The company later announced its purchase of Battenfeld Technologies, to further the design and distribution of hunting accessories; Crimson Trace to develop laser sights; Taylor Brands for tool and knife design; and UST Brands for a focus on survival equipment. In 2016, the company announced the name change to American Outdoor Brands Corporation (NASDAQ: AOBC) to reflect the diverse acquisitions.
American Outdoor Brands has an $842.5-million market cap.
Wal-Mart Stores/Walmart
Discount department giant Wal-Mart Stores Inc. was founded in 1962 and has since become one of the largest retailers in the U.S. Recently, the company announced that it was dropping the hyphen and "stores" from the name. This slight switch was done to better leverage the company in the increasingly technologically driven retail industry, Walmart said.
Walmart Inc. (NYSE: WMT) has launched initiatives like the online Site to Store service in recent years and purchased brands such as Jet.com, ModCloth, Bonobos and Moosejaw. Walmart has a $279-billion market cap.
Related Links:
IHOP Goes 'International House Of Burgers' To Cater To Later Diners
Coach Is Changing Its Name To...Tapestry?
Photo courtesy of Dunkin.'
View Comments and Join the Discussion!
Posted-In: Bonobos Business Insider Jet.comEducation Restaurants Top Stories Media General Best of Benzinga