Perspective: Institutional Investor Looks At David Einhorn And The Decline Of Value Investing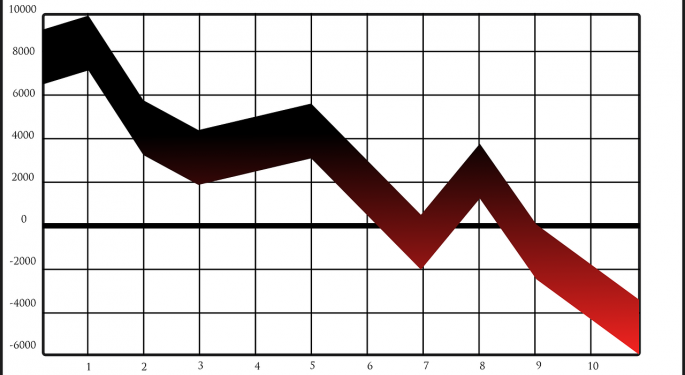 One of the most well-known hedge fund managers on Wall Street, Greenlight Capital's David Einhorn, has hit a rough patch with his investing over the past several years. Einhorn made his reputation by correctly predicting some high-profile market downfalls and delivering a 26-percent average annual return for Greenlight investors over the first 10 years of its existence.
However, Einhorn has produced an average annual return of just 4.7 percent since 2009, and Greenlight's assets under management have shrunk from $11.8 billion to just $6.4 billion since 2014 as investors lost faith in his ability.
The Decline Of Value Investing
Einhorn's performance has dropped as value investing has gone out of style during the current bull market, according to Institutional Investor. Einhorn has always been a strict value investor, taking long positions only in stocks with discounted cash flow multiples or other metrics that meet certain standards. Einhorn has also taken short positions in stocks with extremely high market valuations.
As a result, Institutional Investor said Einhorn has ended up limiting his long bets to low-quality stocks such as General Motors (NYSE: GM) and exposing Greenlight investors to short bets on high-flying stocks such as Amazon.com, Inc. (NASDAQ: AMZN), Netflix, Inc. (NASDAQ; NFLX) and Tesla, Inc. (NASDAQ: TSLA).
The nine-year-old bull market has ushered in a rise in quantitative analysis, ETFs, index funds and momentum trading — none of which are incorporated in Einhorn's value strategy.
Going Down With The Ship?
Even Einhorn himself seems to recognize the problem, but is sticking to his value investing guns for now.
"Bubbles do pop, you know," Einhorn recently joked at the Sohn Conference. "Or at least they used to."
Critics have blasted Einhorn for his stubbornness and arrogance, while supporters say Einhorn is simply committed to his value methodology and point to his humble lifestyle as an example of his down-to-earth thinking.
For what it's worth, Einhorn's comments to investors after another disappointing quarter in Q1 of 2018 suggest he still sees a comeback in value investing and is prepared to go down with the ship if he's wrong.
"Our investment theses remain intact," he said in his shareholder letter. "Despite recent results, our portfolio should perform well over time."
Top Einhorn Stock Picks
For investors who agree with Einhorn that value investing is poised for a comeback, here's an overview of Greenlight's largest long positions:
General Motors
Brighthouse Financial Inc (NASDAQ: BHF)
AerCap Holdings N.V. (NYSE: AER)
Mylan NV (NASDAQ: MYL)
Green Brick Partners Inc (NASDAQ: GRBK)
Related Links:
Q1 13F Roundup: How Buffett, Einhorn, Ackman And Others Adjusted Their Portfolio
Greenlight's Q4 Letter Reveals Another Tough Quarter For David Einhorn
View Comments and Join the Discussion!
Posted-In: David Einhorn Greenlight CapitalEducation Hedge Funds Media General Best of Benzinga