6 Companies That Benefit From The Growing Smart Speaker Market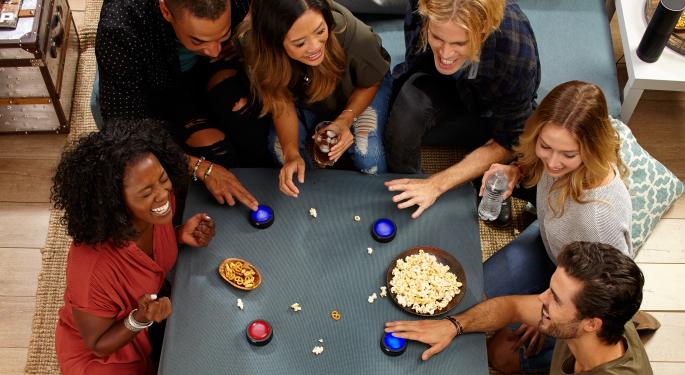 The smart speaker is a tech innovation that's caught fire with consumers, according to the "Smart Speaker Consumer Adoption Report 2018" released by Voicebot.ai in collaboration with PullString and the RAIN Agency.
The findings are based on an in-depth national survey of 1,057 U.S. adults, who were queried on ownership, product preference and use cases.
1-in-4 Adults Own A Smart Speaker
About 19.7 percent of U.S. adults are said to have access to a smart speaker, which would mean an absolute number of 47.3 million out of the total U.S. adult population of 252 million, according to Voicebot.ai.
"Access" includes adults who have a device in their homes but are not the primary user.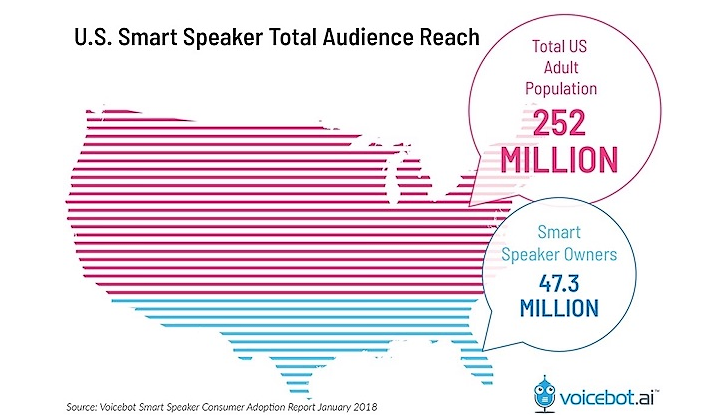 Source: voicebot.ai
A separate survey by NPR and Edison Research completed in November found 16 percent of adult Americans, or about 39 million, own a smart speaker.
Voicebot.ai expects consumer adoption to grow nearly 50 percent in 2018. This translates to a 28-percent adoption rate.
About 44 percent of U.S. online adults said in December they plan to buy a digital assistant-powered smart speaker, according to research by the Consumer Technology Association.
Other Key Findings
About 57.8 percent owners are male and 42.2 percent are female.
Two-thirds of the owners have only one device; 19.3 percent own two; and a small percentage has three or four devices.
Most owners tend to use the devices in either the living room or kitchen.
See also: Is Alibaba A Potent Threat In Smart Speaker Market?
Amazon In The Lead
Amazon.com, Inc. (NASDAQ: AMZN) has a strong presence in the U.S., as it commanded an enviable 71.9 percent share of the smart speaker market, Tech Crunch reported, citing Voicebot.ai. Alphabet Inc (NASDAQ: GOOGL)(NASDAQ: GOOG)-owned Google had a 18.4-percent share, while devices from other companies that use personal assistants from Amazon (Alexa) and Google (Google Assistant) have a combined 9.7-percent share.
Companies That Could Ride The Smart Home Adoption Wave
1. Amazon's Early Mover Advantage
Amazon stands to benefit from the trend. The Amazon Echo (priced at $99) and Google Home together make up 94 percent of overall smart speaker usage, according to Strategy Analytics.
Leveraging its first-mover advantage, Amazon has a host of products on the market, including the Echo, Echo Dot, Echo Plus, Echo Spot and Echo Show. The first Echo was launched in 2014. The Echo Dot and Echo Plus are smaller and bigger versions of the basic Echo version, while the Echo Spot and Echo Show come with a screen.
The Alexa digital assistant used in Echo devices have far greater skills than the Google Assitant, which essentially means it can connect to more devices and services, facilitating the performance of a wide range of tasks.
2. Google: Leveraging Core Competencies
Google has two product variants in the market: the Google Home, priced at $129, and the Google Home Mini. Google Assistant, which powers Google Home, scores over rivals in search-related queries, given that search is the company's core competency. Google Home was launched in November 2016.
3. Apple's Pricey Product
Apple Inc. (NASDAQ: AAPL)'s Siri-enabled HomePod is priced at $349, a premium over competing offerings. To find a niche market, the company is positioning HomePod as a high-end audio play with AI, according to Time.com. The product was released in late 2017.
4. Microsoft's Late Plunge
Microsoft Corporation (NASDAQ: MSFT) decided to enter the smart speaker market through its association with German audio company Harman Kardon. In October, the company launched the Harman Kardon Invoke, which uses the Cortana digital assistant and is priced at $199.
5. Alibaba Tests Waters With Chinese Launch
Alibaba Group Holding Ltd (NYSE: BABA) launched a smart speaker, the Tmall Genie, last year, although it is currently available only in China. The product is price competitive, retailing for roughly $73 in U.S. dollar equivalents.
6. Samsung Plans Rollout
SAMSUNG ELECTRONIC (OTC: SSNLF) is likely to roll out its Bixby digital assistant-powered smart speaker in the second half of 2018, according to a report in The Wall Street Journal that quoted DJ Koh, the president of the company's mobile division.
Other companies offering smart speakers that are not publicly traded include Sonos, which uses Alexa, and JBL, which uses Google Assistant.
Related Link:
The Top Reason Some Won't Buy A Smart Speaker: Price, Not Privacy
Photo: Amazon Echo Buttons. Courtesy photo.
View Comments and Join the Discussion!
Posted-In: connected homes PullString RAIN Agency Smart Home smart speakers Voicebot.aiTech Trading Ideas Best of Benzinga