The Top Reason Some Won't Buy A Smart Speaker: Price, Not Privacy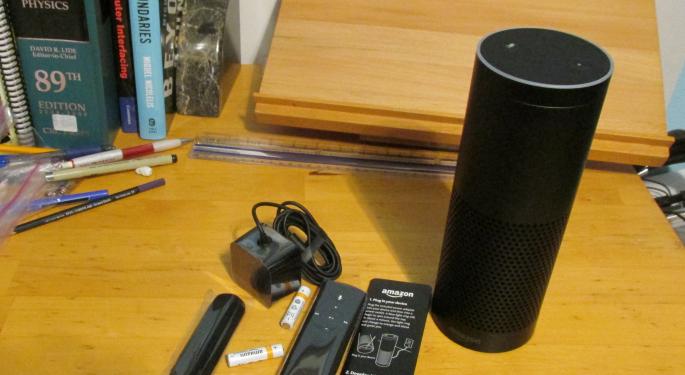 Privacy concerns are often considered to be the biggest reason against owning a smart speaker like Amazon.com, Inc. (NASDAQ: AMZN)'s Echo or Alphabet Inc (NASDAQ: GOOG) (NASDAQ: GOOGL)'s Google Home. After all, the devices are always listening, and tech giants are notorious for gathering as much information about users as possible and however possible.
After all, Alphabet recently confirmed its new $50 entry level speaker, Google Home Mini, was discovered to be recording conversations without a user's consent. The company itself confirmed it is permanently disabling this feature on its smart speakers thereby also confirming ongoing privacy concerns.
But as it turns out, privacy concerns aren't top on the list of reasons against owning a smart speaker, according to Statista who cited data from NPR and Edison Research. Among a survey of 1,620 U.S. consumers of which 820 do not own a smart speaker, 60 percent said the devices are merely too expensive.
Ranking second at 48 percent is a lack of information about what the speakers do, Statista noted. This is followed by 41 percent of respondents who think they wouldn't use the device enough to justify a purchase. An equal 41 percent of respondents cited concerns of hackers misusing it.
Thirty-six percent of respondents cited privacy concerns and said they are bothered by smart speakers that could be always on and listening to every conversation.

Source: Statista
Related Links:
What's Trending In Emerging Tech: 4K TVs, Smart Speakers Smash Hits; Wearables Struggle
South Park Built Shopping Lists, Set Alarms On Your Amazon Echo And Google Home
_______
Image Credit: By brewbooks from near Seattle, USA (Amazon Echo unpacked) [CC BY-SA 2.0 (https://creativecommons.org/licenses/by-sa/2.0)], via Wikimedia Commons via Wikimedia Commons
View Comments and Join the Discussion!
Posted-In: Google Home Google Home Mini Privacy Concerns smart speakers StatistaTech Media Best of Benzinga