What Donald Trump And Warren Buffett Have In Common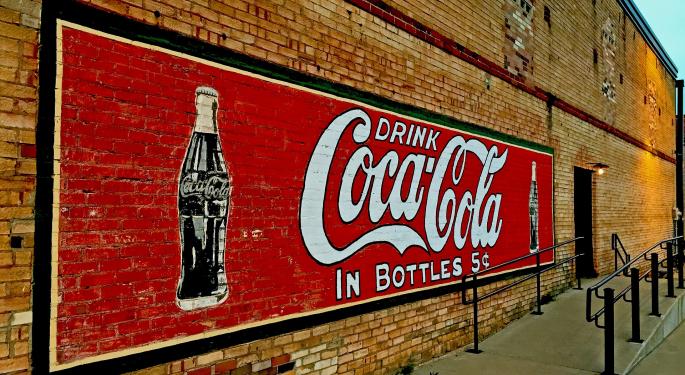 As activists and legislators violently shake the soda industry, citing deleterious health effects and contributions to global obesity rates, two of the world's billionaires temper the pressure with enduring devotion: A zeitgeist-defying love of The Coca-Cola Co (NYSE: KO)'s bubbly softdrinks.
Red, White And You
For President Donald Trump, who was said to have survived on Diet Coke during his grueling political campaign, the fuel is just a finger-weight away. Trump was recently discovered to have built a red, pinky-sized button into a placard on the Resolute Desk that, when triggered, summons a White House butler with a Coke.
"Everyone does get a little nervous when I press that button," Trump joked when a Financial Times reporter asked if it was the nuclear switch.
Have A Coke And A Smile
Coke has a fan in Trump, but it also has a loyal friend in Warren Buffett. The renowned investor is often caught with a bottle to his lips and has claimed to imbibe five cans a day.
"I'm one quarter Coca-Cola," Buffett once told Fortune. "If I eat 2,700 calories a day, a quarter of that is Coca-Cola. I drink at least five 12-ounce servings. I do it everyday."
The breakdown is something like this: one at breakfast, two during the day and two at night, with regular Coke at the office and Cherry Coke at home.
Not only is the 86-year-old's body powered by the soda, but so is his net worth.
Buffett has been a major shareholder for the last few decades and now owns a 9.3 percent, $17 billion stake in the company. His association is so firmly established that Coca-Cola actually capitalized on it when introducing Cherry Coke in China March 10. Buffett's face graced a limited edition can to appeal to the nation's emulating investors.
Taste The Feeling
The president and Berkshire Hathaway Inc. (NYSE: BRK-A) CEO not only rival in Coke consumption but in overall nutritional habits. Buffett's breakfast Coke washes down a substantial meal of Utz potato sticks or chocolate chip ice cream, while Trump knocks back his can with McDonald's Corporation (NYSE: MCD), PepsiCo, Inc. (NYSE: PEP)'s Lay's potato chips or Kellogg Company (NYSE: K)'s Keebler Vienna Fingers.
"I elect to get my 2,600 or 2,700 calories a day from things that make me feel good when I eat them," Buffett said at his firm's 2016 meeting. "I have not seen evidence that convinces me that it'll be more likely I reach 100 if I suddenly switched to water and broccoli."
With Buffett valued at $75.6 billion and Trump at $3.5 billion, these global names are economically unlimited, but their pleasure lies in plebeian nibbles and a $0.75 can.
Related Links:
How Much Was A Bottle Of Coke When Warren Buffett Was Born?
View Comments and Join the Discussion!
Posted-In: Coke Donald Trump President Donald Trump Warren BuffettEducation Politics Top Stories General Best of Benzinga