Battery Capacity Over The Years: How Will Goodenough's New Invention Stack Up?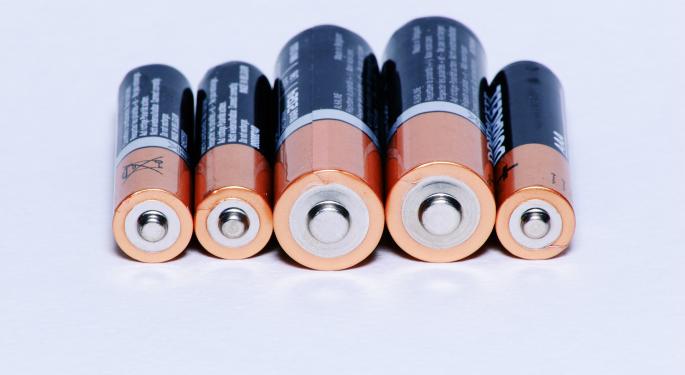 Batteries have a long history, dating back to 1798, when Italian physicist Count Alessandro Volta built a primitive battery consisting of a stack of paired copper zinc disks separated by cardboard disks moistened with a salt or acid solution.
Although devices have advanced tremendously over the years, with the advent of smartphones, smart wearables and even smart homes, power has been a constraint due to the limited capacity of battery technology.
The development of an all solid-state battery by John Goodenough — the 94-year-old professor who invented the Lithium-ion battery, — should sound like music to the ears of tech and auto companies. Alphabet Inc (NASDAQ: GOOGL) Executive Chairman Eric Schmidt termed the technology "promising":
John Goodenough, inventor of the lithium battery, has developed the first all-solid-state battery cells. Promising! https://t.co/fhhjWEQF8N

— Eric Schmidt (@ericschmidt) March 14, 2017
Good Enough On Three Counts
The newest kid on the block is a low cost, all-solid-state battery that's non-combustible and durable, with a high volumetric energy density and fast rates of charge and discharge, according to a release from the Cockrell School of Engineering of the University of Texas at Austin.
SAMSUNG ELECTRONIC KRW5000 (OTC: SSNLF) could now heave a sigh of relief, as it may no longer have to contend with fire hazards, as it had to with its Galaxy Note 7 tab. The new battery in the works is designed to use glass electrolyte, which prevents the formation of dendrites while using an alkali-metal anode. Dendrites passing through the liquid electrolytes when the battery is charged quickly leads to short circuiting and in turn explosions. With glass retaining its conductivity even in sub-zero temperatures, cars using these batteries can function efficiently even in freezing weather. Another positive factor is that these batteries can be made from readily available low cost sodium. For those of you whose interest is piqued by how the battery has evolved over the years, here is the evolution in nutshell:
Evolution
The Daniell cell in 1836.
Lead-acid battery in 1859.
It was the first rechargeable battery. The lead-acid battery's strong point is that it can help supply a huge surge of current and is therefore used even today in automobile starter motors.
The Nickel Cadmium in 1899. This did not gain much traction due to the toxicity associated with cadmium.
Then came the alkaline battery, used in a host of household devices, including flashlights and remote controls. They were mostly non-rechargeable, although they could be made chargeable by using a specially designed cell. The modern version of the alkaline battery, named so because of the alkaline potassium hydroxide electrolyte used, was invented by Lewis Urry in the 1950s.
Daimler Benz, which was the former name of Daimler AG (OTC: DDAIF), and Volkswagen AG (ADR) (OTC: VLKAY), sponsored the nickel-metal hydride battery, which was rechargeable and safe, unlike its predecessor, the Nickel Cadmium battery.
The subsequent iteration was the lithium-Ion battery, with Sony Corp (ADR) (NYSE: SNE) releasing the first commercial iteration in 1991. It was invented by Goodenough in 1990 and has been powering most electronic devices ever since This battery is versatile, in the sense that it has a number of specific cathode formulations for different applications.
Lithium nickel cobalt aluminum oxide cathodes are used in the batteries in Tesla Inc. (NASDAQ: TSLA)'s Model S vehicles, while lithium cobalt dioxide cathodes are used in laptops and smartphones. The anode is graphite and a type of lithium salt suspended in an organic solvent serves as the electrolytic solution. Telsa's much-touted Gigafactory 1 is a factory being constructed in Nevada's Storey County to manufacture lithium-ion batteries.
Capacity
Capacity is a measure of the charge stored by the battery and denotes the maximum amount of energy derived from it. This is dependent on the mass of the active material contained in the battery. A typical lithium-ion battery capacity, which was quantified as 1,100m mAh, or milliamp hours, in 1994, has improved to 3,000 mAh, with high-energy dense 18650 cells. This means it can deliver 3,000 million amperes of current for an hour. SolidEnergy, a MIT spin-off, demonstrated in 2015 that by replacing lithium ion with lithium metal, the capacity of a battery can be doubled. A lithium metal smartphone battery offers 2.0 amp hours compared to a the 1.8 amp hours supplied by lithium-ion batteries. An AA alkaline battery typically has a rated capacity of 2,500 mAh, while an AA nickel-metal hydride has a rated capacity ranging between 1,200 and 1,900 mAh.
Lithium-Ion Vs. Alkaline Batteries
Lithium-Ion batteries operate at 1.75 volts, while alkaline batteries work at 1.5 vpolts. The former has a longer shelf life, usually three to five times more than the latter. Alkaline batteries are generally non-rechargeable, while lithium-ion batteries are rechargeable and are used in devices with high energy requirements.
Companies Which Could Benefit From Goodenough's Innovation
Smartphone makers such as Apple Inc. (NASDAQ: AAPL) and Samsung could find a bankable product in Goodenough's all-solid-state batteries for their smartphones. The new battery type could also be used in high drain devices such as digital cameras. Wearable device makers such as Apple, Samsung and Fitbit Inc (NYSE: FIT) could also stand to benefit. Electric vehicle makers such as Tesla and a host of automakers, including General Motors Company (NYSE: GM), Volkswagen and Toyota Motor Corp (ADR) (NYSE: TM) could also be quick to adopt the technology.
Related Links: Which Automaker Has The Largest U.S. Electric Vehicle Footprint? 3 Ways To Bet On The Battery Revolution
View Comments and Join the Discussion!
Posted-In: Alphabet Inc Apple Fitbit General MotorsEducation Tech Trading Ideas General Best of Benzinga