In The Midst Of Pandemic, Traders Pin Their Hopes On These Healthcare ETFs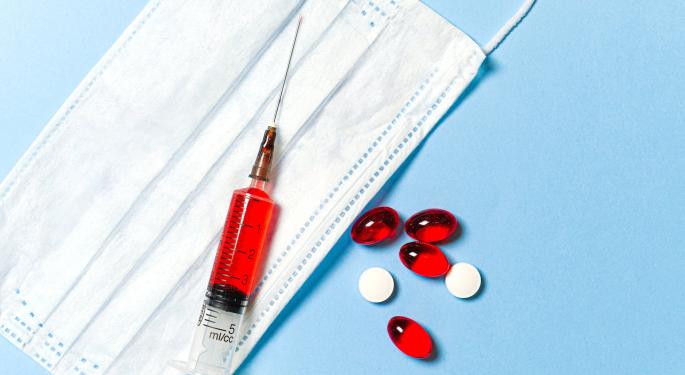 Following months of mounting infection rates and rising economic uncertainty, the world is beginning to see brief glimmers of hope from the global COVID-19 pandemic. Several of the hardest-hit countries such as China, Italy, France and the U.S. have started to show slowing infection rates thanks to quarantine measures, and some economies around the world are beginning to awake from their slumber.
And while infection rates continue to rise in many countries around the world, the global healthcare community has made strides to increase virus testing measures and fast track potential treatments for COVID-19. As a result of this urgent demand for medical services and pharmaceutical treatment, healthcare and bioscience indexes like the S&P's Biotechnology Select Industry Index and Pharmaceuticals Select Industry Index have surged in recent weeks. Riding this wave of investor enthusiasm are a couple of leveraged ETFs with a focus on the healthcare segment.
Direxion Daily Pharmaceutical & Medical Bull 3X Shares
Higher by about 133% over the past two months, the Direxion Daily Pharmaceutical & Medical Bull 3X Shares (NYSE: PILL) has seen a sustained net inflow of $7.92 million over the course of March and April, according to data from ETF.com.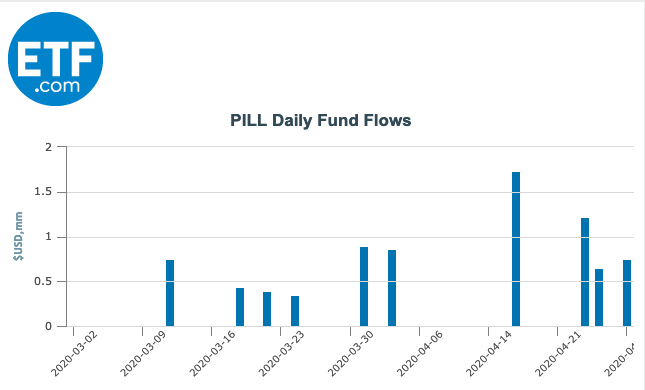 Source: ETF.com. Data as of 4/29/2020.
The ETF, which aims to deliver 300% of the daily results of the S&P Biotechnology Select Industry Index, has gained its current price thanks to the performance of constituent stocks with exposure to the global response to COVID-19.
Chief among these stocks is over-the-counter pharmaceutical company Perrigo Company plc (NYSE: PRGO). The company has gained about 30% since mid-March after seeing strong sales of its antibacterial sanitizing products through the first quarter, which it expects will help boost its earnings results when they report at the start of May.
Other strong performers like Horizon Therapeutics (NASDAQ: HZNP) and Catalent, Inc. (NYSE: CTLT) have regained much, if not all, of their losses from March, suggesting investors are expecting similarly strong results when they each deliver earnings updates during the first week of May.
One company already drafting off of strong first-quarter figures is Johnson & Johnson (NYSE: JNJ), which is higher by roughly 35% from its March low. The company also revealed in its earnings announcement that it would be increasing its quarterly dividend, further helping to fuel investor interest in the midst of the current economic uncertainty.
Other components included in the index such as Pfizer Inc. (NYSE: PFE) and Mylan N.V. (NASDAQ: MYL), have also rallied in recent weeks thanks to their efforts to develop partnerships in the biotech industry toward a possible treatment for COVID-19. However, the bulk of the enthusiasm for this task is more apparent in another healthcare ETF.
Direxion Daily S&P Biotech Bull 3X Shares
Having gained more than 260% from its most recent low in mid-March, the Direxion Daily S&P Biotech Bull 3X Shares (NYSE: LABU) is among one of the top-performing ETFs among Direxion's leveraged offerings.
As a result of this strong performance, fund flow in LABU has tapered somewhat in recent trading sessions. However, the ETF is still net positive as far as investor capital, having accrued a net inflow of roughly $64 million since the beginning of March.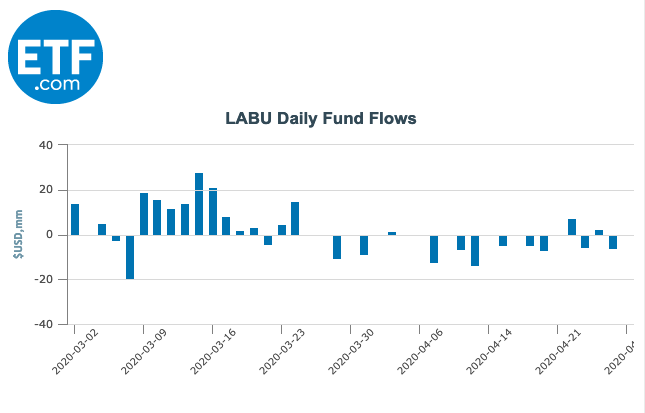 Source: ETF.com. Data as of 4/29/2020.
This is of course largely a result of the concerted effort within the biotech industry to discover a treatment for or vaccine against COVID-19. At this point, no one appears closer to bringing a drug to market than Gilead Sciences (NASDAQ: GILD) (2.43% of LABU). Their treatment Remdesivir got a positive response in a National Institute of Health clinical trial, and is expected to be granted an emergency use authorization by the FDA.
The biotech trade has also been bolstered by names like Moderna, Inc. (NASDAQ: MRNA) (2.65% of LABU), which has begun phase one clinical trials of its vaccine, BioCryst Pharmaceuticals, Inc. (NASDAQ: BCRX), currently testing the efficacy of its broad-spectrum antiviral medication Galidesivir, and Amgen Inc. (NASDAQ: AMGN), who has partnered with Adaptive Biotechnologies Corporation (NASDAQ: ADPT) in pursuit of a vaccine for the virus. All of those stocks rose dramatically in April.
This is health care's finest hour, and despite a rough and uncertain road ahead, investors seem confident that the sector will help guide the world through the current pandemic.
PILL Index Top Ten Holdings % as of 3/31/20
Lilly - 6.09%
Zoetis c - 5.04%
Allergan - 5.01%
Johnson & Johnson - 4.95%
Catalent Inc - 4.79%
Perrigo Co - 4.76%
Horizon Therapeutics - 4.69%
Bristol-Myers Squibb - 4.66%
Merck - 4.60%
Pfizer - 4.54%
LABU Index Top Ten Holdings % as of 3/31/2020
Regeneron Pharmaceuticals - 2.77%
Moderna - 2.65%
Gilead Sciences - 2.43%
Vertex Pharmaceuticals - 2.32%
Biogen - 2.27%
United Therapeutics - 2.26%
Biomarin Pharmaceutical - 2.25%
Seattle Genetics - 2.16%
Exelixis - 2.06%
Acadia Pharmaceuticals - 2.03%
---
The performance data quoted represents past performance. Past performance does not guarantee future results. The investment return and principal value of an investment will fluctuate. An investor's shares, when redeemed, may be worth more or less than their original cost. Current performance may be lower or higher than the performance quoted.
For the funds' standardized and most recent month end performance click here (www.direxion.com/etfs)
These leveraged ETFs seek investment results that are 300% of the return of its benchmark index for a single day. Investing in a Direxion Shares ETF may be more volatile than investing in broadly diversified funds. The use of leverage by an ETF increases the risk to the ETF. The Direxion Shares ETFs are not suitable for all investors and should be utilized only by sophisticated investors who understand leverage risk, consequences of seeking daily leveraged investment results and intend to actively monitor and manage their investment.
An investor should carefully consider a Fund's investment objective, risks, charges, and expenses before investing. A Fund's prospectus and summary prospectus contain this and other information about the Direxion Shares. To obtain a Fund's prospectus and summary prospectus call 866-301-9214 or visit our website at direxioninvestments.com. A Fund's prospectus and summary prospectus should be read carefully before investing.
Market Disruptions Resulting from COVID-19. The outbreak of COVID-19 has negatively affected the worldwide economy, individual countries, individual companies and the market in general. The future impact of COVID-19 is currently unknown, and it may exacerbate other risks that apply to the Funds.
Shares of the Direxion Shares are bought and sold at market price (not NAV) and are not individually redeemed from a Fund. Market Price returns are based upon the midpoint of the bid/ask spread at 4:00 pm EST (when NAV is normally calculated) and do not represent the returns you would receive if you traded shares at other times. Brokerage commissions will reduce returns. Fund returns assume that dividends and capital gains distributions have been reinvested in the Fund at NAV. Some performance results reflect expense reimbursements or recoupments and fee waivers in effect during certain periods shown. Absent these reimbursements or recoupments and fee waivers, results would have been less favorable.
Direxion Shares Risks: An investment in the ETFs involves risk, including the possible loss of principal. The ETFs are non-diversified and include risks associated with concentration that results from an ETF's investments in a particular industry or sector which can increase volatility. The use of derivatives such as futures contracts and swaps are subject to market risks that may cause their price to fluctuate over time. The ETFs do not attempt to, and should not be expected to, provide returns which are a multiple of the return of their respective index for periods other than a single day. For other risks including leverage, correlation, daily compounding, market volatility and risks specific to an industry or sector, please read the prospectus.
Distributor: Foreside Fund Services, LLC.
View Comments and Join the Discussion!
Posted-In: Covid-19Biotech Penny Stocks Sector ETFs Specialty ETFs Markets ETFs General