The Most Notable Abstracts Released Ahead Of ASCO 2017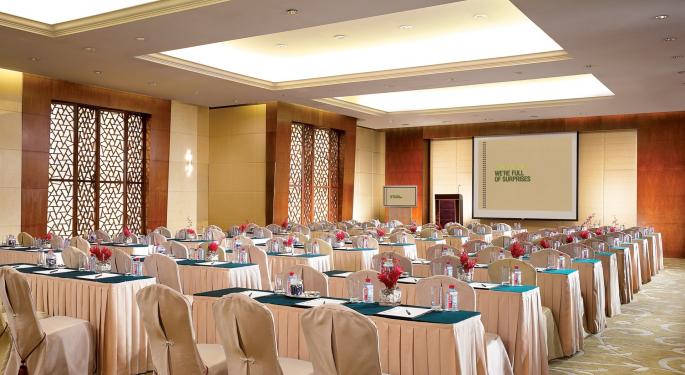 The American Society of Clinical Oncology, or ASCO, has scheduled its annual meeting on June 2–6, 2017, at McCormick Place, Chicago.
The five-day event has Conquer Cancer Foundation as its lead sponsor. The event, typically attended by over 30,000, will be marked by presentations of results of clinical trials and updates, which give an overview of progress achieved in cancer research over the year.
In the run up to the event, several biotech companies focusing on cancer research released abstracts of their presentation. Benzinga has compiled the most noteworthy abstracts for the benefit of readers.
1. NewLink Genetics Corp (NASDAQ: NLNK)
New Link Genetics is scheduled to present data from two clinical studies of its IDO pathway inhibitors indoximod and navoximod, code-named GDC-0919, used in combination with other agents.
GDC-0919 is being developed along with Roche Holding Ltd. (ADR) (OTC: RHHBY)'s Genentech, with the testing done in combination with the latter's Tecentriq. The Phase 1b study tested safety and tolerance. Though the safety data was encouraging, there were concerns about efficacy.
Reacting to this, shares of New Link fell sharply. However, sell-side analysts say the sell-off is unfounded, given that the efficacy results reflected a heavily pre-treated population with heterogenous/undefined tumor types receiving sub-optimal dosing.
Meanwhile, indoximod is being tested along with Dendreon Corporation (OTC: DNDNQ)'s Provenge. The results of the Phase 2 study showed a statistically significant improvement in progression-free survival for the combo.
The indoleamine 2,3-dioxygenase, or IDO, pathway regulates immune response by suppressing T-cell function and enabling local tumor immune escape.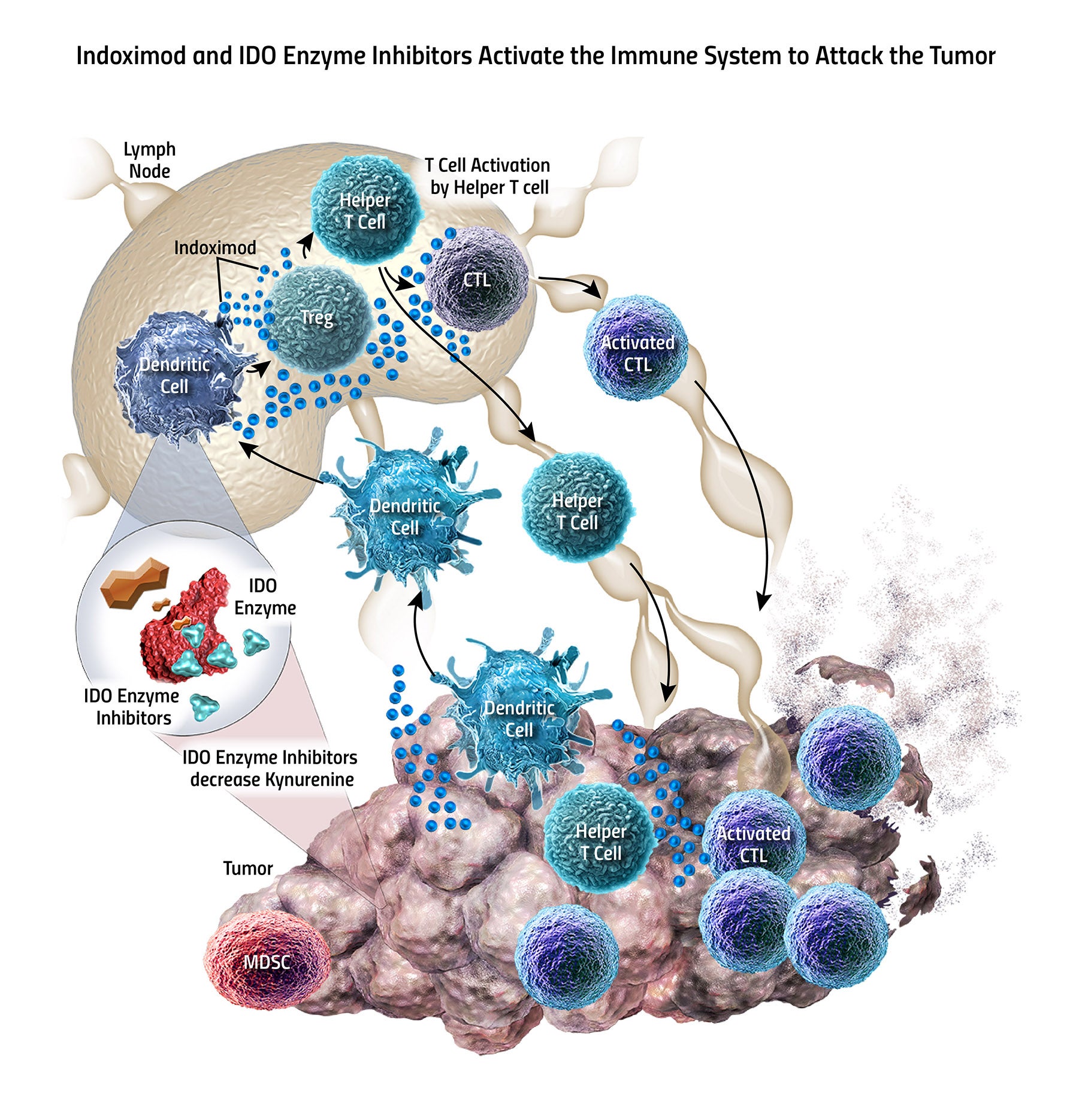 Source: NewLink Genetics
2. Incyte Corporation (NASDAQ: INCY)
Incyte's Phase 1/2 data from the ECHO-204 trial, evaluating the safety and efficacy of epacadostat, its selective IDO1 enzyme inhibitor, in combination with Bristol-Myers Squibb Co (NYSE: BMY)'s Opdivo will be presented at the ASCO. The abstract showed that no dose-limiting toxicities were observed in the Phase I study.
New data to be presented by Incyte showed that Epacadostat in combination with Merck & Co., Inc. (NYSE: MRK) PD-1 therapy Keytruda was well tolerated and demonstrated durable clinical responses across multiple solid tumor.
3. Merus NV (NASDAQ: MRUS)
Merus announced results from Phase 1/2 study of MCLA-128, its treatment candidate for breast cancer. It is a full-length IgB bispecific antibody, with enhanced antibody-dependent cell-mediated cytoxicity targeting HER2 and HER3 receptors.
The company said it will initiate the Phase 2 clinical trial in the second half of 2017, exploring two metastatic breast cancer populations, namely HER2-positive patients and hormone receptor-positive/HER2-low patients.
Merus noted that the Phase 1 portion established 750 mg, every week, as the recommended Phase 2 dose and the Phase 2 portion is ongoing, exploring selected metastatic indications, including breast, endometrial, ovarian, gastric and non-small cell lung cancers.
4. Syndax Pharmaceuticals Inc (NASDAQ: SNDX)
Syndax announced Phase II results from the ENCORE 601 trial, which evaluated its entinostat in combination with Keytruda in treating melanoma.
5. CytRx Corporation (NASDAQ: CYTR)
CytRx is scheduled to make an oral presentation of its global Phase 3 Aldoxorubicin clinical data in patients with soft tissue sarcomas, or STS. The company said the results continue to demonstrate prolonged progression free survival in sarcoma patients compared to standard treatments.
The company is also set to make a poster presentation of data from Phase 1/2 trial combining Aldoxorubicin with Ifosfamide/Mesna in first- and second-Line STS.
6. ESSA Pharma Inc. (NASDAQ: EPIX)
Early Phase 1 data from the ongoing Phase 1/2 study of EPI-506 to treat end-stage patients with metastatic castration-resistant prostate cancer is to be presented at the ASCO meeting. The company noted that three out of 18 patients showed prostate-specific antigen-declines at doses from 80 mg to 1280 mg. The candidate was also found to be well tolerated, with a favorable safety profile.
2 Other Notable Mentions
Leap Therapeutics Inc (NASDAQ: LPTX) — positive interim data from Phase 1 study of DKN-01 in combination with chemotherapy for patients with advanced biliary tract cancers.
ImmunoGen, Inc. (NASDAQ: IMGN) — Top-line data from a Phase 1 Study of Mirvetuximab Soravtansine in ovarian cancer indicated favorable safety and efficacy profile in multiple combinations.
Related Links:
Mark Your Calendar For These Days In May To Play The Volatility Around FDA Decision Dates
View Comments and Join the Discussion!
Posted-In: Biotech News Health Care Previews FDA Events Trading Ideas General Best of Benzinga