Carl Icahn's Track Record In Big Pharma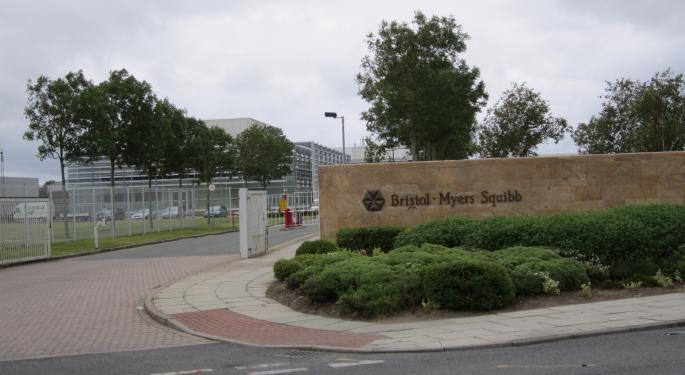 Billionaire investor and corporate raider Carl Icahn has trained his eyes on Bristol-Myers Squibb Co (NYSE: BMY). A Wall Street Journal report revealed on Tuesday that Icahn has picked up a substantial stake in the pharma giant, although the report did not put a number to it.
Does Icahn's interest mean the company is in for a radical overhaul? The report also suggested that Icahn is impressed with the company's experimental drug pipeline even as he thinks it is an acquisition target.
Since August last year, shares of Bristol-Myers have been languishing, as they are down over 13 percent. The company's cancer immunotherapy franchise Opdivo has not done well as it should have, consequently ceding share to rivals.
Related Link: Which Pharma Players Dominate The Lung Cancer Space?

Source: Y Charts
Now, how would Icahn's association impact Bristol-Myers Squibb? Will he be content merely with getting board representation? The Street is awash with speculation that Icahn could force the company to put itself on the block. A logical call, given that the decline in stock price over the past year on the failed Opdivo trial has left the company thin on valuation.
The development has come at a time when the Trump administration is expected to overhaul the corporate tax code, including allowing a tax holiday to influence companies to repatriate profits stashed overseas. This could free up resources for a potential acquirer to make a bid for Bristol-Myers Squibb.
The names doing the round include Pfizer Inc. (NYSE: PFE), Roche Holding Ltd. (ADR) (OTC: RHHBY) and Novartis AG (ADR) (NYSE: NVS). Of these companies, Pfizer, which has had a failed attempt in the recent past, might be the most likely one to give M&A another shot.
To get clarity on this, Benzinga looked at Icahn's previous liaisons with pharma companies.
First Foray Into Biotech Sector
IMCLONE SYSTEMS LLC, which is now part of Eli Lilly and Co (NYSE: LLY), was hounded by Icahn in 2002 after an insider trading scandal left the company in a precarious situation. Icahn managed to win a proxy battle in 2006, inducting four of his members to the board. Following the replacement of the interim CEO with Icahn's candidate, the company was sold to Eli Lilly in 2009.
Exploiting Genzyme's Manufacturing Woes
Genzyme, which is a unit of Sanofi SA (ADR) (NYSE: SNY) came on Icahn's radar after the FDA delayed approval of one of its new drug and also found issues with its Massachusetts factory in 2009. Subsequently, the company was forced to shut one of its plants.
With rival drugs getting fast track status to fill in the vacuum created by the stalling in the manufacture of the company's Cerezyme, its shares took a hit. Icahn began building up positions in Genzyme in late 2009 and forced the company to the negotiation table. After raising his stake to 4.8 million shares in early 2010, Icahn negotiated for board representation.
Amid the compounding of Genzyme's manufacturing woes, Icahn increased his stake to 10.5 million shares or 4 percent of the company. Subsequently, Icahn called a truce with the management, as the company appeased him by giving board representations for two independent directors. However, Genzyme was forced to sell itself to Sanofi, with Icahn playing a role in bumping the deal price from $69 per share to $74 per share.
Icahn Gives Up On Biogen After 4-Year Activism
Icahn picked up 2.7 million shares of biotech company Biogen Inc (NASDAQ: BIIB) in 2007 and gradually grew it to 8.2 million shares by 2011. With Biogen, he recommended a sale at the end of 2007 and after the attempts to sell failed, he fought hard to induct his slate of directors to the board. Icahn succeeded in getting two of his nominees inducted into the board in 2009. After realizing the company is not falling in line with him, he liquidated his holdings in Biogen.
Biogen's stock, which rose slightly at the time Icahn announced the stake, was steady during the period he held the stake. The stock picked up momentum in 2011 and when the liquidation news came about, it was up 69 percent from the time Icahn first revealed his stake.
Icahn's Run Ins With Other Biotech Firms
MEDIMMUNE, LLC, which was sold to AstraZeneca plc (ADR) (NYSE: AZN).
Amylin Pharmaceuticals LLC (NASDAQ: AMLN), which was acquired by Bristol-Myers Squibb in 2012.
Forest Laboratories, Inc. (NYSE: FRX), with which Icahn waged a four-year battle through building up a huge stake in the company; Subsequently, Forest Labs was sold off to Actavis, which in turn bought Allergan plc Ordinary Shares (NYSE: AGN) in 2015 and changed its name to Allergan. Since Icahn got involved in Forest Labs, the company's market capitalization increased by $17 billion or over 193 percent.
Bristol-Myers Squibb might be in for a long haul, especially with a person like Icahn breathing down its neck. Shareholders, who are caught in the crossfire between the company and Icahn, might in fact benefit, going by his previous activism record.
Image Credit: By Rept0n1x (Own work) [GFDL (http://www.gnu.org/copyleft/fdl.html) or CC BY-SA 3.0 (http://creativecommons.org/licenses/by-sa/3.0)], via Wikimedia Commons
View Comments and Join the Discussion!
Posted-In: Carl IcahnBiotech News Health Care Hedge Funds Movers Trading Ideas General Best of Benzinga