Exclusive: Dicerna CEO Talks Goals For 2017, Competitors And Prospects Under Trump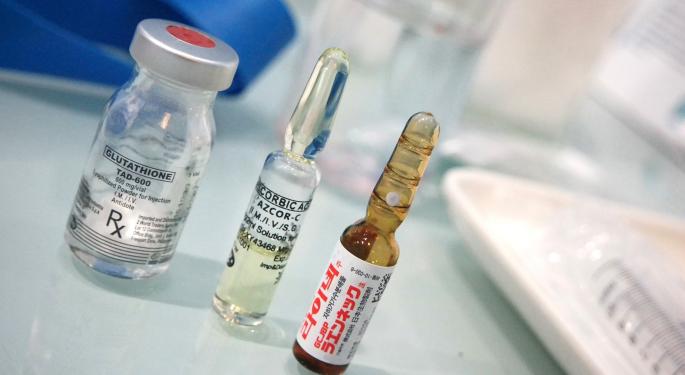 Benzinga recently had the opportunity to pick the brain of Dicerna Pharmaceuticals Inc (NASDAQ: DRNA) CEO Douglas M. Fambrough, Ph.D.
We first looked into what RNA interference is and how it's used to treat genetic diseases. We then talked products, partnerships and stock performance and discussed financials and institutional investors.
In this piece, we'll share a look at Fambrough's goals as a CEO, his outlook for the company under a Trump administration and more.
Goals For 2017
When asked about his main goals for the year, Fambrough said there are two critical things he wants to accomplish.
"The first is to bring the GalXC technology into the clinic, to file our first application for human testing of GalXC," he said. "That would mean taking the technology that we've invented here, and optimized, and proved is safe, and figure out how to manufacture it, take that and actually start treating patients; get into the filing that allows us to start treating patients."
Fambrough said his second goal "is to spread this technology further around the industry, to develop relationships with larger pharmaceutical companies, where there they are collaborating with us to develop GalXC-based therapeutics against diseases that we wouldn't do just by ourselves; to get the technology really broadly used."
"As long as we can accomplish those," he said, "I'm very confident that our stock will be one that investors are glad to have in their portfolio."
When will GalXC go into the clinic?
"We should be filing with the FDA to begin testing in humans right towards the end of the year," Fambrough said.
Related Link: Exclusive: AcelRx Pharma Execs Discuss Stock Performance, Catalysts And Financial Position
Competitors In The Space
Looking to get a better perspective of GalXC's potential, Benzinga asked about competitors in the space, and what makes Dicerna's alternative better.
"One is a company that's sort of at our scale and value, Arrowhead Pharmaceuticals Inc (NASDAQ: ARWR). The other is a substantial pharmaceutical company called Alnylam Pharmaceuticals, Inc. (NASDAQ: ALNY), and they have advanced an older version of this RNA interference into Phase 3 trials; their drug may be on the market in a year or two. So, that drives them to be a lot more valuable.
Fambrough mentioned, however, it also shows "these drugs can work in the clinic and be safe and be effective."
"Given all of the potential drugs that we could make for different diseases, there is more than enough for three companies to work on it [RNA interference]. So, I feel very good about the competitive landscape," he concluded.
Dicerna Under Trump
What about the future of Dicerna under President Donald Trump?
"I'm not worried about the future under a Trump administration. I wasn't worried about it under a Clinton administration [either]," Fambrough assured.
"Ultimately what we're doing here is trying to develop highly effective therapeutics against really serious diseases. That's important and it's valuable, and maybe drug prices are going to be a little higher, and maybe they are going to be a little lower. Maybe there are going to be 20 million more Americans, 5 percent or more Americans without health insurance, so there will be 5 percent more people who are on compassionate use, getting the drug for free as opposed to having their insurance companies pay for it (…) It might be a little more or a little less depending on which way the winds blow, but ultimately because what we're doing is important and potentially provides much needed real health benefits to patients who don't have a solution now, then I am not worried that value is going to be recognized."
"Not recognizing that kind of value is not on the table," Fambrough concluded.
View Comments and Join the Discussion!
Posted-In: Biotech Health Care Politics Top Stories Exclusives Trading Ideas Interview General Best of Benzinga