Exclusive: Dicerna CEO Discusses Financials And Institutional Investors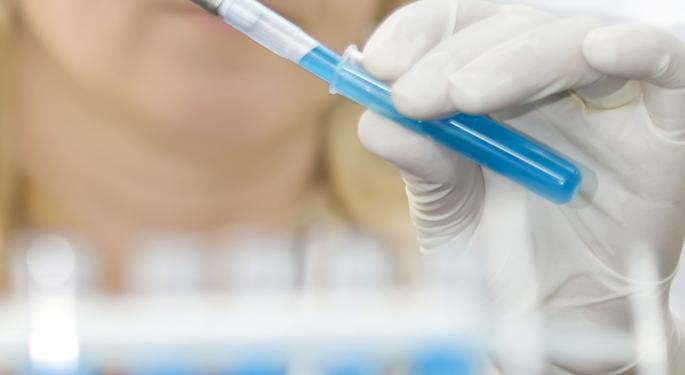 Benzinga recently had the chance to chat with Dicerna Pharmaceuticals Inc (NASDAQ: DRNA)'s CEO Douglas M. Fambrough, Ph.D., who explained what RNA interference is and how it is used to treat genetic diseases.
Beyond this theoretical explanation, the exec walked us through the company's RNAI-based GalXC platform and how it works, and then answered some questions related to the company's financial situation.
Financials
Benzinga: Are you comfortable with your cash position and your debt position? Do you have plans to raise capital anytime soon?
Fambrough: We don't have any debt; so, I am comfortable with that.
We have enough capital for our needs at the moment.
We are a biotech company that continues to consume capital, so we will need to raise more capital in the future. We don't have any specific plans for fundraising at the moment. And, I think, in the future you'll see that a bunch of the capital that we raise will come from these collaborations with pharmaceutical companies; I think that will be a very important mechanism for us.
We will probably do some stock offerings along the way too. But I don't have any specific plans to raise money at the moment and I'm comfortable saying that the amount of capital that we have right now means I don't have to go to the market right now.
Benzinga: Anything on the M&A front in the works?
Fambrough: [T]he GalXC technology, and particularly focused on these rare diseases where fairly small and rapid clinical trials will show that the drugs work [...] puts us in a position where we can do these programs on our own and our strategy is to build a company around GalXC therapeutics for these rare diseases, while helping fund that and helping grow the company by partnering these large-population diseases, hyper, too much cholesterol, hepatitis B virus, things like that, chronic liver diseases by partnering those with large companies.
Related Link: AcelRx: Replacing Morphine With Department Of Defense Funding
So, we're building a company here for the long term. We have a team that is very committed to that and has a lot of experience helping build biotech companies. I think we have the right people and a very good strategy to be a long-term growth story. If someone steps in and buys the company along the way, then that will be what happens, but our goal is to build a company.
Institutional Investors
The conversation then shifted to institutional investors. Especially for a company with a $70 million market cap, Dicerna has a lot of institutional support.
What the high institutional support shows is that "despite being down, we are a very high-potential organization," Fambrough declared. "I think [that the fact that] the sophisticated funds that invest in biotechnology as their profession recognize the GalXC technology and this team means that the people and the opportunity are in place for this to be a big story. I think the investors that we have are in it for the long-term and nobody likes to see the stock where it is today, but I think they are still in the stock because they believe it makes a lot more sense to hold it than to sell it."
Benzinga: How do these investors relate with the company's management team?
Fambrough: First, let's talk about Peter Kolchinsky, because we have a very formal and active relationship with Peter. He has a seat on our Board of Directors… The biotech-focused funds, or people who are actively managing in biotech, like Palo Alto, Fidelity, RTW, 683… I have a relationship with all of them, we talk to them, we've presented to them into their offices.
Renaissance, Jim Simons, he is quant; they deal with their algorithms; I have never met them. But, almost all the institutions that [...] you will see on our shareholder list are making a specific bet on Dicerna because they have done work and they understand the opportunity, and they have met us, and are comfortable with us, and think that good things lie in our future.
Shares of Dicerna have gained more than 18 percent since Benzinga's first article of this series was published.
Check back tomorrow for the last part of this interview, where the chief executive shares a look into the future of the company.
View Comments and Join the Discussion!
Posted-In: cholesterolBiotech News Management Exclusives Movers Interview General Best of Benzinga