Exclusive: Dicerna CEO Talks Products, Partnerships And Stock Performance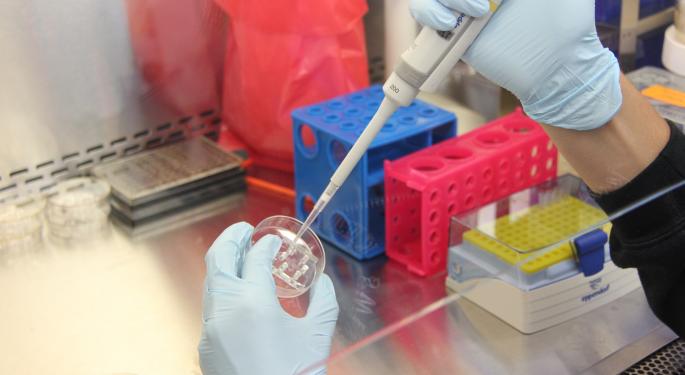 Benzinga recently had the chance to chat with Dicerna Pharmaceuticals Inc (NASDAQ: DRNA)'s CEO Douglas M. Fambrough, Ph.D., who explained what RNA interference (RNAI) is and how it is used to treat genetic diseases.
Beyond this theoretical explanation, the exec elaborated on the company's RNAI-based GalXC platform and how it works.
The GalXC Technology
"There's a lot we can do with the technology [to which we have allocated all of our resources]," he said. "GalXC is our proprietary configuration of the molecules that trigger RNA interference against a particular gene."
"One of the advantages of having developed this GalXC technology is that there are so many disease states that are amenable to a GalXC-based treatment. So, for the programs that we plan to fully develop and get approved and market, we are focusing on rare diseases," he explained. "We are a small company and it is easier to deal with a smaller patient population. [Having said this, we are also] intending to work with large company collaborators on the diseases where there are many, many patients, millions of patients, like too much cholesterol that is not controlled [hypercholesterolemia] or hepatitis B virus infection.
Partnerships
Regarding any new developments with big pharma, Fambrough stated, "We don't have a particular announcement now, but I think this is going to be an important part of our corporate story in 2017. We are actively in discussions with multiple parties," he declared.
Stock Performance
While Dicerna's technology platform looks promising, its stock has been suffering in recent quarters, shedding more than 48 percent of its value in the last year alone. What exactly is going on?
"I think there are a couple things," Fambrough responded. "One is that our prior technology platform was not as good as GalXC and did not work as well, and we had to shut it down."
Related Link: Exclusive: Energous CEO Responds To Short-Seller Allegations, Says 'Their Only Purpose Is To Get Rich'
"So, that announcement […] where we dropped the prior programs, I think the Street had already reached the conclusion that those probably weren't valuable. If you were kind of looking closely, you will notice the stock did not go down when we made that announcement and, in fact, in the weeks afterward it started to go up," he added.
"The second thing is that we do have a peer company that has had a bunch of bad results. They have also had a bunch of good things, but their stock is down quite a bit," the chief exec continued. "And then, the whole market has reset its valuations from the 2014 and 2015 years. The markets were very frothy and very excited about small technology companies and biotech in 2014 and 2015. And really, at the end of 2015 and beginning of 2016, that really changed. So a lot of small companies stocks are substantially down. I would say we are definitely down and the world is looking for us to move our programs into the clinic and do the corporate collaborations, and these are the things that we can do."
"At the end of Q3 we have $57 million in the bank and that really allows us to keep on moving forward. So, I think what we will see is that we have a really strong story to come back from these tough times," he concluded.
Check here for the final part of this article, where Fambrough shares a look into his plans for the company's future, financials, institutional investors and more.
View Comments and Join the Discussion!
Posted-In: Biotech News Management Exclusives Movers Trading Ideas Interview General Best of Benzinga