Having Trouble Finding a Valentine's Day Gift? Here you Go!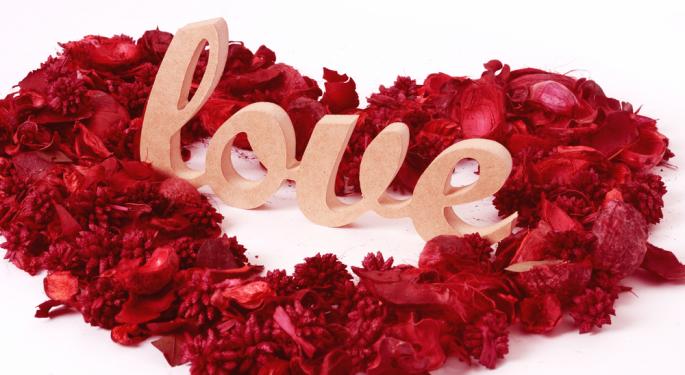 The cost of buying a gift for your sweetheart for Valentine's Day will be more expensive this year according to Houston Asset Management, an investment-advisory firm in Texas.
3 of the 9 items it tracks annually have increased in price, 1 has decreased, and the rest are unchanged.
Chanel No. 5 perfume is up 14 percent in price. A box of Godiva chocolates increased 5.3 percent and a designer silk tie will cost 3.5 percent more this year.
The gifts on the list that have stayed the same include Simi California Chardonnay and the cost of two tickets to a first-run movie.
The only item that dropped in price is a $250 candlelight dinner for two, which can now be had for about $227.50 (not counting the tip).
Leading coupon and discount deal website, Offers.com, also compiled a gift list, by virtue of a poll designed to determine what consumers plan to buy their loved ones this Valentine's Day.
The #1 category, which Offers.com calls Heartfelt and Homemade, includes do it yourself gifts that have sentimental value. This could include photo gifts from a company such as CafePress (NASDAQ: PRSS) or something original and handmade – perhaps with a little help from one of the Internet's many DIY sites.
Classic gifts, such as flowers and chocolate come in at #2 in the poll. Companies like FTD and 1-800-Flowers (NASDAQ: FLWS) can supply the flowers, and chocolate from Hershey (NYSE: HSY) is always popular and appreciated.
Perhaps you plan to purchase something extravagant like jewelry or a trip for your loved one this year. For jewelry, Zale (NYSE: ZLC), is one of the best-known chains and advertises heavily at this time of year.
Travel, unless it's a driving tour of local landmarks, is a big-ticket item. Romantic getaway deals abound on the Internet. If you can be somewhat flexible about travel dates, check out a site like Groupon (NASDAQ: GRPN) that offers up to half-price travel deals. (Although maybe not during gift buying seasons)
Electronic devices may not be quite as warm and fuzzy as flowers or candy, but they last longer. TopTenReviews has put together a well-crafted list of the Best Techie Valentine Gifts for 2013 that includes ratings, gift potential, personalization, and value.
In addition to Apple's (NASDAQ: AAPL) i-line of products, the list includes Amazon's (NASDAQ: AMZN) Kindle Fire, Netflix (NASDAQ: NFLX) memberships, and several other unusual gadgets for your favorite nerd or nerdette.
Sites like redENVELOPE offer a whole host of ideas, including many you can personalize. Everything from jewelry, to personalized pillows, even a pub glass with that special someone's name engraved along with the brewing company logo are available.
Finally, don't forget the most important part of Valentine's Day - the card. Hallmark and American Greetings (NYSE: AM) know you're on your way. That special someone in your life may never forgive you if you don't find the perfect I love you Valentine's card. Unless, of course, you replace the card with that $227.50 wine-and-dine and some jewelry.
Posted-In: Amazon Apple Groupon Netflix Valentines day zalesGeneral Best of Benzinga
View Comments and Join the Discussion!