DocuSign Chairman Explains How The Company Became An Integral Part Of The Tech Industry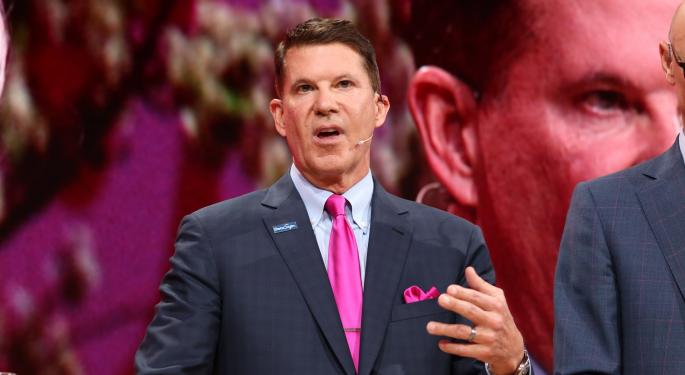 Since its introduction in 2003, DocuSign has become a mainstay of several industries, essentially bringing sectors like insurance and real estate into the 21st century. In its nearly 15 years in the technology space, it's been the subject of acquisition rumors from almost every tech giant and essentially become one itself, with over $500 million in funding and a valuation of over $3 billion.
So when DocuSign chairman Keith Krach speaks at the Benzinga Fintech Summit in San Francisco on Sept. 28, he's doing so with a perspective that could be immensely valuable to startup CEOs and institutional executives in the room. As fintech startups vie for pieces of the trillion-dollar financial services pie, they could take a lesson or two from a company that has experience upgrading Stone Age industries.
So, what are some of the secret ingredients in the DocuSign recipe? According to Krach, it's a result of a "leverage growth model" — a "strategy of a series of sequential chess moves that identify an unserved need in the marketplace, typically brought on by a technology paradigm shift and sequentially creating a category and platform around it, then turbocharging it with partners, industry standards and creating a network effect."
See more companies like DocuSign at the BZ Fintech Summit!
Krach says DocuSign has 300,000 companies on its platform, 200 million unique users spread across 188 countries and is still growing to the tune of 300,000 unique users a day.
Technological Revolutions Per Minute
The advent of mobile tech, cloud software and relatively easily-applied artificial intelligence is rapidly changing the way technology is used in business — to the point where companies still adapting to the last tech revolution are caught in the middle of another wave. Krach sees a firm adopting DocuSign to speed up old-school processes as the first step on its path of modernization.
Related Link: The Symphony Software Foundation: Bringing Open Source To Wall Street
"We eliminate paper in [processes], which is the first and crucial step before you can leverage other technologies such as big data, machine learning and artificial intelligence," Krach said. "Speed of implementation and getting results is crucial to overcoming the cultural resistance to change during any type of transformation."
And as many fintech startups scramble for the procurement budgets of the big banks and financial institutions, they might want to take note of DocuSign's unique approach to enterprise deals. Krach said DocuSign uses a "four-pronged" approach, in which firms like Microsoft Corporation (NASDAQ: MSFT), salesforce.com, inc. (NYSE: CRM), Alphabet Inc (NASDAQ: GOOG) (NASDAQ: GOOGL) and SAP SE (NYSE: SAP) become customers, equity investors, go-to-market partners and technology integrators.
"We've heard over and over how DocuSign has rewritten the playbook of integrating our go-to-market strategy with our equity financing strategy," Krach said. The company has used its relationships to build an advisory board of more than 130 members, including fellow Benzinga Fintech Summit speakers Kevin O'Leary and former Prosper president Ron Suber. It also includes former CEOs of General Motors Company (NYSE: GM), Adobe Systems Incorporated (NASDAQ: ADBE) and McDonald's Corporation (NYSE: MCD).
As many fintech startups have now realized, regulators are going to want a say in the technological upgrading of any industry. Krach said that extending a hand to regulators helped DocuSign play a role in standardizing certain regulations of electronic identity verification by facilitating the development of the xDTM Standard.
"Regulators over the years have been one of the chief drivers of our product requirements, in a positive way," Krach said.
Those interested in learning more can see Keith Krach speak at the Benzinga Fintech Summit next week in San Francisco.
If you're looking for cool fintech startups and access to top financial institutions, and are sick of attending stuffy corporate conferences, the Benzinga Fintech Summit is the event for you. Visit www.bzsummit.com for more details.
Connect with us on social media — use the hashtag #BZAwards and #Fintech to spread the word.
Posted-In: Benzinga Fintech Summit DocuSignFintech Success Stories Startups Exclusives Tech Interview Best of Benzinga
View Comments and Join the Discussion!