The Symphony Software Foundation: Bringing Open Source To Wall Street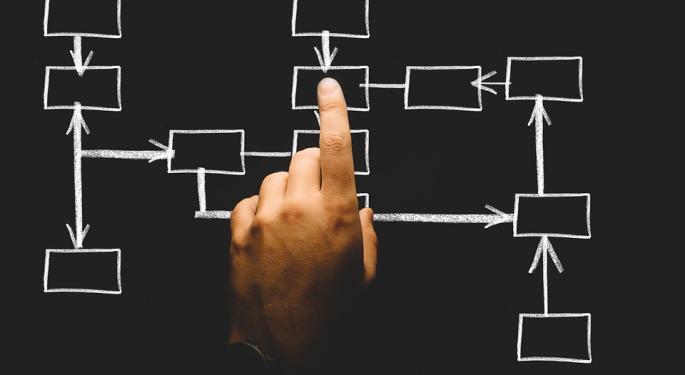 Whenever banks merge, they typically bring along their overlapping, proprietary software platforms as luggage.
"In most cases, they don't merge ... because it's a massive business and technological endeavor," Gabriele Columbro, 35, the executive director of the Symphony Software Foundation, told Benzinga.
"Rather than undertaking massive consolidation projects, open source gives you a way to leapfrog it."
It's one area in the financial services universe in which the nonprofit arm of the messaging platform Symphony Communications is working to bring wider adoption of open source software.
Columbro is participating in the "Collaboration Tools: How Do We Make The Financial Services Industry Work Together" panel at the Benzinga Fintech Summit Sept. 28 in San Francisco.
On Nov. 8, the Symphony Software Foundation is holding an open source strategy forum in New York City.
"It's really about bringing together tech industry leaders, Wall Street leaders and open source leaders to really crack this nut and share why Wall Street should strategically embrace open source — and how that is possible in a way that doesn't get your lawyers going berserk," Columbro said.
Related Link: Affirm: The San Francisco Startup Using Fintech To Simplify Lending
'An Independent Arena' For Open Source
The foundation's platinum members include tier-one firms such as Goldman Sachs Group Inc (NYSE: GS) and Morgan Stanley (NYSE: MS).
The larger firms are "feeling very much the pressure of having to innovate faster and compete with these ankle-biters coming up from the fintech world," Columbro said.
Symphony's gold membership level includes software and data managers such as IHS Markit Ltd (NASDAQ: INFO) and TradeWeb.
Silver members include startups such as FinTech Studios, BankEx and Cloud9.
"The missing link is an independent arena where everyone can trust the way we collaborate, and that's really the main value the foundation provides," Columbro said.
Transparency is a key element of the Symphony Software Foundation, Columbro said.
"We try to keep as much of our proceedings open on the Internet [as possible]."
See more companies like Symphony at the BZ Fintech Summit!
Columbro's Vision
"I see open source as connecting two worlds that have been historically very separated — the executive level and the developer and end user level," Columbro told Benzinga.
"Open source has the potential to be an answer for both."
For software companies, including fintech start-ups, the competition is in the end product, not in proprietary software, Columbro said.
That leaves an opening for common open source platforms "that are basically plumbing," he said.
"The end user has a much more disruptive and better experience, because the vendors don't have to focus on reinventing the wheel and building better infrastructure."
If you're looking for cool fintech startups and access to top financial institutions, and are sick of attending stuffy corporate conferences, the Benzinga Fintech Summit is the event for you. Visit www.bzsummit.com for more details.
Connect with us on social media — use the hashtag #BZAwards and #Fintech to spread the word.
Posted-In: Benzinga Fintech SummitFintech Previews Startups Exclusives Tech Trading Ideas Interview Best of Benzinga
View Comments and Join the Discussion!