Analyst: Blockchain Is The Biggest Thing Since The Internet And Cryptocurrencies Are Just The First Generation Of Its Applications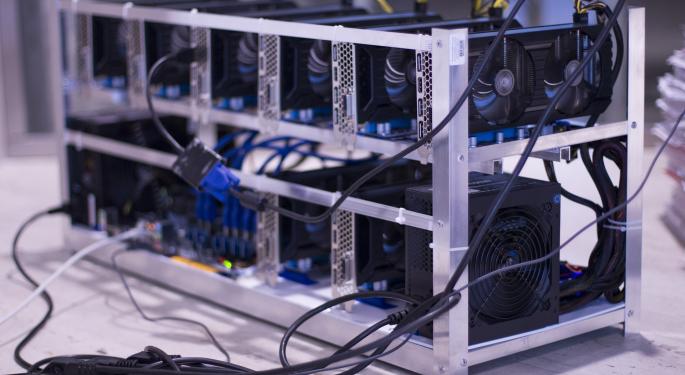 Bitcoin and the Bitcoin Investment Trust (OTC: GBTC) have been two of the hottest investments on Wall Street in the past year. However, the true value of bitcoin may not be in the currency itself but rather in the blockchain technology on which bitcoin was built.
What Is Blockchain?
Blockchains are typically defined as digitized, decentralized public ledgers of cryptocurrency transactions. The blockchain is a public ledger of every transfer the bitcoin community makes, and many different people can make entries into that ledger.
Every node in the network is updating the ledger independently, and the most popular record automatically becomes the official record. In other words, there is no "master copy" on the blockchain. In fact, there are many independent copies of the same record, all of which are used to verify one another. This consensus verification is often touted as the reason why blockchain technology is so secure—there's no single point of weakness.
Two Different Discussions
Bitcoin is built on a blockchain system, but the blockchain's applications are not necessarily limited to cryptocurrencies. In that sense, bitcoin and blockchain are two separate investment ideas.
KeyBanc analyst Arvind Ramnani says cryptocurrencies are simply the first generation of blockchain applications.
Blockchain technology is now being applied to a wide range of other businesses, such as decentralized supercomputers, blockchain-based gaming (FirstBlood), secure data storage, the Internet of Things and supply chain economics.
In the financial services industry, Mizuho Financial Group is using blockchain technology for secure record keeping and improving workflow. CLS is developing blockchain technology for foreign exchange multilateral netting. The Australian Securities Exchange is even replacing its current clearing system with a blockchain-based system.
All of these blockchain applications are independent of cryptocurrencies themselves, yet they provide a massive long-term opportunity for growth and profit.
Comparisons To Dot-Com Boom
The mind-boggling long-term potential of blockchain technology coupled with the overwhelming and potentially irrational market excitement for blockchain-related stocks and cryptocurrencies is starting to draw comparisons to the "dot-com" boom of the late 1990s. Veture capitalist Tim Draper has even called blockchain the "biggest thing since the internet."
Back in the 1990s, investors recognized the long-term potential of the internet. However their exuberance for internet stocks resulted in questionable company valuations and skyrocketing share prices at the first mention of a dot-com domain.
Today, blockchain and cryptocurrency may be the new magic words for investors, sending share prices soaring.
"This is a phenomenon we saw back during the dot-com days in the late 1990s where traditional companies would mention some kind of internet strategy and their stock price would jump up," University of Cambridge economic historian Garrick Hileman recently said, according to BBC News.
Stocks like Riot Blockchain Inc (NASDAQ: RIOT), Long Blockchain Corp (NASDAQ: LBCC) and Eastman Kodak Company Common New (NYSE: KODK) are just a handful of the stocks that have skyrocketed hundreds of percent in a matter of days on vague plans to shift to blockchain technology-based business models.
Picking Winners May Not Matter
Cryptocurrency and blockchain investors are convinced that the technology is here to stay and will transform the way the business world works. Unfortunately, that outcome may not be enough to protect them from large losses. Warren Buffett this week predicted "almost with certainty" that the cryptocurrency craze "will end badly" for investors.
With cryptocurrency and blockchain share prices soaring, it's important for investors to remember that the dot-com bubble of the late 1990s inflated the share prices of all internet companies, even the "good" ones. When the bubble burst, even the best companies took a huge hit. In a two-year stretch, internet-driven tech stocks like Amazon.com, Inc. (NASDAQ: AMZN), Cisco Systems, Inc. (NASDAQ: CSCO) and Oracle Corporation (NYSE: ORCL) all plummeted by more than 60 percent.
Related Links:
What Is A Blockchain And What Does It Do?
A Guide To Who Loves And Hates Cryptocurrency
View Comments and Join the Discussion!
Posted-In: Analyst Color Cryptocurrency Fintech Education Top Stories Analyst Ratings Tech General Best of Benzinga