In Sports Retail, Expect A Challenging Year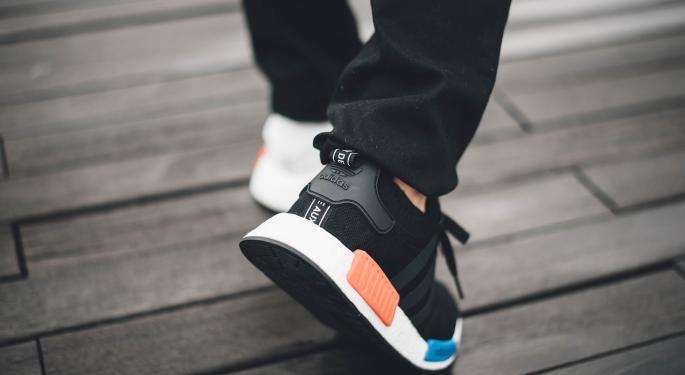 For sports retail, 2018 will likely be remembered as a year of transition.
What does that mean? Expect slow or stagnant growth as the industry addresses key issues.
Plagued by significant markdowns, shifting consumer tastes and an oversupply of off-trend products, 2017 was a disappointing year for the sector, and investors should not expect dramatic improvement anytime soon.
"I think it is going to be a challenging year for sports retail. I don't think we are out of the doldrums yet. We are still a couple years away," industry expert Matt Powell told Benzinga.
The Law Of Unrequited Demand
The biggest challenge facing the industry is that sportswear has moved from being an aspirational business to a race to the bottom on price. The industry will face hurdles over the next few years in reclaiming the unrequited demand that many core brands once possessed.
"We need to get back to the days that the business was driven by great product," Powell said.
"The industry needs to get back to the aspiration and inspiration it once had. When kids wanted the shoe because it was special and were willing to pay full price."
Many core brands have stated they will cut back on distribution of formerly coveted products to drive demand back up to lost levels. While Powell said this is the correct strategy, it also means fewer sales in the near-term for brands and retailers. The Jordan brand is a particular offender of putting too much product in the market, resulting in a loss of cachet.
Performance Is Out, Retro Is Cooling
Athletic-inspired footwear and products continue to be a leading category, and consumer tastes continues to move away from performance and into casual athletic styles.
This has led non-performance retailers Zumiez Inc. (NASDAQ: ZUMZ) and Genesco Inc. (NASDAQ: GCO)-owned Journeys to notch exceptional growth as consumer trends shift into their wheelhouse. Zumies recently announced a 7.9-percent increase in same-store sales in December, up from 3.4-percent growth a year prior.
Genesco CEO Robert Dennis said Journeys' comps improved significantly as the company emerged from the latest fashion cycle.
"Zumiez and Journeys are not depending on performance footwear to drive the business. We are in a very strong sports lifestyle phase," said Powell.
Several of the biggest players in the industry missed the shift toward non-performance that emerged 2015, and many have been slow to adjust.
VF Corp (NYSE: VFC)'s Vans, adidas AG (ADR) (OTC: ADDYY) and Puma AG Rudolf Dassler Sport (OTC: PMMAF) read the shift well, although Powell said he does see the retro trend starting to lose some steam.
Nike Inc (NYSE: NKE) and Under Armour Inc (NYSE: UAA), brands with legacies largely built on performance products, have done little to address the current trends, according to Powell.
"Nike's new initiatives remain performance-driven. Under Armour's real problem is that they are having to pivot to sportswear. Every brand has done it, but it will take some time," he said.
Female Consumers: The Greatest Growth Opportunity
The female consumer has become a crucial target for core brands and is the greatest growth target in the industry. Core brands continue to underserve the female consumer and this will likely become a greater area of focus industry moving forward.
It's a time of change in the business, Powell said.
"Overall, we will continue to see retail rationalization in the sports industry, as there is far too much mediocre retail in the space. I expect that 2018 will be a challenging year for the industry, and one of transition."
Related Links:
A Post-Sneaker World: How 'Small' Footwear Brands Are Beating The Giants
View Comments and Join the Discussion!
Posted-In: Analyst Color News Retail Sales Sports Top Stories Exclusives Analyst Ratings Trading Ideas Best of Benzinga