Clementia Pharma May Be A Fit For Investors Looking For Undervalued Biotech Names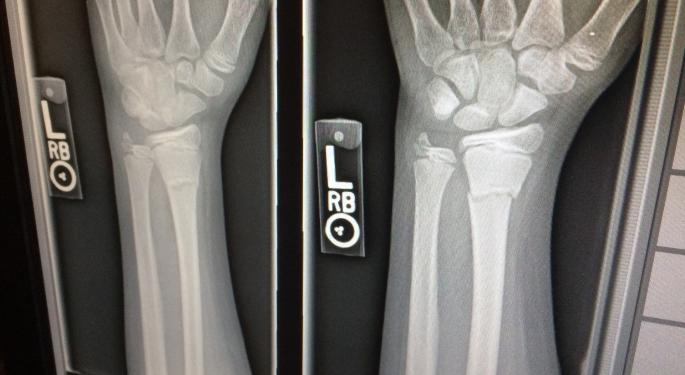 Wedbush initiated coverage of Clementia Pharmaceuticals Inc (NASDAQ: CMTA) at Outperform and a $26 price target.
The firm believes the shares of the company are undervalued, given its lead asset palovarotene having first-to-market potential in two ultra-rare indications, namely fibrodysplasia ossificans progressive and multiple osteochondromas.
Meanwhile, Morgan Stanley initiated coverage of the shares of the company at Overweight, with $27 price target.
At the time of writing, Clementia shares were up 3.54 percent at $16.68.
The Therapy
Palovarotene is a small molecule Retinoid Acid Receptor y agonist that suppresses bone morphogenetic protein signaling. An agonist is a chemical that binds to a receptor and activates the receptor to produce a biological response.
This gives the drug anti-chondrogenic and anti-fibrotic properties required to treat musculoskeletal disorders with dysregulated BMP signaling like FOP and MO.
FOP is an autosomal dominant genetic disorder that leads to excessive bone growth in patients that leads to substantial morbidity and early mortality and MO is also a rare bone disease characterized by excess bone/cartilage formation, Morgan Stanley said.
See also: August PDUFA Dates: Biotech Investors Stay Tuned To A Month Of Plenty
Billion-Dollar Opportunity
Wedbush analysts David Nierengarten and Robert Driscoll estimate the potential of palovarotene to be $1.8 billion in worldwide sales in FOP and MO combined by 2030.
The analysts think the earlier stage pipeline, though immature, provide upside as clinical profiles emerge. The analysts noted that the company is developing palovarotene beyond FOP and MO as an ophthalmic formulation for the treatment of eye disease, with Phase 1 studies set to begin in early 2018.
Wedbush also noted that the company has in-licensed a series of preclinical selective RARy agonists.
The firm clarified that its $26 price target was based on six times multiple of projected U.S. and worldwide sales for palovarotene in FOP in 2024 and MO in 2025, discounted back by 20 percent in FOP and 35 percent in MO.
The firm sees Clementia Pharma's presentation at 2017 ASBMR Conference in Denver, scheduled between Sept. 10 and 13, and 12-month data from the ongoing phase 2 study of palovarotene chronically dose and data from natural history study of FOP, both due in the fourth quarter of 2017, as upcoming catalysts.
Plenty Of Upside Opportunity
Morgan Stanley analysts David Lebowitz and Matthew Harrison said their conservative model for palovarotene offers plenty of room for upside, as they view it as a relatively de-risked orphan drug candidate that addresses a $600 million, plus, opportunity in ultra rare bone diseases.
The analysts conservatively estimate a 2021 launch, although they see plenty of opportunities for upside to this timing.
"While we are leaving more aggressive assumptions for our bull case scenario, such upside scenarios are not necessarily a long shot when considering some of the lenient decisions regulatory agencies have made recently regarding treatments for devastating ultra rare disease," Morgan Stanley said.
Posted-In: Analyst Color Biotech Long Ideas News Health Care Initiation FDA Analyst Ratings Best of Benzinga
View Comments and Join the Discussion!