Ready, Aim, Fire: Northrop Best Bet To Benefit From Overhaul Of US Air Power, Analyst Says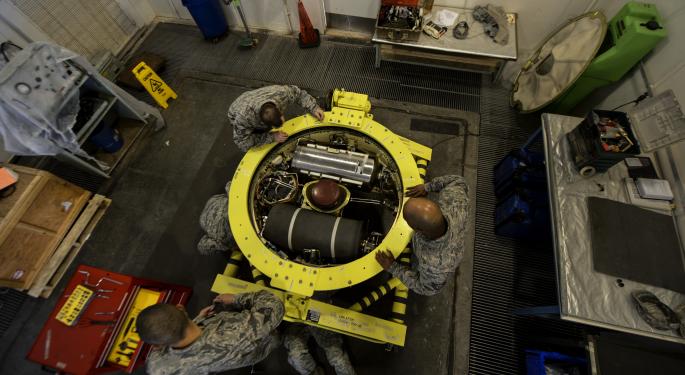 Already a finalist to build the next generation of ground-based nukes, Northrop Grumman Corporation (NYSE: NOC) is the best bet to do well in a booming defense industry poised to revamp U.S. air power for years to come, a Goldman Sachs analyst predicts.
The Pentagon is asking for more than $20 billion to begin upgrading ICBMs, cruise missiles and aircraft for fiscal year 2018, a relative pittance considering the top line of the big contractors. But that's just startup money for new systems that will need years of cash to complete, Noah Poponak wrote in an analyst note.
"We think Northrop, today, has the best positioned product set of any defense company we cover, that will likely allow them to grow their top line faster than any defense company we cover over the next 5–10 years," he estimated.
Northrop Already Has Nice Array Of WMDs
This week, the Pentagon awarded Northrop $329 million and the Boeing Co (NYSE: BA) $349 million to begin preliminary tech on the next generation of intercontinental ballistic nuclear missiles, replacing the 50-year-old Minuteman III system.
Related Link: Pentagon Gives Boeing, Northrop Grumman Nearly $700 To Develop Next Gen ICBM
Lockheed Martin Corporation (NYSE: LMT) was the only bidder shut out of the ICBM contracts, but it likely will be a player in others. It also may complain about losing the ICBM contract, Poponak says.
Here's a look at the contracts in the pipeline for later this year or early next and Poponak's take on the contenders:
Ground Based Strategic Deterrent: The ICBM upgrade, which Boeing and Northrop will develop before one is picked to build the nukes, probably in 2020. Orbital ATK Inc (NYSE: OA), likely to provide the propulsion systems, could capture $20 billion of this haul over the next decade-plus.
Joint Surveillance Target Attack Radar System: The $7 billion contract is still up for grabs. Poponak said Northrop, Lockheed and Boeing already have done work, with the edge going to Northrop, maker of the present system.
Long-Range Standoff Weapon: The cruise missile, which currently dates to the 1980s. Poponak said it's estimated to cost $15 billion–$30 billion. "The USAF will subsequently down-select to one contractor (probably 2019 or 2020) who will build the missile that is planned to be fielded in the 2030s," he said. Raytheon Company (NYSE: RTN), Boeing and Lockheed are good bets. UPDATE: In fact, after issuing this note, the Pentagon awarded $900 million each to Raytheon and Lockheed to develop the next-generation cruise missile.
Advanced Pilot Training Program: A $16 billion program intended to replace the T-38 trainer fleet. Poponak said Northrop, the current contractor, declined to bid and thinks Boeing has an edge.
MQ-25 Stingray: A spacey-looking drone. "NOC likely has a very successful unmanned aircraft offering given its track record and position on the preceding program, but the Navy is still debating what capabilities it wants in the program."
Light Attack Aircraft: If funded, the Air Force would buy 300 aircraft for about $9 billion. Textron Inc. (NYSE: TXT), privately held Sierra Nevada Corporation and L-3 Communications Vertex Aerospace LLC have prototypes that the USAF began testing this summer.
_______
Image Credit: "Missile maintenance technicians from the 576th Flight Test Squadron works on a Minuteman III component at Vandenberg Air Force Base, Calif., Feb. 3, 2014. The Minuteman III is regularly tested with launches from Vandenberg in order to validate the effectiveness, readiness and accuracy of the weapon system, as well as to support the system's primary purpose - nuclear deterrence. (U.S. Air Force photo by Staff Sgt. Jonathan Snyder/RELEASED)" By Staff Sgt. Jonathan Snyder (https://www.dvidshub.net/image/1161494) [Public domain], via Wikimedia Commons
Posted-In: Boeing Goldman SachsAnalyst Color Politics Psychology Topics Analyst Ratings General Best of Benzinga
View Comments and Join the Discussion!