Pentagon Gives Boeing, Northrop Grumman Nearly $700 Million To Develop Next-Gen ICBMs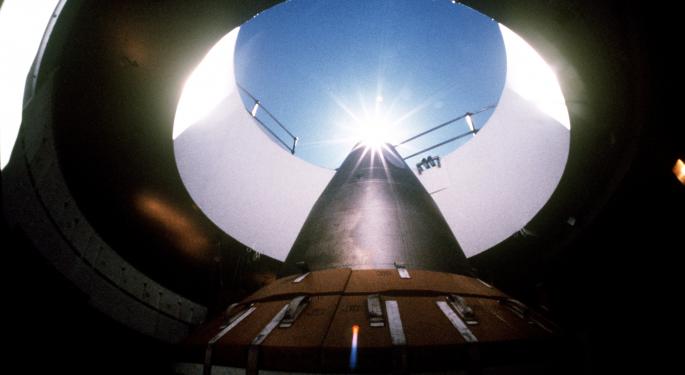 With tensions rising around the world, the U.S. government has awarded Northrop Grumman Corporation (NYSE: NOC) and Boeing Co (NYSE: BA) nearly $700 million to begin working on the next generation of intercontinental ballistic missiles, upgrading the Cold War-era rockets.
The deals, reported in various industry journals, will earmark $349 million to Boeing and $329 million to Northrop. Lockheed Martin Corporation (NYSE: LMT) was only bidder shut out of the contracts.
"We are disappointed with the outcome of the Ground Based Strategic Deterrent competition, and we look forward to a debrief about the selection with the Air Force," the company said in an statement emailed to Defense One.
Companies Tasked With Overhauling Old Nuke Tech
The White House on Monday placed the orders to develop new ICBM technology to replace the Minuteman III nuclear missiles. The deals come in the wake of advances in missile technology by North Korea and reports that Russia has plans to upgrade its nukes.
Boeing built the existing Minutemen. Once the technology is developed, Defense One said the Pentagon likely will pick one of the contractors to build more than 400 of the missiles, part of a project called Ground Based Strategic Deterrent.
"Things just wear out, and it becomes more expensive to maintain them than to replace them," Air Force Secretary Heather Wilson said in a statement. "We need to cost-effectively modernize."
In what will no doubt be a boon to the defense industry, the military is just starting a massive revamp of its nuclear arsenal and plans to develop and buy new bombers, submarines and cruise missiles.
The upgrade could top $1.5 trillion, the Arms Control Association said last week. The program was begun by President Barack Obama, though President Donald Trump has insisted he was behind the upgrade.
Related link: North Korea's New Missiles Powered By Black Market, Cold War-Era Soviet Engines
________
Image Credit: "ID:DFST9108812 Service Depicted: Air Force An LGM-118A Peacekeeper intercontinental ballistic missile points skyward from its position in a silo. Location: F. E. WARREN AIR FORCE BASE, WYOMING (WY) UNITED STATES OF AMERICA (USA)" By SSGT RONALD RUSH - DOD Defense Visual Information Center, Public Domain, via Wikimedia Commons
View Comments and Join the Discussion!
Posted-In: Arms Control AssociationNews Futures Contracts Politics Markets Tech General Best of Benzinga