Cruise Industry Embarks On 'The Golden Age Of Cruising'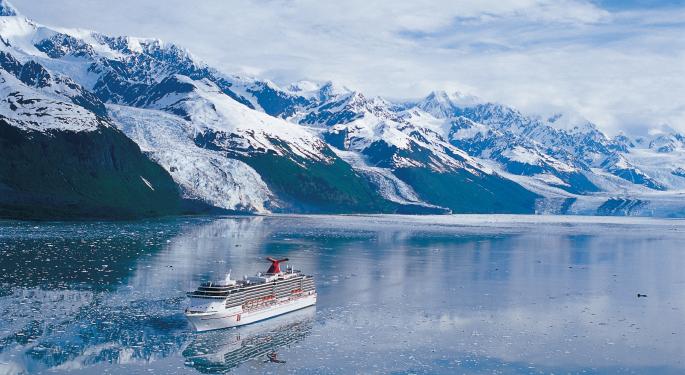 After a rough 2016, the major players in the cruise industry have experienced a dramatic comeback in 2017, as the "golden age of cruising" sails into industry experts' view.
Three of the major industry players have turned in sizeable gains so far this year: Norwegian Cruise Line Holdings Ltd (NASDAQ: NCLH) shares are up 34 percent year to date, Carnival Corp (NYSE: CCL) shares are up 30 percent and Royal Caribbean Cruises Ltd (NYSE: RCL) has turned in a 46 percent gain.
Rapid Growth Expectations
"Just in the next 10 years, we look to go from 25 million cruisers to 38 million by 2027," said Expedia Cruiseship Centers President Matthew Eichhorst. "Cruising has moved from being a North American product to a more global product, in Europe and Asia particularly."
Expedia Inc (NASDAQ: EXPE) Cruiseship Centers has capitalized on the optimism surrounding the industry by adding 1,000 agents this year.
"We have had a year of very positive growth numbers. A year prior there was global uncertainty, but now we see no signs of the recovery slowing down. Cruising isn't for just retirees any more; the product has dramatically changed," Eichhorst told Benzinga.
Several of the big cruise liners are capitalizing on the industry growth by adding new ships. Walt Disney Co (NYSE: DIS) is expected to nearly double its fleet by building three new ships in the coming years.
Virgin Enters The Market
Another exciting entrant into the market is Virgin Voyages, expected to open for business in 2021. Virgin's disruptive approach when entering new markets could help push the industry forward as a whole to improve the product and experience. Eichhorst predicts the company headquarters will be in Miami.
"It's exciting because when Richard Branson enters a market, it is going to create a lot of noise in the industry," he said.
"Virgin has tried to enter the market in the past. Branson has a way of doing things his own unique way — instead of doing a partnership, he is going to go all in a product that people are going to find very compelling and exciting."
New Panama Canal
Another key catalyst driving the cruise industry's growth is the widening of the Panama Canal, which opened up in the first half of 2017. Two new sets of locks were added, part of a nine-year canal expansion project that will enable not only bigger cargo ships, but allows many of the world's biggest cruise ships to pass through, cutting off the extra 8,000 miles it would take to sail around Cape Horn.
"Historically, you could not get these big ships to the West Coast. With the New Panama Canal, you will see West Coast cruising ships expand and we will are going to see a lot of new cruise travel to Mexico," Eichhorst said.
Given macroeconomic and industry trends, it appears to be smooth sailing for an industry on the rebound, he said.
"I am more excited about the next 10 years than I ever have about the business. Cruising is going to become mainstream."
Related Links:
Can This Leisure Group Cruise Higher? Cramer Thinks So
Is Now A Good Time To Buy Cruise Stocks? The Latest Data Out Of China Certainly Makes The Case
View Comments and Join the Discussion!
Posted-In: carnival Matthew Eichhorst norwegianTravel Top Stories Exclusives Interview General Best of Benzinga