Will Cruise Stocks Rebound In 2017?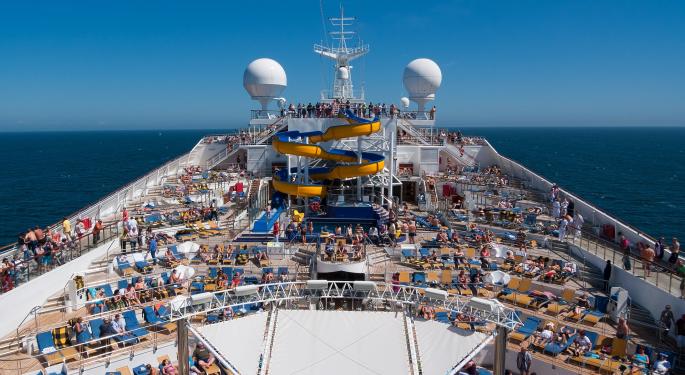 While cruise-ship stocks have had a difficult 2016, there are several positive catalysts that could push the industry to new heights in the future.
Key players Norwegian Cruise Line Holdings Ltd (NASDAQ: NCLH), Royal Caribbean Cruises Ltd (NYSE: RCL) and Carnival Corp (NYSE: CCL) have all clocked double-digit losses in share price in 2016. There are several key metrics signaling that the industry will rebound. These three players alone control 90 percent of the cruise industry capacity.
"We have seen overall an increase. We're in strong double digits for the year and very, very strong in the last. Volume has been very, very positive," said Expedia CruiseShipCenters President Matthew Eichhorst, who also heads up the global cruise team for Expedia Inc (NASDAQ: EXPE).
Currently, cruise industry expenditures sit around $120 billion and growing. Twenty-four (24) million people will cruise this year, and it's not just retirees anymore. The demographics are changing, and cruising has become a multi-generational activity.
Hot Destinations, River Cruises Exploding
Alaska as a cruise destination has been one of the hottest destinations. Asia is also a growing cruise market and is expected to see 50 percent growth over the next few years. River cruises have also seen explosive growth, with over 30 new river cruises debuting in 2016 alone.
"We are seeing quite a nice increase in more exotic locations," said Eichhorst.
Travel Agencies, Generational Interest And Cruising
In a surprising statistic, brick-and-mortar travel agency bookings hit an all-time high in 2016. With the rise of online travel agencies, many would assume that travel agencies would become a thing of the past, but that is simply not the case.
Travel agencies are still relevant to the cruise industry, where travelers need extra service and support to ensure a desired trip. Baby boomers are spending up to $200 billion per year on travel. Even more surprising is that more millennials are turning to travel agents for booking trips.
"The research actually shows that although very self-sufficient, millennials are somewhat low trust. So they don't necessarily trust the information on the internet, but they very much use the internet as a source to get information. Then they look for a trusted advisor," said Eichhorst.
Research has confirmed time and again that when making big purchases, millennials look for a trusted advisor. One-third of millennials are active users of travel agents, a 19 percent increase since 2011.
Despite current weakness in cruise stocks in 2016, companies are benefiting from lower fuel costs, better margins and are investing more in their fleets. The majority of cruise ships are built in Europe, and with a strong U.S. dollar currently, companies are investing in new ships to take advantage of the currency tailwinds. The industry may be one to take a closer look at heading into 2017.
"[In] 2014 they spent almost $6 billion in new ships, so they're going to continue to do that for several years. It runs around just under $6 billion for three years in a row, just massive if you consider in 2013 it was only about $2 billion. So, it's a lot of investment," Eichhorst concluded.
View Comments and Join the Discussion!
Posted-In: Expedia Cruseshipcenters Matthew EichhorstTravel Top Stories Trading Ideas Interview General Best of Benzinga