The Path Toward Autonomy: Munster On Tesla's Critical Evolution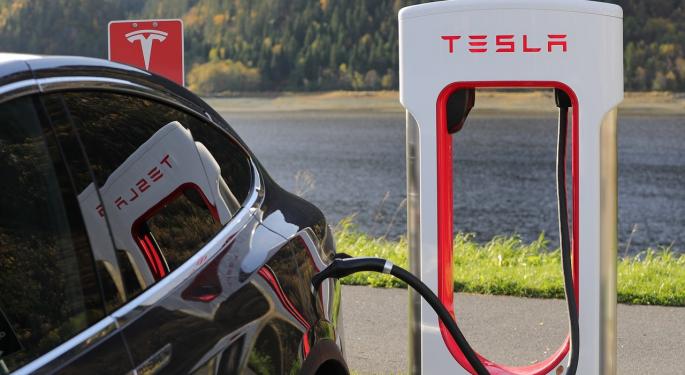 As far as Gene Munster is concerned, Tesla Inc (NASDAQ: TSLA) has no problem with appeal.
"It isn't about demand," the managing partner of Loup Ventures told Benzinga Wednesday. "They have plenty of demand. They've been underselling this vehicle, and as you know, they have about 500,000 pre-orders for it."
No, Tesla's problem isn't demand. "It's production." It's a relatively low economy of scale that Munster considers currently "prohibitive" to the company's success.
The Enduring Barrier Of Scale
Tesla reports much lower yields than those of traditional automakers like General Motors Company (NYSE: GM) and Ford Motor Company (NYSE: F). In the last quarter, the company produced 30 Model 3s, and in the upcoming quarter, it plans to produce about 1,500. Ambitious CEO Elon Musk aims for 10,000 a week in 2018.
Tesla isn't there yet, but Munster sees potential in its processes.
"If you want to just be blown away, look at how the manufacturing of a Model 3 is versus how even some of the automated manufacturing from some of the Big 3 is," he said. "The level of efficiency and robotics used in building a Model 3 really changes the equation around the pace that they can manufacture."
But even with its futuristic mechanisms, its largest plant can only produce a million vehicles a year at full capacity compared to BMW's 2.5 million "niche cars" produced last year. Munster said Tesla needs to invest in a bigger plant to match pace with competitors.
Whether it takes the steps to scale "is the critical question around the Tesla story," Munster said. But he has hope. "I think that they're going to get there."
If not, the firm risks vindicating skeptics concerned with high consumer costs.
The Diminishing Barrier Of Cost
The expense of a Model 3 is a potential deterrence for buyers.
With a $35,000 base price and an anticipated final cost closer to $50,000 after all features are added, the product is about 40 percent more than the average $32,000 Toyota Motor Corp (ADR) (NYSE: TM) Camry, according to Munster's calculations.
But over time, that price gap diminishes.
"If you look at total cost of ownership, which factors in lower insurance, the energy-saving cost with fuel, and the maintenance ━ there's almost no maintenance on these cars, then that cost of ownership gap shrinks to about 14 percent," Munster said. "I think that cost gap isn't as big as you'd think when you think about total cost of ownership over a five-year period."
The Unrealized Barrier Of Legislation
Musk has given a two-year timeline before he's ready to flip the switch on autonomy for existing Tesla models, but Munster extended the goal to 2020.
In fact, he said it will be another eight years before Tesla's self-driving cars become mainstream, largely due to fear-driven legislative roadblocks.
"I think it's going to take a few years after [technology updates] to start to advance and get the legislation to loosen up to allow these," he said. "I think this is probably 2025 before this is mainstream and you see a self-driving car and don't think twice about it."
Related Links:
Gene Munster: Traditional Car Manufacturers Face 'Innovator's Dilemma'
Tesla And The Auto Market's New 'Big Three'
View Comments and Join the Discussion!
Posted-In: autonomous vehiclesAnalyst Color Travel Analyst Ratings Tech Trading Ideas Interview General Best of Benzinga