Munster Compares Tesla's Model 3 To Apple's iPhone: 'It Could Change The World'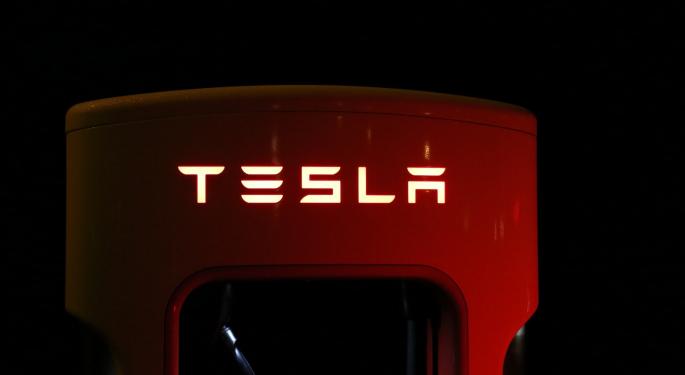 The launch of the Model 3 heralds not only a new era for Tesla Inc (NASDAQ: TSLA), it hastens a new world for the rest of us ━ a paradigm shift as disruptive as that led by Apple Inc. (NASDAQ: AAPL).
"We believe we will eventually look back at the launch of the Model 3 and compare it to the iPhone, which proved to be the catalyst for the shift to mobile computing," Gene Munster, managing director of Loup Ventures, wrote in a Thursday note.
Model 3 Vs. Camry
Tesla will displace traditional automakers, ride-hailing services, recreation priorities, and any firm peripherally involved. But first, it must seduce consumers. Munster sees little problem in this, considering Tesla's high performance ratings and long-term financial benefits.
The former Apple analyst calculated a five-year cost of ownership only 13-percent greater than that of a Toyota Camry. While in the immediate term the Camry costs about 42-percent less than the average Model 3, the cost gap is expected close through fuel savings, fewer repairs and insurance rates comparable to cars half its price.
And the Model 3 value excludes both electric-vehicle tax credits, which are slated to expire in 2020, and incentives from owners lending their vehicles to an expected ride-hailing fleet.
Adding Up The Wins
Convenience counts for something, too.
"Tesla wins over a Camry when it comes to customer experience, due to its acceleration, Autopilot, elimination of gas station stops, and the high-quality entertainment system," Munster wrote.
And that's not counting the value of full autonomy, the hardware for which is already built into extant vehicles and is expected to be activated in two to three years.
"Detroit, Japan, and German car manufacturer feature shortfalls will compound around the end of 2020 when Tesla adds autonomy to approximately 2 million Teslas on the road virtually overnight," Munster wrote.
Stock Implications
Overall, the analysis expands Tesla's North American addressable market from a consensus estimate of 4 million per year to Loup Ventures' estimate of 11 million. A 25-percent claim of this market by 2025 could generate $105 billion in annual revenue simply from the Model 3.
Despite this potential, investors are wary by Tesla's continuously low production scale and adequate delivery reports. But Munster is undeterred.
"Near-term, investors will grow weary of the risk to the quarterly production numbers," he said. "Long-term, investors should remain confident that production will ramp in time and the company will capitalize on growing demand for the Model 3."
Scaling will be difficult, as Tesla faces the formidable task of expanding production from 100,000 in 2016 to 2.5 million by 2025, but it won't be impossible.
"Looking back at the iPhone in 2007 it was a stretch to envision the company producing 50 million phones a year, but in 2015, the company sold 232 million units," Munster wrote.
Related Links:
Gene Munster And His Crazy Crystal Ball
Apple's Autonomous Vehicles Plans, Explained
View Comments and Join the Discussion!
Posted-In: autonomous vehicles driverless vehiclesAnalyst Color Long Ideas Top Stories Analyst Ratings Tech Trading Ideas Best of Benzinga