Tesla And The Auto Market's New 'Big Three'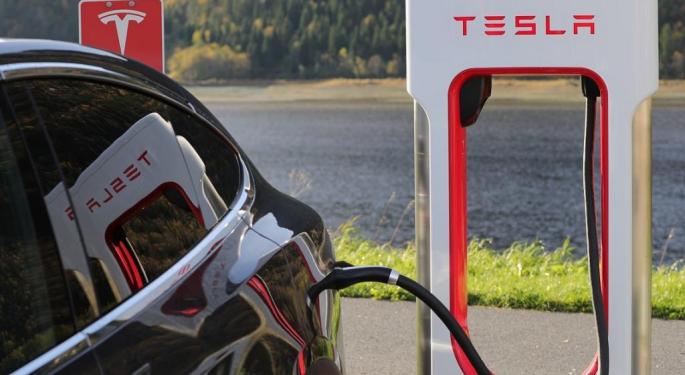 Yes, Tesla Inc (NASDAQ: TSLA) surpassed Ford Motor Company (NYSE: F) and General Motors Company (NYSE: GM) in value last week. The Silicon Valley company market cap stands at $47 billion as of Thursday's close, slightly under GM ($50 billion) while boasting a sizable lead over Ford ($44 billion).
As Tesla moves to replace the now foreign-owned Chrysler as one of the U.S.'s "Big Three," it's important to take a look at how the company ranks by other measures.
Where Tesla Really Stands
Third. In most other respects, Tesla ranks third.
The company's 76,000 vehicle deliveries in 2016 represent a mere 0.76 percent of GM (10,000,000) and 1.1 percent of Ford (6,651,000) deliveries. Its $7 billion in 2016 revenue came in at about 4.2 percent of GM's and 4.6 percent of Ford's. And its 2016 net loss of $800 million didn't compete with the $9.4 billion and $4.6 billion annual revenues at GM and Ford, respectively.
So while Tesla might currently be the most valuable auto manufacturer in the U.S., it is neither the largest nor the most powerful. Nor is it even profitable, let alone the most profitable. Some speculate that its present valuation is justified only by its potential, rather than proven performance.
A Misunderstood Comparison
Tesla is not in a place to reasonably compete for the title of top U.S. automaker — perhaps because it just doesn't fit the category.
Morgan Stanley analyst Adam Jones urged investors in an April 5 note to regard Tesla as a transportation or infrastructure company rather than a car company. Only through this lens, considering the company's $1 trillion logistics market and $2 to $3 trillion energy market, will industry events make sense.
Related Links:
Elon Musk Loves To Call Out Short Sellers
Despite Record Q1 Deliveries, Some Investors Still Question Tesla's 'Inconsistent' Operational Performance
View Comments and Join the Discussion!
Posted-In: Adam Jones Big Three Chrysler Ford GM Morgan StanleyEducation Media Best of Benzinga