Fear Of Facing Town Halls Pushing Senate Republicans To Pass 'Trumpcare' Before Summer Recess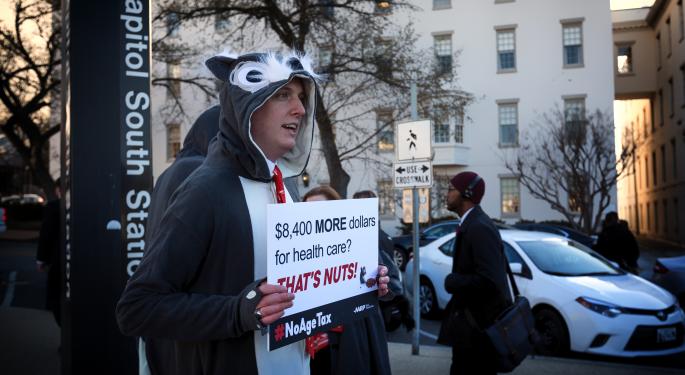 Americans and investors hoping for healthcare reform may have the strongest congressional motivator of all on their side: fear.
If Congress doesn't get a healthcare reform law passed by the summer recess, representatives will face the prospect of disgruntled constituents as they hold town hall meetings this summer.
Summer Recess Is Approaching
The imminent summer recess period may be pressuring congressional Republicans who were elected on a platform of repealing and replacing the Affordable Care Act ("Obamacare") to get a law passed as soon as possible, Height Securities analyst Stefanie Miller said. Unfortunately, a false start earlier this year and subsequent delays may now put the prospect of passage ahead of the July 4 recess period out of reach.
"The amount of time it takes the Congressional Budget Office (CBO) to score each iteration of the bill, combined with the amount of work Senators have yet to do, pushes resolution more likely into July instead of June, according to Congressional sources," Miller said.
Related Link: The 'Trump Dump' Might Already Be Priced Into The Market
CBO Report Due Date: Wednesday
In the meantime, investors will be watching closely for the CBO's report on the final version of the House healthcare bill, which is expected out on Wednesday. The CBO's report on the original healthcare bill that was pulled prior to a House vote found that the bill would have resulted in 24 million fewer Americans with healthcare coverage.
Regardless of the CBO findings, healthcare reform should be finalized no later than August, Miller said.
"Most if not all Republicans feel that their party assumed the majorities in Congress and control of the White House in large part because of their commitment to overturn the ACA — something they think they should be able to quickly deliver to their constituents," Miller said.
Many Republican representatives are also anxious to knock-out tax reform prior to the 2018 midterm elections.
Traders may see some short-term volatility tied to the CBO report this week in hospital and medical facility stocks Molina Healthcare, Inc. (NYSE: MOH), HCA Healthcare Inc (NYSE: HCA) and Acadia Healthcare Company Inc (NASDAQ: ACHC), as well as the Heath Care SPDR (ETF) (NYSE: XLV).
______
Image Credit: "AARP squirrels handing out info on the GOP's healthcare replacement bill's "age tax"" By Lorie Shaull from Washington, United States [CC BY-SA 2.0 (http://creativecommons.org/licenses/by-sa/2.0)], via Wikimedia Commons
View Comments and Join the Discussion!
Posted-In: Analyst Color News Health Care Futures Politics Legal Events Top Stories Best of Benzinga