Brazil Is No Stranger To Corruption: What Trump And The US Can Learn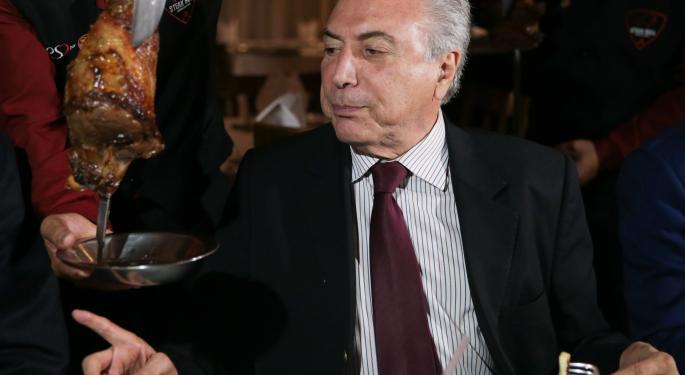 Not yet a year into his presidency, Brazilian President Michel Temer is facing a major bribery scandal that has sent Brazilian stocks tumbling.
JBS, the world's largest meat producer, owner Joesley Batista secretly taped the president encouraging continued bribery of a jailed former-politician, the Brazilian newspaper O Globo reported Wednesday.
The recording was presented to prosecutors as part of a plea bargain from a graft investigation involving Petroleo Brasileiro SA Petrobras (ADR) (NYSE: PBR). The president released a statement acknowledging the meeting with Batista, but denied any request for payment.
On Thursday afternoon, Temer said he will not resign.
Brazil Is No Stranger To Corruption
Temer succeeded former Brazilian President Dilma Rousseff after she was impeached on August 31, 2016, following charges of federal budget manipulation to conceal the country's worsening economic problems.
Temer was implicated in a bribery scandal in December 2016 when the CEO of Brazilian conglomerate Odebrecht admitted to paying Temer bribes, reported Brazilian publication Plus55 — a claim Temer firmly denied.
Double Trouble: Temer And Trump
The news comes in the midst of U.S. President Donald Trump's own scandals. Trump is facing backlash surrounding the investigation into Russian election tampering, Russian collusion and his firing of former FBI Director James Comey.
"[There] are some eerie similarities between political developments and market reactions in Brazil and in the United States, and both are playing out simultaneously," said Thomas Trebat, director of the Columbia Global Centers, Rio de Janeiro.
Trebat added, "In Brazil, President Temer's reform agenda has broad support in the business community and a solid majority lined up in the Brazilian congress. The market was especially anxious to see a reform of the labor legislation and social security legislation."
A key part of Trump's agenda is restoring jobs for the middle class. With Republican majorities in both houses of Congress, many were hopeful for easy agenda adoption. However, amid the increasing number of scandalous stories, more and more Republicans are distancing themselves from the administration.
Unlike Temer, very little concrete evidence supporting Trump's numerous scandals have come to light or been confirmed true.
While the Brazilian market was shaken following Wednesday's news, perhaps the ambiguity of the allegations against Trump thus far explains the slower reaction by American markets.
Lessons For Trump
The Brazilian markets' reaction to the news shows how a single piece of hard evidence can quickly have disastrous effects.
Trump, despite his self-proclamations of being a great businessman, could face similar results if there is evidence to indict him — particularly if any secretly recorded tapes exist or if damning memos from Comey, which have already spurred negative press, come to hold water. If non-debatable evidence were to come to light, Trump could damage the U.S. economy the same way Temer has.
The handling of such evidence, if it were to arise, is a separate area of concern.
"An experienced politician and legal expert himself, Temer has avoided interfering with the investigations," said Sidney Nakahodo, a lecturer at Columbia University's School of International and Public Affairs specializing in political, social and economic development in Brazil. "That might be a good lesson for the current U.S. administration."
Trump, on the other hand, has been known for his bombastic responses to negative press and criticism.
The Brazilian Markets
"The current crisis might reveal the fragility of the current political system in the short run, but the long-term effect will be positive as it will strengthen democratic institutions reinforce commitment to the rule of law," said Nakahodo.
But despite the politicians' differences, Nakahodo noted that "markets tend to react similarly anywhere in the world."
After the breaking news regarding the bribery scandal, Brazilian-exposed stocks were volatile.
Petrobras, Vale SA (ADR) (NYSE: VALE), Itau Unibanco Holding SA (ADR) (NYSE: ITUB) and iShares MSCI Brazil Index (ETF) (NYSE: EWZ) all faced sharp losses in Thursday's session.
Related Links:
Don't Call It A Comeback: Specter Of Trump Impeachment Resurfaces After Being Dismissed By Many
Mueller Rep As Rigorous, Relentless Investigator Greeted With Bipartisan Approval
________
Image Credit: By José Cruz/Agência Brasil [CC BY 3.0 br (http://creativecommons.org/licenses/by/3.0/br/deed.en)], via Wikimedia Commons
View Comments and Join the Discussion!
Posted-In: Analyst Color News Emerging Market ETFs Futures Politics Events Global Top Stories Best of Benzinga