The President And The Russians: Are There Any Adults Capable Of 'Restraining Trump's Impulses?'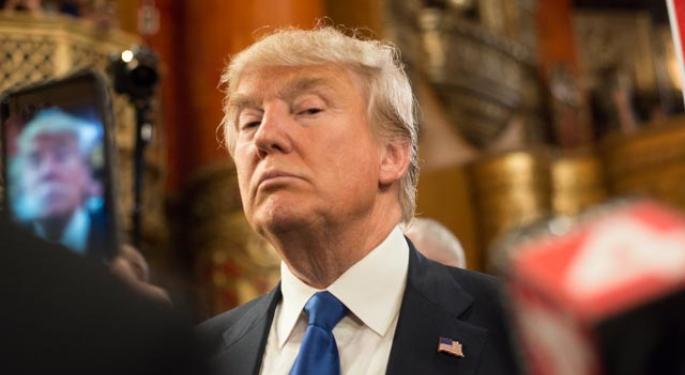 President Donald Trump disclosed highly sensitive intelligence regarding ISIS during his meeting with the Russian Foreign Minister Sergey Lavrov and Russian Ambassador to the U.S. Sergey Kislyak, according to reports from the Washington Post and multiple other outlets.
It's the latest in a string of major actions by Trump at inopportune times, following his firing of former FBI Director James Comey just days after Comey requested additional resources for the FBI investigation into Russia interfering with the 2016 presidential race.
The White House denied that any sensitive information regarding "sources and method"—but not pure information—was disclosed. Height Securities, a political research firm, expressed two major concerns:
That Russia may be able to work the information backwards and piece together said sources and methods; and
Trump's lack of awareness of what information is fit to share is a national security risk.
Height Securities also implied that senior White House staff, or at least President Trump, are like children, saying "there don't seem to be any adults in the room capable of restraining Trump's Impulses."
Questions remain as to how Washington will react. Republican leaders have begun criticizing the administration, but to what degree they and Republican voters, who may be swayed by increased risks to national security, will continue to turn is unclear.
"Trump seems to have a complete tin ear with no understanding of the impact of his actions coming at particularly inopportune times," Height's note said.
The 'I' Word
For what appears to the be the first time, Height Securities discussed the possibility of Trump's impeachment and its implications on domestic policy, specifically tax reform and replacing the Affordable Care Act.
"We continue to believe the immediate fallout [from the news] will be limited."
Republicans have the strength to act without Democratic support in the House, but still lack a super-majority in the Senate and may not want to strain their relationship with Trump over an issue unrelated to their domestic policy agenda.
Height Securities is also confident Democrats would rather have President Trump's record to run against in 2018 and 2020, especially considering the possibility of a government shutdown or default that they would share the blame for.
Related Links:
From J-Edgar To J-Com: The Wild World Of FBI Directors And Their Presidents
Former Nixon Library Historian Has Familiar Feeling About Trump
Photo credit: Emily Elconin
View Comments and Join the Discussion!
Posted-In: Analyst Color News Futures Politics Top Stories Markets Analyst Ratings General Best of Benzinga