Mueller Rep As Rigorous, Relentless Investigator Greeted With Bipartisan Approval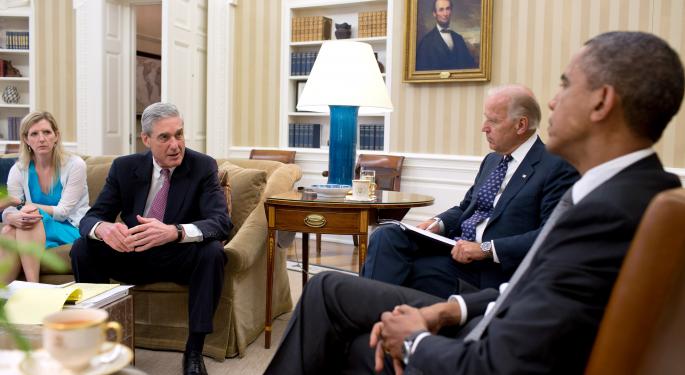 Robert Mueller's bulletproof reputation as a relentless, by-the-book investigator virtually guarantees a rigorous and wide-ranging investigation of President Donald Trump's ties to the Kremlin, the former FBI director's supporters say.
"I can't think of a better selection," John Carlin, a former chief of staff and senior counsel to Mueller, the only man since J. Edgar Hoover to run the FBI for more than a decade, told Politico.
Mueller on Wednesday was appointed as a special counsel to oversee the inquiry into the Trump–Russia morass by Deputy Attorney General Rod Rosenstein, who made the call only because Attorney General Jeff Sessions recused himself in March from the probe because he was among the Trump campaign officials with Russian ties.
The announcement that Mueller would take over the investigation caps a tumultuous stretch that accelerated last week when Trump abruptly fired Mueller's successor at the FBI, James B. Comey, just as the probe into possible election collusion between the Trump campaign and Russian officials was increasing the heat on the president.
The appointment was welcomed on both sides of the aisle.
"Former Director Mueller is exactly the right kind of individual for this job," Senate Minority Leader Charles Schumer said in a statement.
Sen. Charles Grassley of Iowa, chairman of the Judiciary Committee, said the former FBI chief "has a strong reputation for independence, and comes with the right credentials for this job."
Trump Returns To Twitter
After an uncharacteristic, two-day absence from social media, Trump returned to his preferred form of mass communication, Twitter Inc (NYSE: TWTR)
"With all of the illegal acts that took place in the Clinton campaign & Obama Administration, there was never a special councel [sic] appointed!" he wrote in one tweet.
"This is the single greatest witch hunt of a politician in American history!" he said in another.
Mueller served as FBI director from September 2001 to September 2013
A Marine who led a rifle platoon during the Vietnam War (he won a Bronze Star and Purple Heart, among others), Mueller was a U.S. attorney for many years and, as an assistant attorney general, oversaw prosecutions that included Panamanian leader Manuel Noriega, the Pan Am Flight 103 crash case, and the Gambino crime family boss, John Gotti.
As FBI director, he is perhaps best known for offering to resign — along with, coincidentally, then-Deputy Attorney General Comey — if the White House overruled a Department of Justice finding that domestic wiretapping without a court warrant was unconstitutional. Former President George W. Bush made unspecified changes to the eavesdropping rules to Mueller's satisfaction.
Mueller, who was confirmed unanimously by the Senate just three days before undergoing surgery for prostate cancer, took over the bureau just one week before the Sept. 11 terror attacks. When his term was up in 2011, then-President Barack Obama asked him to stay on for two more years and Congress concurred. He became the only FBI director since Hoover to hold the post for more than a decade.
Mueller Will Have His Hands Full
Mueller's appointment came in the midst of even more allegations of improper contact between the Trump campaign and Russian officials, with improper contacts with Turkey's authoritarian regime now included in the mix:
Reuters reported that Michael Flynn, the Trump campaign advisor who was named National Security Advisor until he was forced out over his pre-election meetings with Russian officials, and other Trump campaign officials had at least 18 calls and emails with Kremlin-related figures during the last seven months of 2016 presidential race. The agency cited current and former U.S. officials.
The New York Times reported that Flynn told Trump transition team officials that he was under federal investigation for working as a paid lobbyist for Turkey on Jan. 4 — 16 days before Trump was inaugurated, which is far earlier than previously reported. The paper said the timing has the potential to implicate Vice President Mike Pence, who was in charge of the transition team. Trump appointed Flynn as national security advisor weeks later despite the warning, then fired him under pressure after 24 days.
Trump, in the midst of this maelstrom, hosted Russian Foreign Minister Sergei Lavrov one day after firing Comey last week and Turkish President Recep Tayyip Erdoğan this week. After meeting with Trump, the Turkish president's bodyguards brutally beat demonstrators at the Turkish Embassy in Washington.
Related Link:
From J-Edgar To J-Com: The Wild World Of FBI Directors And Their Presidents
_______
Image Credit: "Barack Obama and Joe Biden meet with Kathryn Ruemmler and FBI Director Robert Mueller, 2012.jpg" By The White House from Washington, DC (P072012PS-0298) [Public domain], via Wikimedia Commons
View Comments and Join the Discussion!
Posted-In: Barack ObamaNews Futures Politics Events Global Markets General Best of Benzinga