Introducing: Credit Suisse's Top Office REIT Pick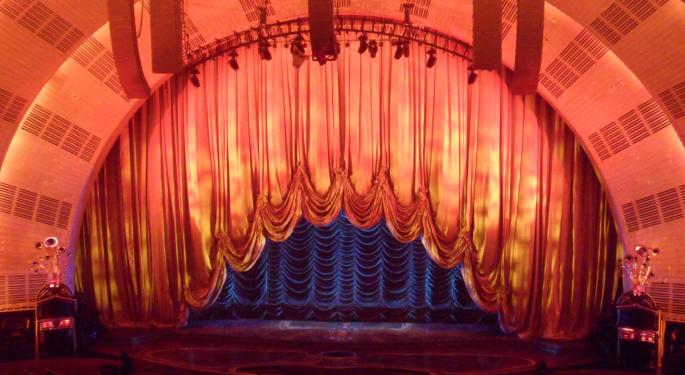 One of the slowest REIT sectors to feel the recovery from the Great Recession was the office sector. However, during the past few years, well-managed companies in this REIT sector have shown incredible resilience.
Related Link: And MLV's Top Multifamily REIT Pick Is...
The landlords who own office towers in top tier central business districts (CBDs), such as $21.6 billion cap Boston Properties, Inc. (NYSE: BXP), have had a remarkable recovery and posted huge gains during the past year.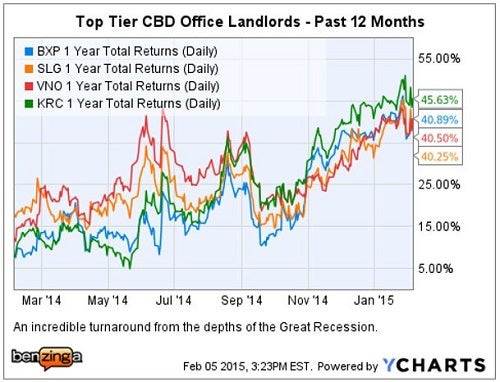 BXP office REIT peers cashing in on the recovery of top tier markets include: SL Green Realty Corp (NYSE: SLG), Vornado Realty Trust (NYSE: VNO) and Pacific Coast-focused Kilroy Realty Corp (NYSE: KRC).
Credit Suisse – BXP Top Pick
After Boston Properties' January 30 earnings call, Credit Suisse added Boston Properties to its Focus List with an Outperform rating and increased its price target from $151 to $158.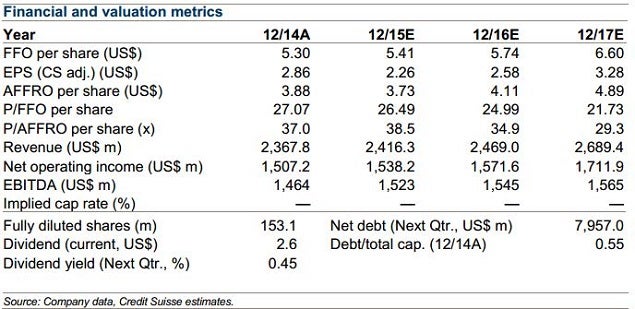 Credit Suisse noted that although there will be a short term headwind due to backfilling of vacated space during 2015, analysts felt that this would be offset by leasing tailwinds in life sciences and TAMI (technology, advertising, media and information services).
Related Link: Credit Suisse's 7 Financial Stocks To Consider For 2015
A Developing Story
Core Boston Properties CBD markets, such as San Francisco, New York and Boston, have absorbed large quantities of previously vacant square footage during the past two years.
"Given that prime assets in our core markets are trading at higher prices per square foot and lower yields than where we can develop, we will likely continue to be net sellers of real estate while reinvesting raised capital into new development," stated Boston Properties CEO Owen Thomas.
Preleasing Reduces Risk
Higher leasing rates and demonstrated demand have led BPX to embark upon a cautiously ambitious development program.
The Boston Properties development pipeline in aggregate is 58 percent preleased, with one notable exception being a 300,000 spec building in San Francisco. This CBD market has high demand and is supply constrained due to a challenging and lengthy entitlement process.
In 2014, "The top 20 technology leases in San Francisco totaled almost 3.8 million square feet of demand. The average of the previous four years, which all were strong years, was 1.9 million square feet," the call noted.
BXP Earnings Call – Key Takeaways
Record Leasing:
"We completed 88 leases in the fourth quarter, representing 2.2 million square feet with the New York region being the largest contributor at nearly half the leasing volume. This level of leasing activity is roughly 70 percent higher than our quarterly averages. And for all of 2014, we executed 362 leases representing 7.8 million square feet of activity an annual leasing record for Boston properties."
The torrid leasing results were partially fueled by Boston Properties proactively signing new leases with several law firms, in many cases several years prior to existing lease expirations.
Recycle Capital & Development Logic:
CFO Michael LaBelle explained, "[W]e sold $2.3 billion of assets at a weighted average cap rate of 4.25 percent and we delivered $1.5 billion of new developments that are currently 86 percent leased, and our [sic.] anticipated to generate an initial cash yield, which is weighted by 250 West 55th Street of over 6 percent on stabilization."
"In addition, we have another $2.1 billion of development underway, with a projected initial cash yield of greater than 7 percent. And importantly, we've already raised the funds required to complete our pipeline, which is currently sitting in cash on our balance sheet."
Dividend Philosophy:
Boston Properties has a history of distributing special dividends, including its more recent $4.50 per share distribution. However, the regular dividend has not been raised during the past two years.
President Douglas Linde clarified that over the past 10 years or so, "The average dividend yield for the company has been I think over 4 percent. So relative to where other dividends are and certainly in our space, we think we have a pretty healthy dividend; it just comes in a little bit of bulkier manner as opposed to a constant recurring dividend yield that's been paid out on a quarterly basis."
New developments coming on line from 2015 to 2018 will increase BXP earnings and taxable income. This, in turn, will spur increases in the regular dividend as the Boston Properties operating strategy shifts away from realizing gains through strategic asset sales.
Image credit: Eric Fischer, Wikimedia
Posted-In: Credit SuisseAnalyst Color Long Ideas REIT Price Target Analyst Ratings Trading Ideas Real Estate Best of Benzinga
View Comments and Join the Discussion!