Domo Arigato, Mr. Roboto: First Trust Launches AI, Robotics ETF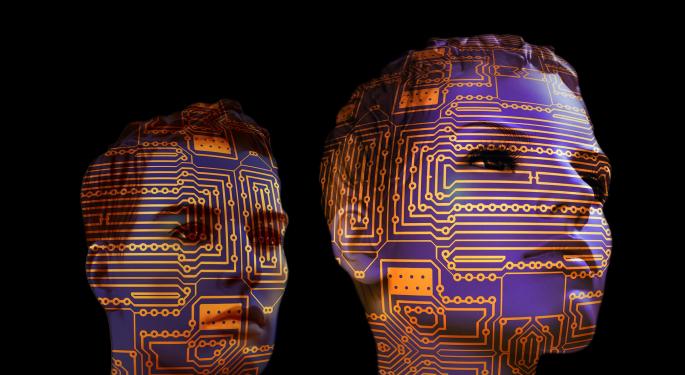 The First Trust Nasdaq Artificial Intelligence and Robotics ETF (NASDAQ: ROBT) debuted Thursday, becoming the third U.S.-listed exchange traded fund focusing on artificial intelligence and robotics.
The newest ETF from Illinois-based First Trust follows the Nasdaq CTA Artificial Intelligence and Robotics Index, which began trading in mid-December and has 88 components. ROBT's index "is designed to track the performance of companies engaged in the artificial intelligence and robotics segment of the technology, industrial, medical and other economic sectors. The Index includes companies in artificial intelligence or robotics that are classified as either enablers, engagers or enhancers," according to Nasdaq.
ROBT's components must have a minimum market value of $250 million and a minimum three-month average daily dollar trading volume of at least $3 million.
ROBT's Methodology
The new robotics ETF groups member firms into three categories: enablers, engagers and enhancers.
"Each category is weighted with engagers receiving 60 percent, enablers receiving 25 percent and enhancers receiving 15 percent. The selected companies are weighted equally within each category," said First Trust. "Enablers are those companies that develop the building block components for robotics or AI, such as advanced machinery, autonomous systems/self-driving vehicles, semiconductors and databases used for machine learning."
Well-known components in ROBT's underlying index include Google parent Alphabet Inc. (NASDAQ: GOOGL), Apple Inc. (NASDAQ: AAPL), Facebook Inc. (NASDAQ: FB), Intel Corp. (NASDAQ: INTC), Intuitive Surgical Corp. (NASDAQ: ISRG) and NVIDIA Corp. (NASDAQ: NVDA).
ROBT's engagers are those firms "that design, create, integrate, or deliver robotics and/or AI in the form of products, software, or systems," according to First Trust.
Competition
ROBT will tussle with the ROBO Global Robotics & Automation Index ETF (NASDAQ: ROBO) and the Global X Robotics & Artificial Intelligence ETF (NASDAQ: BOTZ), both which have over $2.3 billion in assets under management.
The new First Trust ETF has costs on its side. ROBT's annual fee is 0.65 percent, or $65 on a $10,000 investment. That is slightly below the 0.68 percent charged by BOTZ and well below the 0.95 percent annual fee on ROBO.
ROBT is the second ETF launched by First Trust over the past month. In late January, the firm introduced the First Trust Indxx Innovative Transaction & Process ETF (NASDAQ: LEGR), the third blockchain ETF.
Related Links:
View Comments and Join the Discussion!
Posted-In: First Trust NASDAQNews Sector ETFs New ETFs Markets ETFs Best of Benzinga