Among The Market's Movers And Shakers, Who's Bullish And Who's Bearish For 2018?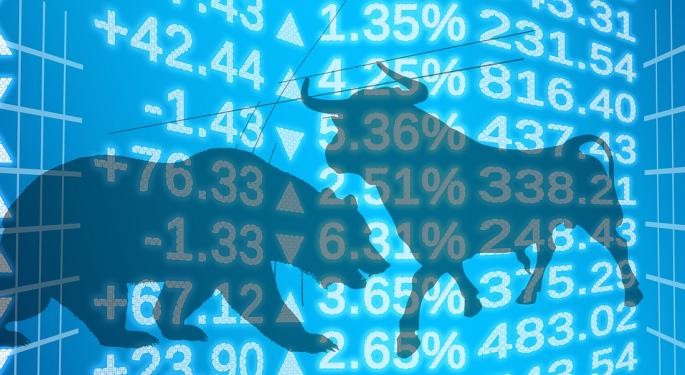 The strong gains of 2017 have made comparisons tough for the markets in the unfolding year. The Dow Industrials Average is up a solid 24.53 percent for the year, while the broader S&P 500 Index and the Nasdaq Composite Index are 26.66 percent and 18.45 percent higher, respectively.
The rally wasn't limited to the equity markets; most other asset classes turned in strong performances for the year, with gold at a one-month high and crude oil near a 2-1/2-year high, sneaking above the $60-per-barrel psychological resistance level.
Then there was cryptocurrencies, which generated a lot of excitement in the market, with most of them clocking triple-digit — or higher — gains.
The bullish tone of the markets throughout 2017 has rendered investment a risky proposition going forward. The economic expansion is entering its final leg, with the current one, which has lasted close to nine years, qualifying as the third-longest. Global central banks have embarked on monetary policy normalization after years of maintaining a relaxed monetary policy stance.
Against this backdrop, an average investor will need guidance through any potential market turbulence.
Coattail investing, an investment strategy of mimicking successful investors' trades of successful investors, can be useful. This is especially true if the investor being followed has adopted a buy-and-hold strategy, allowing time for others to follow their strategy.
Here are the views of some market movers-and-shakers on the coming year.
Omaha Oracle
Warren Buffett, who has always favored low-cost index funds for the not-so-savvy, cost-conscious investor, may be recommending a simple index fund that tracks the performance of the S&P 500 Index.
Buffett's investment philosophy, which fetched him staggering returns over the years, is unlikely to change.
"The money is made in investments by investing," Buffett told CNBC in a 2016 interview.
"And by owning good companies for long periods of time. If they buy good companies, buy them over time, they're going to do fine 10, 20, 30 years from now."
See also: Has The Crypto Craze Killed The Marijuana Investing Buzz?
Soros Loses Interest In Emerging Markets?
Billionaire investor George Soros' namesake Soros Fund Management has been moving out of asset classes and instruments with exposure toward emerging markets, according to Motley Fool. With the election of President Donald Trump and his hard stance toward imports, the fund could be sensing demand slowdown for the products and services of foreign companies, and in turn a hit to profits, according to Motley Fool.
Soros is betting heavily against pharma companies Teva Pharmaceutical Industries Ltd (ADR) (NYSE: TEVA) and Valeant Pharmaceuticals Intl Inc (NYSE: VRX) by purchasing put options in these companies, according to third-quarter data.
Kevin O'Leary's Investment Theme
Apart from recommending fractional ownership, Kevin O'Leary of "Shark Tank" fame is a firm believer in high-quality small-cap U.S. stocks, according to The Street.
One stock O'Leary has shunned is Tesla Inc (NASDAQ: TSLA). O'Leary scoffs at Tesla's astronomical valuation and suggests that its share price could climb down toward that of other automakers.
O'Leary has also said that investing in physical gold is a better option that putting one's money in gold miners, with no middleman between the commodity and the investor.
Cooperman's Picks
Some of the recent stocks and assets Leon Cooperman of Omega Advisers has recommended are:
In mid-2017, Cooperman revealed on CNBC's Fast Money Halftime Report that he believes the market is fully valued — even after taking into account an estimated $10 per share boost to S&P 500 earnings — if tax reform is fully enacted. There is no imminent threat of a bear market, Cooperman has said, as fundamentals are still solid, and major global economies such as the U.S., China and Europe are still expanding.
Gabelli Sees 'Old-Fashioned Correction'
An old-fashioned correction is likely at some point, especially given the power plays being made by two world leaders: Saudi Arabian Crown Prince Mohammed bin Salman and North Korean leader Kim Jong-un, Reuters reported, quoting Mario Gabelli, who oversees Gamco Investors and Gabelli mutual funds.
Gabelli made the comments at the Reuters Global Investment 2018 Outlook Summit. The investor had predicted a flurry of global M&A deals if the corporate tax cut was signed into law in the U.S., suggesting that M&A could be a major theme in the new year.
Related Link:
Crypto Comparisons: How Bitcoin, Litecoin, Ethereum, Ripple, Dash, And IOTA Moved In 2017
View Comments and Join the Discussion!
Posted-In: Long Ideas Education Futures Movers & Shakers Top Stories Markets Trading Ideas General Best of Benzinga