Industry Expert Talks About 3D Printing In Latin America: 'We Want Printers To Supplement Other Machines'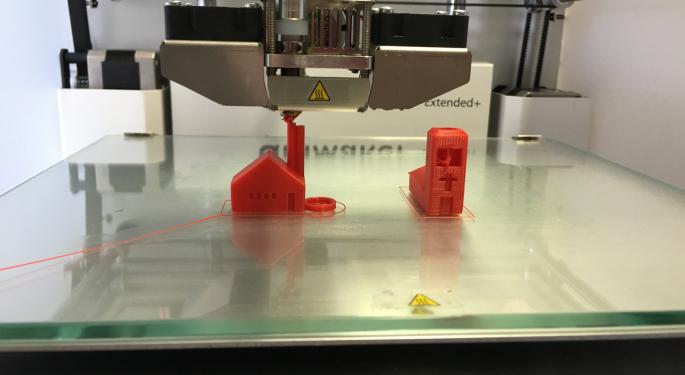 "The 3D printing technology, like every other industry technology, has to be a part of a productive process. On its own, it's much more similar to a toy," Trimaker Co-Founder Alexis Caporale — recently selected as one of the 50 most innovative young leaders in the world — told Benzinga during a recent interview.
3D Printing In Latin America
Although slowly gaining traction, the 3D printing industry is still nascent in Latin America. However, there is one company betting on disruption.
Multiple-award-winning Trimaker is the leader in terms of sales in 3D printing in the region, serving clients like Staples, Inc. (NASDAQ: SPLS), Toyota Motor Corp (ADR) (NYSE: TM), Kraft Heinz Co (NASDAQ: KHC) and Telefonica S.A. (ADR) (NYSE: TEF). The company not only manufactures its own 3D printers, but also offers materials and related services.
Emerging In An Emerging Market
"We started with hardware, making 3D printer prototypes based on resin technology, back in 2010," Caporale revealed. "By 2012, we had the first working prototype, and began manufacturing machines. Hardware lead us to software, then we went into materials, and today we're the leading 3D printers company in Latin America."
"What we do now is manufacture machines, with a much more integrated chain, from Asia to Argentina. In addition, we work -a lot- with the implementation of this technology in productive processes," he continued. "We want our printers to supplement other machines, harnessing the full potential of this technology."
A Working Company
"Right now, we are the only Latin American company in the retail segment, and the only ones with a real distribution chain assembled, selling in stores like Staples and others," Caporale explained. "Stratasys, Ltd. (NASDAQ: SSYS)'s MakerBot had a few experiences in retail, but did not do very well: Cencosud SA (NYSE: CNCO)'s Jumbo supermarkets bought three printers [for its Argentina branch] and did not manage to sell any. The thing is, their machine costs about 90,000 Argentine pesos [about $6,000], and our machine goes for 32,000 pesos [about $2100]."
On the other hand, he expounded, 3D Systems Corporation (NYSE: DDD) and Stratasys go through resellers, not relying much on retailers, "because they are more industrial machines." So, there are no strong competitors in the retail segment in Latin America, he assured.
When asked about sales, the entrepreneur said that, this year, Trimaker would fall short of its $2 million target. "However, leaving R&D peaks aside, it's a company that always breaks even. Our last funding round, in 2015, was a $400,000 round; but the company doesn't demand much capital, because we generally base our activities on knowledge that the own founders had been accumulating over time."
Check back soon for the expert's views on the future of 3D printing and its relation with fuel efficiency.
Liked this interview? Now check out our conversation with ArcView's CEO Troy Dayton, who shared his thoughts on cannabis going mainstream and entering major capital markets, and our chat with 420 Investor Alan Brochstein, who explained why Singlepoint's "slim and shady" finances may point to a marijuana pump and dump.
Note: This interview has been translated from Spanish, without altering the meaning of the statements provided by the interviewee.
View Comments and Join the Discussion!
Posted-In: Long Ideas News Emerging Markets Topics Markets Tech Trading Ideas Interview Best of Benzinga