Health Care REIT - Latest Canadian Expansion 'Immediately Accretive'
On June 18, the largest U.S. healthcare REIT, $24 billion cap Health Care REIT (NYSE: HCN), and partner Revera, Inc. announced the acquisition of another Canadian seniors housing portfolio, by offering to acquire Regal Lifestyle Communities Inc. (TSX: RLC) for CAD$12.00 per share, or CAD$766 million — which equates to a US$623 million total enterprise value.
According to the announcement, "Regal is a publicly traded Canadian corporation that owns and operates 23 high-quality seniors housing communities with over 3,600 units. This private pay portfolio includes 13 communities in Ontario, seven in Quebec, and one each in British Columbia, Saskatchewan and Newfoundland. Approximately 83% of the portfolio's net operating income is derived from Toronto, Montreal, Ottawa and Vancouver."
The acquisition was done on behalf of an existing 75/25 JV between majority owner HCN and Revera. Revera owns or operates more than 500 properties across Canada, the United States and the United Kingdom, serving more than 45,000 people.
Health Care REIT (HCN)
Health Care REIT owns over 1,380 properties, diversified across 46 states, Canada and the UK.


Source: HCN REITWeek 2015 presentation
 http://www.benzinga.com/analyst-ratings/analyst-color/15/06/5607241/rbc-capital-markets-isolates-uk-trends-that-matter-to-us
The HCN/Revera Joint Venture
 HCN and Revera formed a joint venture in May 2013, when HCN acquired 47 seniors housing communities from Revera for CAD$1.34 billion (CAD$1.0 billion for HCN's 75% stake).
 Including the acquisition of Regal, the JV is projected to comprise 94 communities with gross investments of CAD$2.8 billion. Additionally, Revera and HCN jointly own the Sunrise Senior Living management company, with Revera owning a 76% interest and HCN owning a 24% interest.
 "Revera is entering an exciting period of expansion in the senior living sector focused on growth and innovation across its private pay portfolio in Canada, the United States and the United Kingdom," said Revera CEO Thomas G. Wellner.
 Including the Regal acquisition, HCN will own an interest in over 21,500 seniors housing units, representing approximately 10% of the Canadian seniors housing supply and 15% of the supply in the five largest Canadian markets, according to the release.
HCN – REITWeek Presentation/Canadian Highlights
HCN – Big Picture

Demographics + Fragmented Markets = Opportunity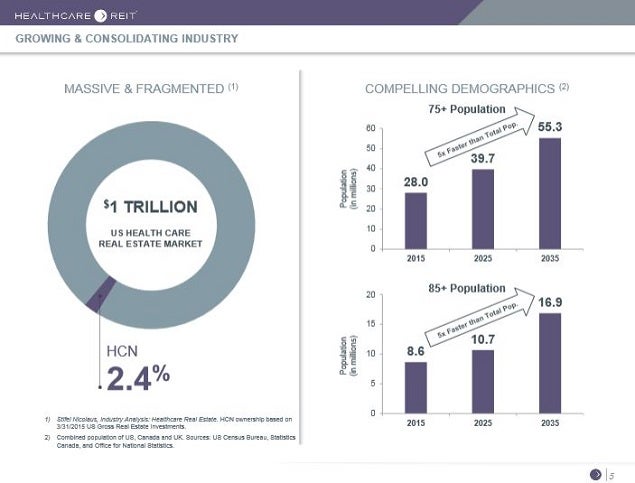 In the chart above, the demographics to the right are a representation of a combined population, compiled from U.S., Canadian and UK government statistical projections.
Diversified Across Asset Classes

Senior Housing – Focused On Top Markets

Significant Canadian Focus

Key Balance Sheet Metrics

Growing FFO While Reducing Leverage

Dividend Growth/Performance vs S&P 500

Investor Takeaway
In order for HCN to continue to deliver results for its shareholders, growth must be accretive to FFO.
Notably, "The initial [Regal] cash yield is anticipated to be 6.1% and anticipated to be immediately accretive to FFO and FAD per share."
Health Care REIT's BBB/Baa2/BBB+ investment grade rating helps to lower its overall cost of capital, which in turn makes it easier for HCN to structure acquisitions.
 http://www.benzinga.com/analyst-ratings/analyst-color/15/06/5607862/ubs-sort-of-upgrades-senior-housing-properties-trust
Additional HC REIT sector information, including one and 10-year charts comparing HCN performance with the MSCI REIT Index and its closest HC REIT peer, can be found in the article above.
© 2020 Benzinga.com. Benzinga does not provide investment advice. All rights reserved.
---