Tablet Boom Fades As Smartphones, Sleek Laptops Take Over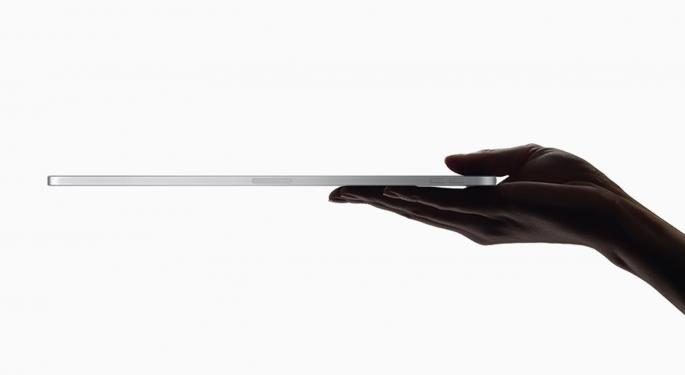 Technological obsolescence, which has swept many once much-sought after products into oblivion, could come to haunt tablets, according to data from market researcher IDC.
Tablet PCs are wireless portable computers with a touchscreen interface and a form factor that's smaller than a notebook computer but bigger than a smartphone, according to Techopedia.
From Apple Inc. (NASDAQ: AAPL)'s basic Newton message pad launched in 1993, tablets have come a long way, with multiple products from multiple players that have tasted varied degrees of success.
The most popular tablet to date has been Apple's iPad, unveiled in 2010.
Microsoft Corporation (NASDAQ: MSFT)'s Surface, Amazon.com, Inc. (NASDAQ: AMZN)'s Kindle, Alphabet Inc (NASDAQ: GOOGL) (NASDAQ: GOOG)'s Nexus and Pixel lineups and Samsung Electronics' Galaxy Tab are among the other widely sold models.
The Long Decline
The tablet market worldwide saw an 8.6-percent year-over-year dip in Q3 to 36.4 million units, IDC's survey revealed.
Among the categories, Slate tablets accounted for roughly 87 percent of the total and saw unit shipment declines of 7.9 percent. Detachable tablet shipments fell by a steeper 13.1 percent.
The tablet market is increasingly mirroring the trends in the traditional PC market, with overall declines and decreasing margins, according to IDC.
With the market opportunity on the wane, several small players have either exited the market or have accorded the product a much lower priority, leaving a battleground among the top five companies, said Jitesh Ubrani, senior research analyst at IDC.
Even among the top five, only Apple and to some extent Samsung are investing heavily in product innovation and marketing.
The decline has not been a one-off event. Tablet shipments have been on a declining mode for 16 straight quarters, according to Statista, which cited IDC. Shipments are down about 35 percent from 55.7 million unit shipments in Q3 2014.
Source: Statista
What Does The Future Hold For Tablets?
Notwithstanding shrinking sales, analysts feel it isn't time yet to call the demise of these devices. A market remains for cheaper tablets targeting kids and enterprise devices such as point-of-sale terminals, according to Wired.
Productivity could help tablets regain their lost mojo. A radical rethink of user interfaces that make the utility of a tablet equal to that of a laptop might help, Wired said, citing Oblong's John Underkoffler.
Another viewpoint is that tablets have achieved the purpose of their existence: making smartphones better and laptops lighter and more flexible.
"The tablet was a form-factor experiment which has enabled the laptop market to be saved," IHS Market research director Tom Morrod was quoted as saying by Wired.
Related Links:
Smartphone Demand Hits A Peak: What's Next For The Technology?
New Data Show Why Smartphones May One Day Dethrone TV As The Supreme Screen
Photo courtesy of Apple.
View Comments and Join the Discussion!
Posted-In: IDC iPad iPhone smartphone StatistaTech Media Trading Ideas Best of Benzinga