New Data Show Why Smartphones May One Day Dethrone TV As The Supreme Screen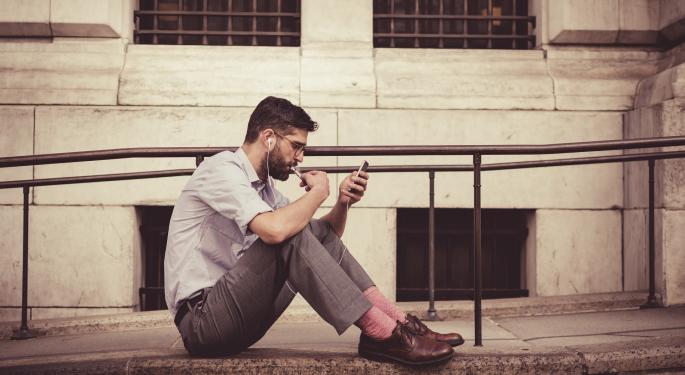 Scoot over television; smartphones are vying for the media throne. TV, one of the mainstay entertainment avenues, is slowly on the way to being relegated to the backseat. This is quite a cultural shock for those of us raised around TVs, and religiously tuned into the family tube for entertainment and infotainment.
TV Losing Its Charm?
Analysis done by Statista based on Nielsen's Total Audience Report showed that the average weekly hours spent by young adults aged 18 to 24 on smartphones exceeded the hours spent on TV in the third quarter of 2016. Young adults, on average, spent 19.17 hours on smartphones compared to 14.21 hours watching TVs.
However, the numbers are in favor of TVs among the other age groups, namely 25–34-, 35–49-, 50–64- and +65-year-olds. Smartphone usage is the least among the 65+ year-old population, as they spent merely 3.43 hours a week on smartphones compared to the 48.32 hours spent on TVs.
Source: Statista
Sleep Deprived Generation?
Gallup's survey in 2013 has shown that 46 percent of the 18–29-year-old age group said they sleep six hours or less, while 54 percent sleep seven hours or more. The split among 30–49-year-olds is 44:56. However, sleep patterns improve in the elderly population, with only 38 percent of the 50–64-year-olds sleep six hours or less, while the remaining 62 percent sleep seven hours or more.
The report also showed that Americans slept 6.8 hours, on an average, at night in 2013, down more than an hour from 1942. Of the 168 hours in a week, 47.6 hours were spent on sleep, suggesting that the wake-up hours are 120.40 hours. Thus, the young adult population group, defined as 18–24-years-old by Nielsen, spent roughly 28 percent of their wake up time in front of either the TV or the smartphone.
For the 60+ age category, the proportion is a sizeable 43 percent.
These statistics now throw up another question, which company or manufacturer is likely to be benefited from the evolving trend.
Samsung Ruling The Roost In TVs And Smartphones
A survey by WitsView, a division of TrendForce, showed that global shipments of LCD TV set sales rose 1.6 percent year-over-year to 219.2 million units in 2016. SAMSUNG ELECTRONIC KRW5000 (OTC: SSNLF) was ranked number one, with a 22 percent share in 2016.
LG ELECTRONICS INC KRW5000 (OTC: LGEAF) had roughly 13 percent share of the market. So, should Samsung be hurting, as the TV craze slows down. The answer is a "no." Preliminary estimates released by IDC showed that Samsung held the pole position in terms of smartphone sales in 2016, with unit sales of 311.4 million or a 21.2 percent share. This compares to as Apple Inc. (NASDAQ: AAPL)'s shipments of 215.4 million, translating to a share of 14.6 percent.
However, the fourth quarter of 2016 told a different story, Apple pipped past Samsung, with an 18.3 percent share compared to 18.1 percent for the latter. The predicament was seen as a corollary of Samsung's recall of its flagship Galaxy Note 7 due to fire hazard.
Increased gravitation toward smartphone by young adults, who now choose them as their preferred screen choice, does not sound the death knell for TVs. This age group makes up only 9.9 percent of the total population, based on the 2010 Census.
Going by the argument, that could be an indicator of how the dynamics would change with the other age groups, there could be concerns that the TV manufacturers may suffer a setback. That said, given Samsung's dominant position even in the smartphone market, it is unlikely to be challenged in the years to come.
Related Links:
Samsung In 2025: Life After Smartphones
Posted-In: Education Psychology Topics Top Stories Tech Media Trading Ideas General Best of Benzinga
View Comments and Join the Discussion!