IPads, Kindles Still Strong Amid Global Tablet Downfall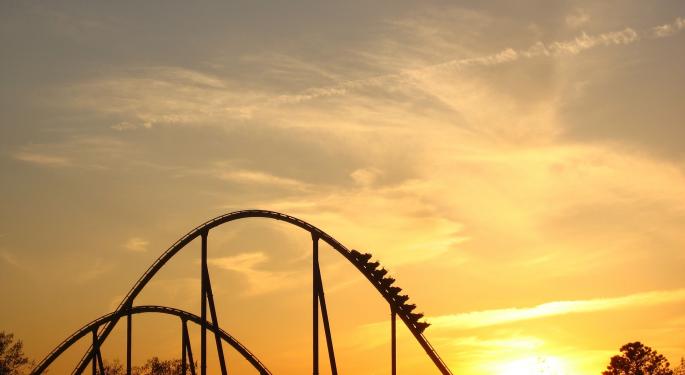 The worldwide shipments of tablets continued its decline in the first quarter of 2017, according to estimates by the IDC. Shipments totaled 36.2 million, down 8.5 percent year-over-year, marking the tenth straight quarterly decline.

Source: Statista
In the wake of the bleak data for tablets, Benzinga looked at companies that could be hurt the most due to the development.
Divergence Within Categories
The IDC release said tablets offering a first-party keyboard called detachable tablets showed growth, with the growth resembling products such as traditional notebook PCs or laptops.
On the other hand, the slate tablets are seeing a steep decline after having peaked in 2014.
"A long-term threat to the overall PC market lies in how the market ultimately settles on the detachable versus convertible debate," said Linn Huang, research director over devices and displays at IDC.
"To date, detachable shipments have dwarfed those of convertibles, but growth of the former has slowed a bit. In IDC's 2017 U.S. Consumer PCD Survey, fielded over the previous two months, detachable owners held slightly more favorable attitudes towards their detachables than convertible owners did for their convertibles. However, owners of both were far more likely to recommend a convertible over a detachable."
What Is Ailing The Tablet Market?
IDC identified many reasons, although noting that there were two drivers for the negative trend, namely 1) increased dependency on smartphones and 2) minimal technology and form factor progression.
The tablet market was created in 2010, with the launch of Apple Inc. (NASDAQ: AAPL)'s original iPad.
Major Contenders
Apple still remains the leader of the pack, despite reporting year-over-year decline in shipments for the 13th straight quarter. The company boasts of a share of 24.6 percent, having shipped 8.9 million units, down 13 percent year-over-year. This is a far cry from the 60 percent share it held in the second quarter of 2011.
IDC noted 2016 was the first full year of iPad Pro shipments, with the iteration seeing the launch of the smaller screen, low-cost 9.7-inch version.
Apple is in a good spot to remain competitive at the top of this segment despite using a "mobile OS" while many of its competitors are entering the space with Windows-based devices, IDC said.
Samsung Electronic (OTC: SSNLF) shipped 6 million units in Q1'17, down 1.1 percent, giving it a share of 16.5 percent. The company managed to increase its market share by 1.3 points year-over-year.
After exiting PC business in 2014, Samsung is attempting to woo the market with a few Windows 10 detachable tablet models.
Huawei had the distinction of being the only company in the top five to experience positive growth in the first quarter. The company saw its share rise to 7.4 percent from 5.1 percent, shipping 2.7 million units in 1Q'17 versus 2 million units last year.
Amazon.com, Inc. (NASDAQ: AMZN), with its low-cost Kindle Fire devices, shipped 2.2 million units, driving sales with the dual objective of selling product and content through the device. The market share improved to 6 percent from 5.6 percent.
"Regardless of the changing industry dynamics mentioned in this release, Amazon seems poised to remain a competitor given its market strategy," IDC said.
Lenovo Group Limited (ADR) (OTC: LNVGY) sold 2.1 million tablets in Q1'17 compared to 2.2 million units in the Q1'16. The company's market share edged up 0.2 percentage points to 5.7 percent.
The others, which include Microsoft Corporation (NASDAQ: MSFT) and HP Inc (NYSE: HPQ), had a 39.8 percent share of the market, although a dip from 42.7 percent in the year-ago period. The group shipped 14.4 million units, down from 16.9 million units.
Which Companies Stand To Lose The Most?
Apple, which controls about one-fourth of the total market, is likely to be the most affected in the eventuality of a further deterioration in the tablet market. Second-ranker Samsung, with a roughly 15 percent share in each of the past three years, is also believed to suffer.
Huawei and Lenovo, with a share of 5–7 percent each, are among the other companies hit by a slowing tablet market.
That said, consciously attempt at diversifying into detachable tablets could help arrest the slide.
Crystal Ball Gazing
Estimates by Statista showed that about 180 million tablets would be shipped 2019. Europe, with an estimated shipment volume of 102 million units, is expected to be the frontrunner, although the Asia-Pacific region will eventually catch up. This region is expected to see shipments of 108.6 million units in 2018.
Related Links:
Smaller Gizmos Mean Bigger Headaches For E-Recyclers
Posted-In: Huawei IDCNews Emerging Markets Eurozone Markets Tech Media Best of Benzinga
View Comments and Join the Discussion!